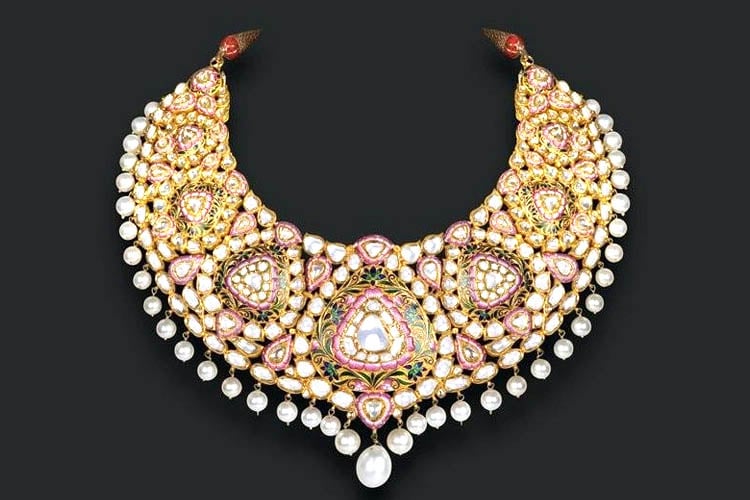 There is a lot of chaos and confusion during weddings. Fretting and mulling over the right wedding jewellery for months is a natural process. But it pays to take your time over finding the jewellery piece that could last a lifetime. The demand for wedding jewellery is overwhelming. Hence, it is worth narrowing down your search to jewellery work designs which has flair for both traditional and contemporary matching styles.
Why Choose Meenakari Jewellery?
Meenakari work jewellery has been a popular choice and there has been a surge in its demand in recent years. Their designs are elaborate and are encrusted with semi-precious stones in multi-colors. Over the last few years, meenakari is gaining much favor for weddings. There are a few reasons that have led to its popularity.
Hereon, you can look for something in your taste- classic, contemporary, unusual designs, or plain designs. To help ease your search, we have rounded up some meenakari jewellery and how to wear it to suit all styles.
1. Timeless and Traditional
Meenakari jewellery offers traditional designs which have been crafted under the hands of experts and stamped with their signature style. Meenakari jewellery in gold is a timeless eternal style and an ultimate pairing for classic wedding jewellery. The gold used in meenakari jewellery has been used traditionally for giving its enamel a distinctive touch. You can look out for meenakari jewellery sets that are enameled in rich tones like green and red. And if money is no object, then look for a spectacular piece to compete and match with your eternity band.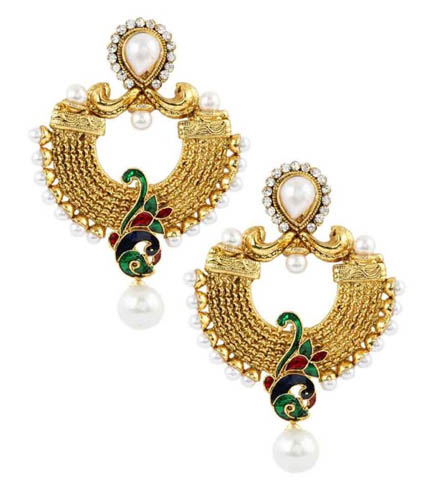 2. Elegance with a Twist
A bride-to-be would love a jewelry piece that is unique and one that stays relevant throughout her many anniversaries. We love the jagged edges of these distinctive Meenakari earrings, designed in an elegant peacock design with white pearls and gold studded stones. Alternatively, you can also look for modern designs and interesting interpretations of meenakari for inspiration. Vintage designs and colored stones earrings are becoming popular and colored studded stone necklaces can complement them wonderfully. They also have interpretation of classic meenakari jhumkas with set of precious stones to set you apart.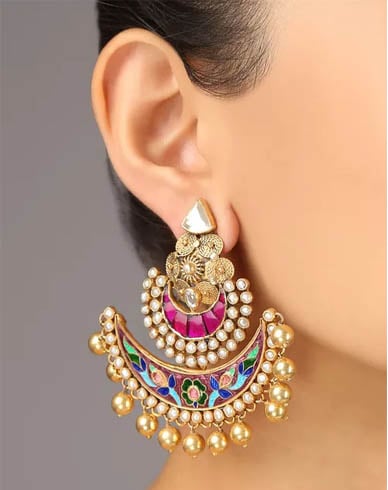 3. The Forever Bangle
One special and quality jewellery that is worth splurging is Meenakari bangles. They have a wide variety of bangles that are timeless and classy. You can wear it with your other special wedding pieces and pass it down the family in years to come. The Meenakari designed bangles come with floral designs with small pearl detailing. You can get the bangle designed with floral patterns on the edges for a stylish finish.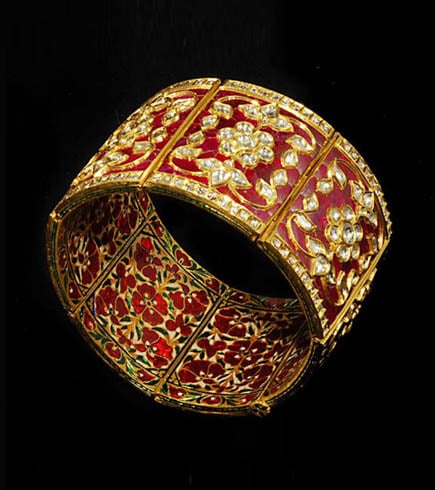 [sc:mediad]
4. Necklace to Adorn your Neck
Bridal necklaces play a role in your entire bridal ensemble, so it is important for you to select one that fits perfectly with your dress. With an intricate wedding dress, a simple contemporary design can add interest, whereas a simple wedding dress works best with a statement necklace. These days, you will find Meenakari jewellery suitable for various occasions including wedding. Their bridal necklaces are popular and consist of traditional bead work neckpieces mainly.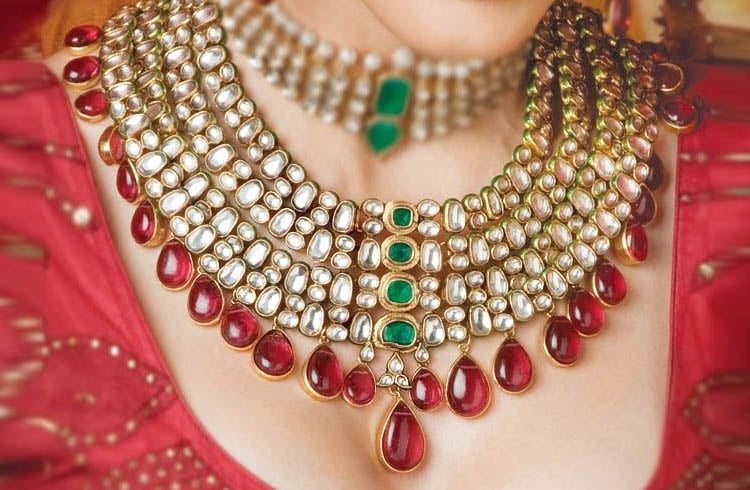 5. Embellishing your Ankles
Anklets are typically worn as accent pieces for embellishing your legs and wedding trousseau. They come in several designs, shapes, and sizes to highlight your personality. But be sure to find a piece that is comfortable. You can go for a meenakari work for the anklet and have it enameled with a touch of gold, green, and red tones for bringing out a traditional feel.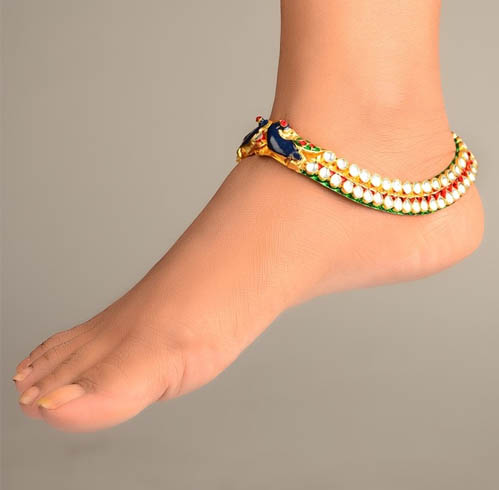 6. Modern Minimalism
As a bride-to-be, if your tastes are not allowing you to reach a decision whilst browsing over rows of predictable plain wedding rings, then you should look up for unusual contemporary designs. Luckily if you cater to unpredictable taste, then you will love a Meenakari forever ring. The ring design should not have to mean boring. But instead look for meenakari ring designs intertwined in gold. The designs of the rings are crafted carefully to give a contemporary and minimalistic look.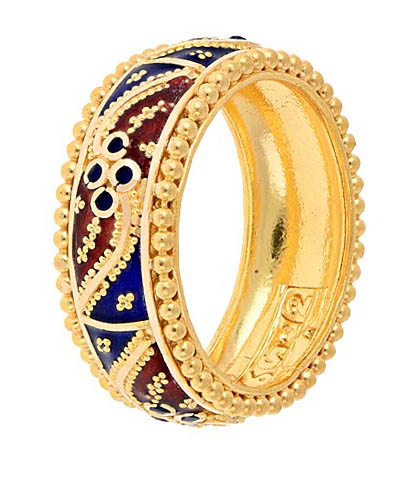 7. Stylish Impressions
Allow your arms to do the talking by adorning your bare arms with an armlet. Armlets, also known as arm cuffs have been worn traditionally since previous times especially during weddings. One of the best ways to stand out at your own wedding is by donning conceptual meenakari armlets. This can change the overall tone of your ensemble. Those with toned arms can also wear armlets as an excuse to accentuate their muscular limbs. Just pick a design that is adjustable to suit your body size. Doing so will allow you to adjust the armlets as low or high on your arms.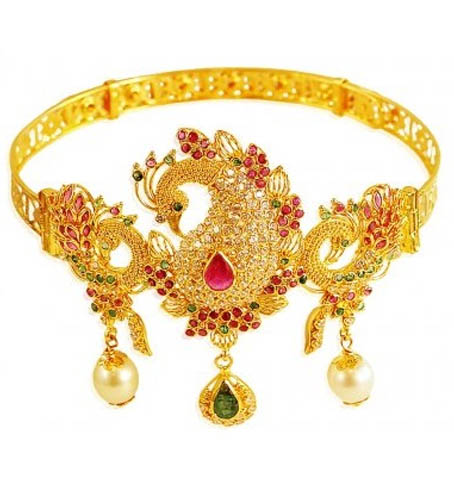 8. Ethnic Significance
Nose rings are traditionally worn during weddings. There are various sizes, shapes, and designs you can choose to suit your style on your wedding day. You can choose a meenakari nose ring to decorate your ensemble even more. Try out for an inverted paisley design embellished with pearls and colored stones in green, red, and pink. You can also opt between heavily embellished hoop nose ring designs or beaded hoop rings.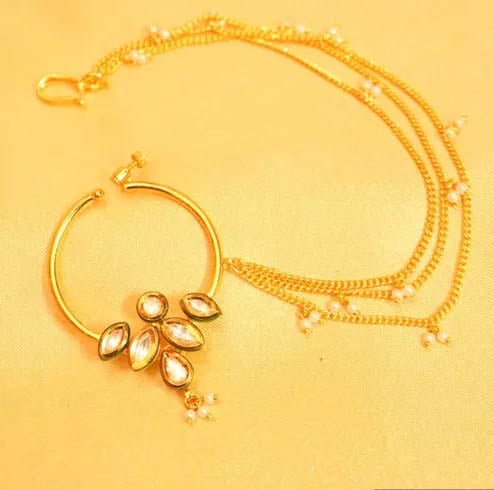 So you see meenakari is an ideal choice for the most special day of your life. Its enamel art detailing with patterns and motifs are handcrafted by experienced craftsmen. Commonly, meenakari jewellery designs come with gold textures. And therefore it matches perfectly even when designed with colored stones. The use of gemstones and semi-precious stones only offer interesting interpretations, while their fashion-forward jewelers bring the wedding jewellery designs up to date with unique finishing touches.
You can also visit their stores or browse their online sites to pick jewellery pieces that best represent endless love forever. And to finish, match your meenakari jewellery set with a pair of lips smudged in red enamel. After all, we all love a contemporary twist on classic designs.
Images Source: pinterest