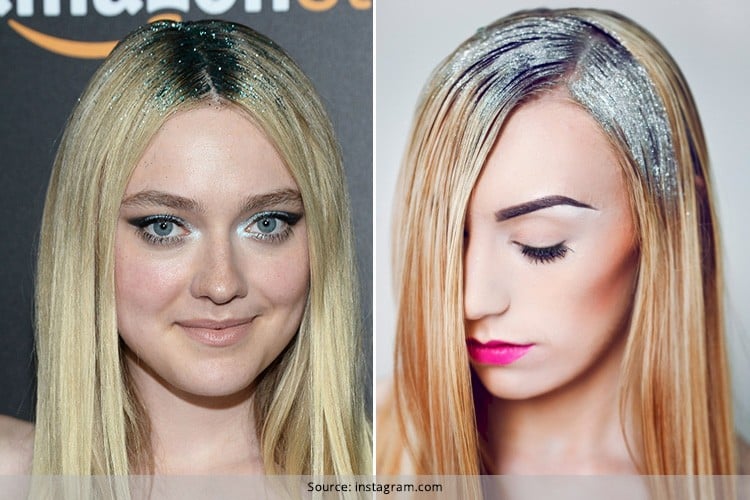 It's time to go party, and you have no idea on how to dress up your hair? You've tried all sorts of styles, but nothing really stands out. Why not try an interesting mix up that could totally change your appeal? Heard about the currently trending glitter roots hair style? It will come about as an upgrade to your party look.
After glitter make up and creams, the hair makeup with glitter is finally a trending thing. This hair glitter style stormed the beauty scenes, and since then this fad hasn't died down. So get ready to rock each occasion with your dazzling glitter roots hairdo.
What Are Glitter Roots?
Just as the name suggests, glitter hair roots is when you put on sparkles or glitter on the roots of your hair. The end results will be that your tresses have a gleaming look!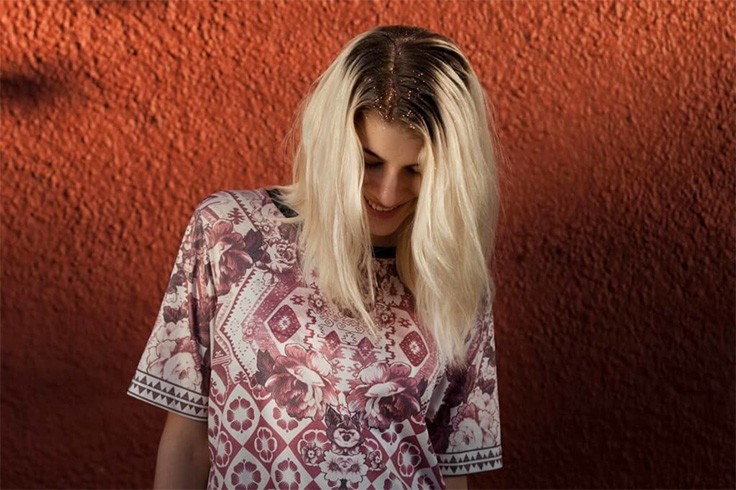 How To Get Hair Glitter Roots?
All you need is a packet of glistening glitter and some hair gel. You could even use leftover sparkles from your previous parties. Choose the color of the glitters the you like – be as creative as you want!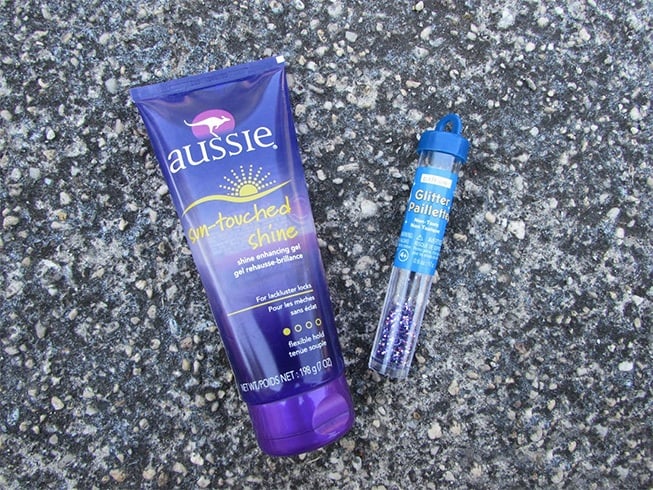 What you have to do is – you mix in the glitter with a tad bit of hair gel. Part your locks, and then apply the mixture on the roots of your hair with the help of a toothbrush. And there you have it; sparkly roots within minutes. Even if you don't have hair gel, simply sprinkle the glitter over your roots and let it be (but this will cause a lot of the glitter to fall here and there).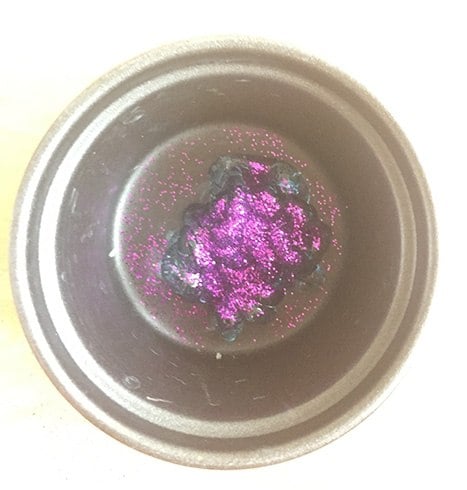 Why Is It A Fantastic Hair Accessory?
Well, first of all, it looks awesome and will instantly make all heads turn towards you. Also, it will aid in concealing unclean roots. It's an effective solution for missed salon appointments. What's more, it's DIY; which makes it super easy as well as inexpensive!
[Also Read: Glitter Fashion]
What Should You Be Careful About?
Cleanse your hair properly after the glitter party is over, as you don't want your hair to have sparkle remnants in it. This kind of look isn't something you can pull off on an everyday basis. Also, there will be traces of glitter wherever you go – chair, bed, pillows – so don't be surprised to find glitter there even after a week!
What Hairstyles Do To With Glitter Roots?
1. The Princess Leia Glitter Hairdo
Going to a fancy dress party? This is the perfect style for women with short hair. Make a deep side part and then make two buns on either side. You will look like the revamped Princess Leia from Star Wars.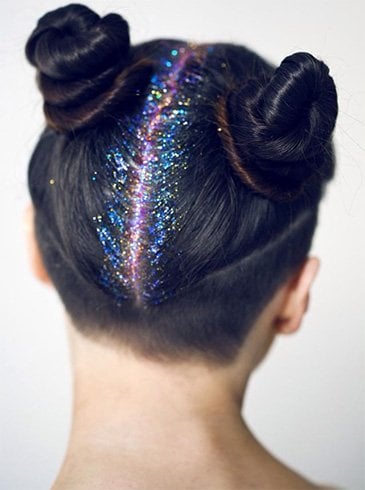 2. The Braided Glitter Hairdo
Tie your hair in to a braid, with a deep parting on the side or middle. This is the more elegant kind of look, with a dash of glimmer on it.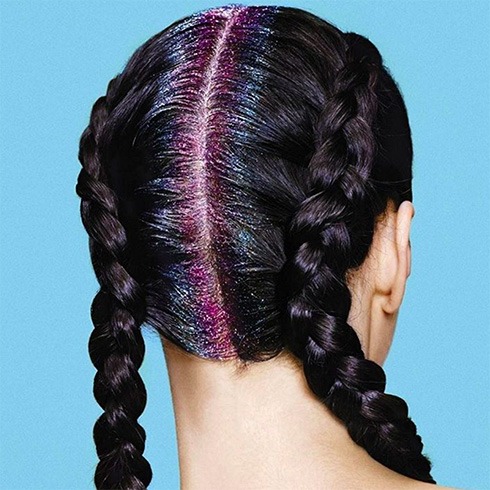 3. The Braided Crown Glitter Hairdo
Part your hair in the middle. Start French braiding from one side; starting right at your neck. Finish the braid at the top of your forehead. Do the same with the other side, to create a crown.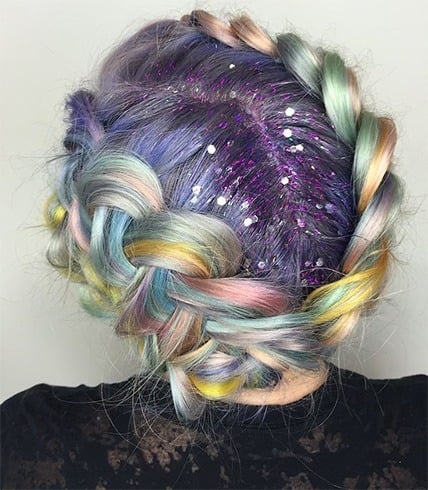 4. The Bold Hair Glitter Hairdo
With glitter you can really highlight your already resolute tresses. If you have purple, pink or blue hair, just add on some sparkles. It will funk up your look even more!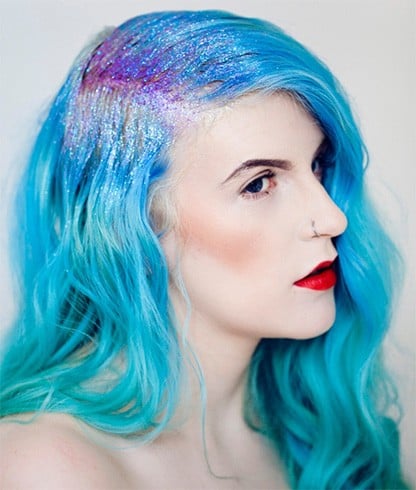 There are many different hairdos that you could do. Or just do your regular hairstyle, and jazz it up with some glitter. It's pretty much up to you!
[sc:mediad]
Let's have a look at some of our favorite Hollywood celebs donning this dazzling look!
1. Dakota Fanning – Subtle glitter on sequined gorgeous outfit!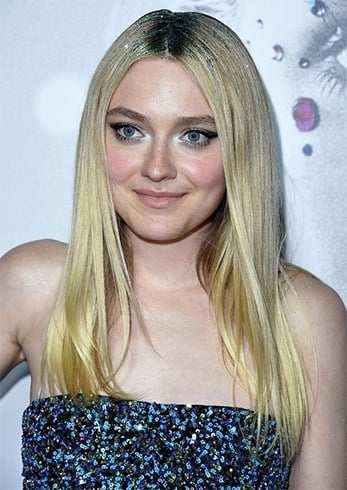 2. Miley Cyrus – She's bold and those glitter roots only make her bolder!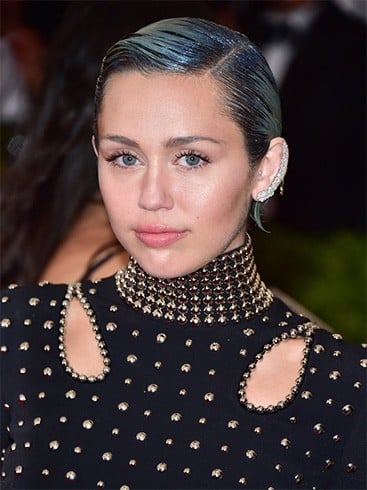 3. Kendall Jenner – Doesn't she look fab with two mini buns and glitter roots?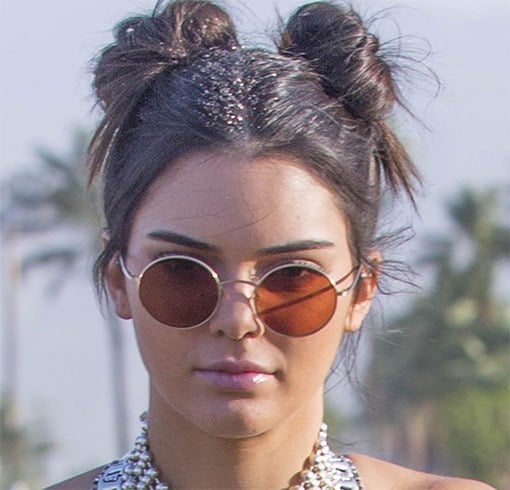 These glitter roots have created a rage on social media, and everyone is being a part of it. Give this new trend a try, we know you won't regret it. And soon everyone will be following you!
So there you have it – all the tips, tricks and techniques of adding glitter to your locks. Now it's your turn to go get your hair gleaming in gorgeous sparkles! Have fun styling your tresses and make your precious locks stand out even more!