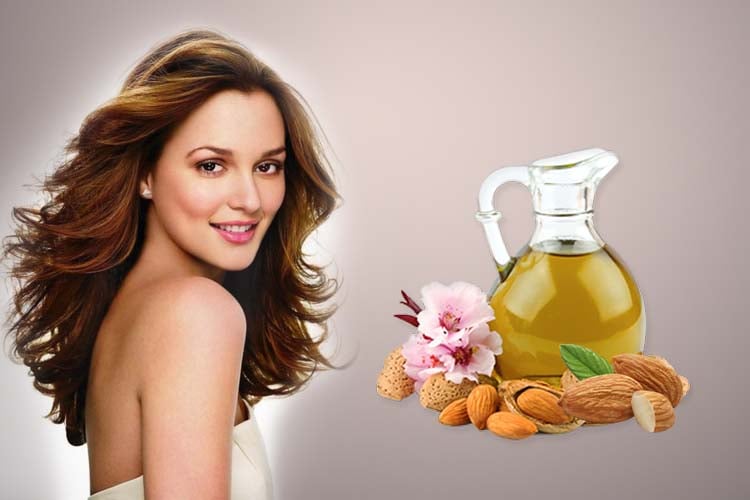 Almond oil, also known as 'Badam Tel', is an essential oil for aromatherapy. It is suitable for more or less every skin type. Almond oil for skin, hair and health has been professed since decades ago and is also used in many baby products.

Despite its high fat content, this seed of the almond tree has amazing benefits which have made them extremely popular even among dieters.
What's more?
Types of Almond Oil
There are two types of almond oil – sweet and bitter.
Sweet Almond Oil
Sweet almond oil is the most commonly used oil for health and beauty purposes
Sweet almond oil in fact can lighten the skin, and can also help with sebum production control.
You can use sweet almond oil and its vitamin E in it to heal dry and cracked skin too.
And with sweet almond oil, you gain folic acid and minerals and proteins as well and hence can be safely used for hair care, skin care, massages and healing needs including cooking too.
Bitter Almond Oil
Bitter almond oil has plenty of toxic compounds in it. However, it is best used for:
Hair and skin, since it is naturally antimicrobial and antiviral oil, antifungal and antispasmodic too.
Bitter almond oil is used as an ingredient in medicines and drugs, cough suppressants and local anesthetics too.
In some pain and sedative suppressants, bitter almond oil is used and also as a diuretic too.
Now that you know the difference between sweet and bitter almond oil, let us take a look into the facts of almond oil.
We all love facts, don't we?
Facts About Almond Oil
Scientifically termed as prunus dulcis, almonds are basically the seeds of the fruit of the almond tree.
Health experts tout about almonds for its high level of the healthy monounsaturated fatty acids and bioactive molecules like dietary fibers, Vitamin E, riboflavin, trace minerals like copper, magnesium, phosphorus, etc.
Considered as the richest source of fiber after cereals; it is also revered for having a high fat content, but that of heart-healthy monounsaturated fat.
[Also Read: 23 Amazing Castor Oil Benefits (Hair, Skin, Eye & Health)]
Almond Oil Skin Benefits
Almond oil is loaded with vitamin A, B and E. All of these are great for the health of your skin. The list of skin care benefits of almond oil is just insanely lengthy.
1. Makes The Skin Healthier
Almond oil helps maintain the skin's moisture level. Also it is non sticky and gets absorbed in a jiffy, but don't worry, your pores won't be blocked. In addition to improving the complexion of your skin and getting the glow, this oil richly nourishes your skin, leaving it smoother and softer.
2. Reduces Dark Circles
Almond oil is known to ward off under eye and side eye wrinkles by keeping pesky fine lines and crow's feet at bay. Not only this, they are also beneficial in keeping the morning puffiness under the eye and reducing dark eye circles.
For this, all you have to do is sparingly apply two to three drops of pure almond oil under your eyes at night and gently pad the oil using your ring finger. Leave it on overnight and in the morning welcome healthy and fresh eyes, sans puffiness and irritation.
3. Delays Signs Of Aging
Badam oil plays a great role in reversing and checking all the signs of ageing. It renews the skin cells and enlivens it. You can get youthful, fresh and radiant skin by adding regular use of almond oil to your skin care regimen. You may use it instead of your night cream and it works like magic.
4. Removes Impurities And Dead Skin Cells
The skin often loses its glow due to increase in dead skin cells on the top layer. To get rid of such dead skin cells and to brighten up your skin, you can try an almond oil exfoliator.
Make a face pack of crushed rice and add some almond oil to it, diluting the mixture with rose water will help too.
Another interesting scrubber can be made by adding a teaspoon of almond oil to equal amount of sugar. Exfoliate your face with either of these two packs for 10 minutes in gentle circular motions and wash off to get a soft and new skin.
5. Cures Psoriasis And Eczema
Almond oil plays an active role in reducing itching, inflammation of your skin and the redness caused by it.
A solution made of 2 tablespoons of badam oil, 3-4 drops of lavender oil, a capsule of vitamin E punctured and few drops of German Chamomile oil should be applied on the skin 3-4 times every day to die out the signs of inflammation and itch. This solution will also ease out cracked and other dry skin troubles.
[Also Read: Olive Oil Benefits for Skin, hair and Health]
6. Reduces Tan
The harsh rays of sun are known to be the biggest skin spoiler. Causing sunburns, tanning, wrinkling and other visible signs of ageing, it is here that the richness of almond oil must be explored fully to help you slow down your skin's ageing process.
To remove the layer of tan from your skin, just make a paste of honey, milk powder, lime juice and almond oil. Mix this paste thoroughly and leave it on the affected area for 20-25 minutes. Rinse it with water and restore lost moisture of the skin within minutes.
7. A Good Substitute For Hand And Foot Cream
Almond oil can also be used as a light and non-greasy substitute for your sticky hand and foot creams. The oil is light enough to get absorbed into a skin quickly and leaves behind a soft fragrance. The heavy zinc content in the almond oil will guard any flakiness or cracks on your skin.
8. An Ideal Makeup Remover
Out of all the uses of almond oil, this is the one that will surprise you. Did you know that almond oil could be used as an amazing make-up remover? As compared to all those chemical fused make-up removers we buy from the market, you would rather use this natural product. It, very gently swipes away even the last residue of make-up from your skin without toiling with its moisture content. Hence, it averts any chance of breaking out your skin.
9. treats chapped lips
Almond Oil contains a number of vitamins, the most essential one being Vitamin B2 in treating lips. This vitamin, also known as riboflavin retains the moisture of skin wherever it is applied. So almond oil can be used to soften your chapped lips and keep them moisturized.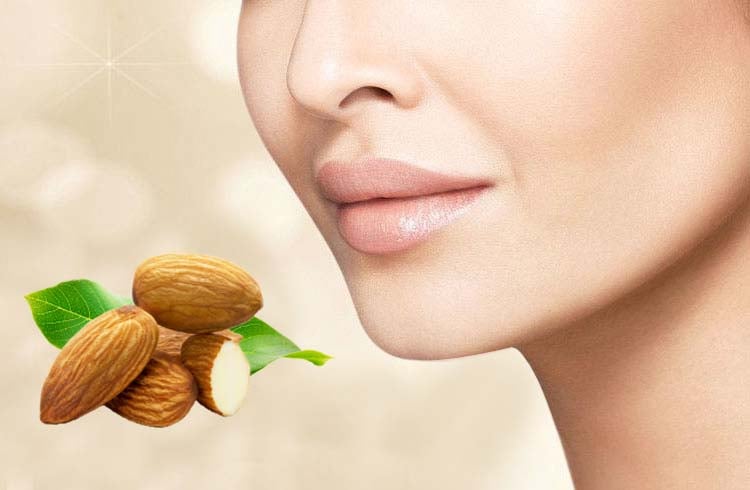 Just take a few drops of almond oil and rub it over your lips whenever you feel they are drying out. This will keep them moisturized and protected against skin damage.
10. Stretch Marks Treatment
Known for its emollient qualities, almond oil comes armed with a natural resistance to tearing, hence nourishing the skin and keeping it healthy and supple.
Just heat up 2-3 tablespoons of almond oil and massage all over your stretch marks in circular motions. Repeat this procedure as your post-bath session for at least three times in a week, and you would be able to notice diminishing stretch marks in about 3 weeks time.
Now that almond oil has helped you in attaining some glowing flawless skin, let's see how almond oil is good for hair:
almond oil hair benefits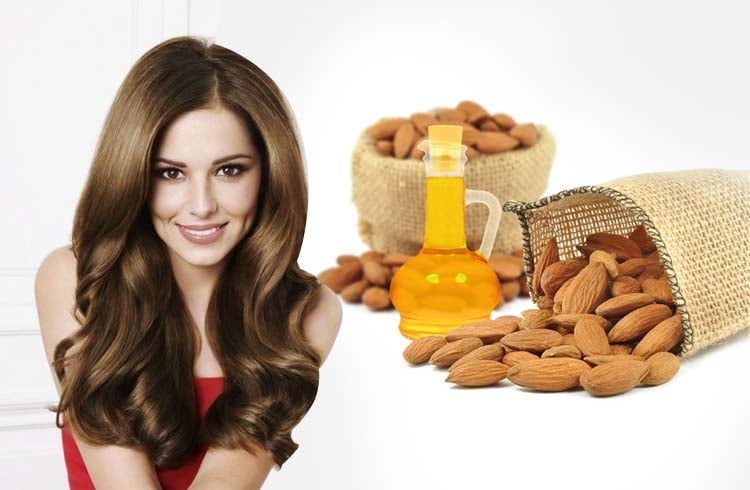 1. Makes Your Hair Long And Healthy
Almonds contain high quantities of Magnesium, which is vital for growing long, healthy and beautiful hair. If you are suffering from deficiency of Magnesium, make it a habit to eat almonds and other magnesium rich nuts, fruits and vegetables.
2. Gets Rid Of Split Ends
Split ends are a problem for every short or long hair person. The hair splits due to extreme dryness, extensive use of hair care products etc. Almond oil helps to get rid of these split ends by giving locked moisture and the intensive hair care that is needed.
Use almond oil to give yourself a soothing head massage. Heat the almond oil a little before massaging onto scalp, then massage for about 10minutes. The roots as well as tips of hair need to be properly soaked in the oil while massage.
3. Substitute For Shine Enhancers And Leave-In Conditioners
Almond oil can also be used to tame unruly hair or to bring shine back to dull hair. If you have curly hair that is just unmanageable after a fresh shampoo session, just rub a few drops of almond oil on your palms. Now run your hands though your curls. You will see them smoothing in instantly.
A few drops of almond oil can also bring shine to dull hair. But if you have straight hair, don't use more than 3 to 4 drops of the oil while using it as a serum. Just rub the oil well on your palm and spread this content evenly throughout the hair.
4. Treats Dandruff
Almond oil helps in dissolving dandruff from the scalp by curbing the flakiness of the scalp. So the moisturizer that it is, helping in keeping the scalp moisturized itself helps in preventing the dandruff flakes.
Warm up the almond oil and massage it onto the scalp for about 15minutes. Let it stay for about an hour before washing off hair. In about 3 almond oil massages, the dandruff is supposed to disappear.
[sc:mediad]
5. Prevent Hair Loss
Enjoy the goodness of sweetly scented almond oil with rosemary and lavender essential hair oil to bring down hair fall.It helps in lowering the number of strands that fall off from the scalp or are seen in your hair brush everyday.
Put drops of the almond oil mixture on the hair and massage the scalp gently in circular motions. Let your hair soak in this nourishing oils for about 2 hours and then wash it off with a fragrant shampoo.
Almond Oil Health Benefits
The high fat content of almonds is simply overlooked by all health experts and even dieters vouch for its amazing health benefits to the body.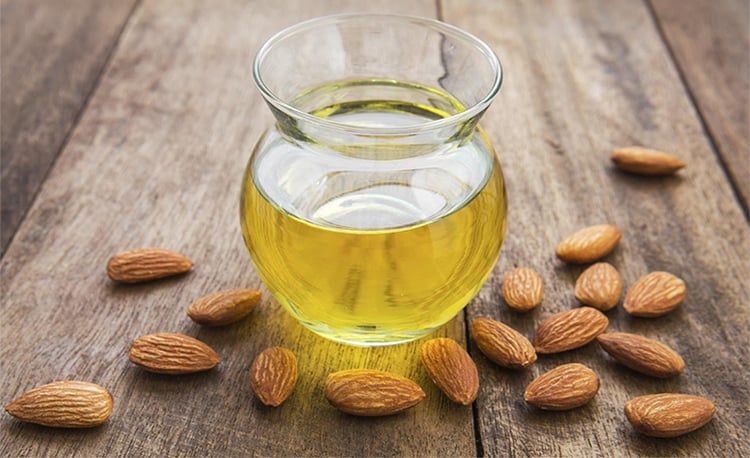 1. Prevents Heart Ailments
Almonds are excellent for your heart. Their high doses of healthy monounsaturated fatty acids (MUFs) and oodles of anti-oxidants like flavonoid, Vitamin E and magnesium specifically improve the overall health of heart arteries and reduce inflammation. They tend to ward off the damage and plaque buildup within the artery walls and takes care of numerous issues that leads to a heart attack.
2. Regulates Blood Pressure And Maintains Cholesterol Levels
The high monounsaturated fat content of almonds is mostly oleic and palmitoleic acids. These are known to be super arsenals in lowering the LDL or 'bad cholesterol' in the blood and pump up its HDL or 'good cholesterol'. Nothing like almond to improve your lipid profile!
[Also Read: Cranberry Juice for Immunity ]
3. Boosts Immunity And Aids Digestion
Immunity is boosted after a rigorous routine of a diet normally. So regular consumption of almond oil boosts the immunity and also improves the metabolism process. The effective laxative property that it possesses makes it aid digestion.
4. Boosts Memory And Strengthens Nervous System
Almond Oil gives the nervous system a kind of immunity that makes it all the more stronger. 5 almonds a day is known to improve memory. But almond oil consumption on a daily basis boosts memory.
5. Enhances Blood Circulation And Baby's Bone Development
Almond Oil is a rich source of Vitamin D, which is required for every individual to maintain the perfect balance of calcium in the diet. Babies are fragile and so are their bones, hence require more calcium for initial development.
Massaging almond oil on a baby's body especially around bones and muscles will improve the bone strength and allow easy blood circulation.
6. Relieves Pain And Muscles Stress
Joint Pains and muscles stress don't have an instant remedy, but the closest to instant could be the almond oil massage.
Heat almond oil a little and massage it onto the painful joints for a while to ease the pain. This allows the body to relax.
7. Promotes Healthy And Strong Nails
As conscious as we've become about our face and skin, nails play an equally important role.
Keep your nails strong and healthy by massaging them with a few drops of almond oil daily. The nails get hydrated due to components of potassium and zinc present in the almond oil.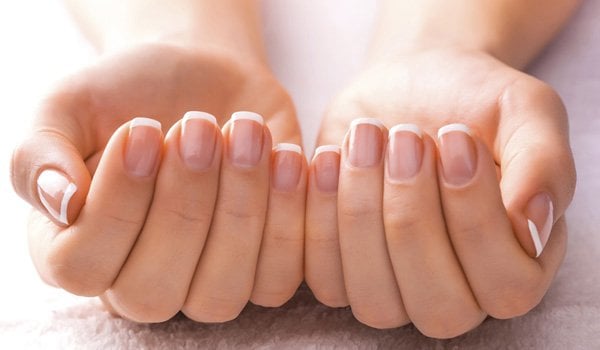 8. Prevents Cancer
While being healthy for the heart, almond oil also aids in preventing diseases like cancer. Rather than preventing cancer, it lowers the risk of being affected by it.
9. Aids Weight Loss
The low carbs content along with high protein and fibers of the almonds have demonstrated to increase satiety and thus decrease the hunger pangs. They also increase the metabolic rate of the body. Thus, it actually propels you to intake lower carbs. Now you know why serious dieters love almonds and are forgiving on its high fat content!
10. Treats Constipation
Anything that treats constipation needs to act as a laxative. That's exactly what almond oil does.
Treat your constipation by adding a few drops of almond oil to warm water on a daily basis and drinking it. This helps ease the bowel functions.
Are you heading to the supermarket to buy almond oil? Why not make it?
It's the simplest way to make almond oil. As we know, home remedies have a charm of their own.
How To Prepare Almond Oil At Home
Take high quality almonds and put them into a blender to crush it. Put the blender on low speed and gradually increase it to high as it gets crushed further.
Keep pausing the blender from time to time to check if the almonds are blended completely.
Add 1 teaspoon of unrefined olive oil to the almond paste.
More oil could be added according to the quantity of almonds.
Now empty this paste into a glass jar and keep it at room temperature.
Keep the glass jar for about 1-2 weeks before opening it and using the almond oil.
You should be able to separate the almond oil from an oil cake.
Your almond oil is ready to use. How simple was that?
It's your turn to look flawless and healthy, inside out. Let us know if almond oil has helped you in more ways than the ones mentioned above.
Side Effects of Sweet Almond Oil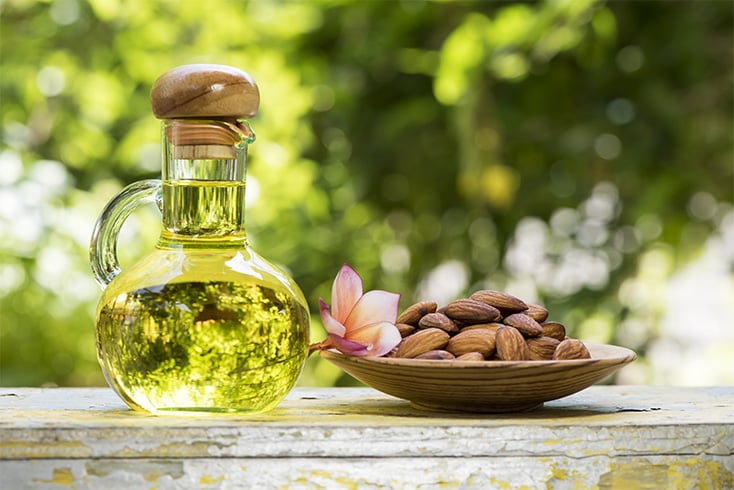 1. Gastro issues
Research and studies have shown that if you consume too much of sweet almond oil, it could lead to bloating and constipation.
Why?
This happens because of the high amounts of fibre in it, and if the body isn't used to processing so much fibre, it would end up upsetting the stomach since there would be too much stress on the tummy.
Tip: People with weak digestive systems should be careful when consuming sweet almond oil.
2. Interactions with medications
For people that are consuming diets rich in manganese and if they consume too much sweet almond oil as well, it could lead to drug interactions of a drastic kind.
Why?
Since the oil is rich in manganese, the mineral interacts with medicines and creates issues in the body.
3. Too much vitamin E is not good for the body
Studies show that the human body needs around fifteen milligrams of vitamin E on a daily basis to survive. If the consumption is more than this, it would lead to various health issues.
Why?
Sweet almond oil has plenty of vitamin E in it, and consuming too much of the oil could lead to issues like bloating, gas formation, flatulence, blurred vision, dizziness and headaches, lethargy and loose motions too.
4. Makes you fat
The presence of fats in the oil is what will make you fat when you consume too much of it, and the body wouldn't be able to burn that many calories in one go as well.
5. Allergies
Although a rare side effect, sweet almond oils can give you allergic reactions- breathing problems, rashes and more!
Now that you know about the side effects of having almond oil, here are the frequently asked questions by many to know more about the oil.
F/Q's
Q. Is sweet almond oil good for dark circles?
Having natural anti-inflammatory properties, almond oil is known to reduce puffiness and dark circles. It is a rich source of Vitamin K which in turn reduces discoloration under the eyes and reduces the impact of dark circles.
Q. Can you drink sweet almond oil?
Yes, it is infact healthy to drink one teaspoon of sweet almond oil every morning. Almond Oil works wonders in the body to maintain a healthy outlook at all times.
Q. Is almond oil safe for under the eyes?
Almond oil is used under the eyes to decrease puffiness or dark circles, and therefore is safe to put under the eyes. Having no toxic compounds or side effects, it is safe to rub the oil below eyes to prevent eye bags.
Q. Can you use almond oil for cooking?
Almond oil is suitable for cooking if not heated to high temperatures. When the almond oil is heated to high temperatures, it kills the natural substances in the oil and deprives the nutrition value. So, if not for heating to extremely high temp, almond oil is suitable for cooking.
Q. Is almond oil edible?
Almond oil is suitable for cooking, drinking as well as for topical uses. This oil is edible and benefits health in ways more than use. An edible and healthy alternative to most cooking oils, almond oil is a boon.