Weight is what matters – in the roles, not in the flab around the waistline. Hindi cinema has shown us many of our favorite heroines in super gorgeous costumes that are 'seeti-bajao'. Meena Kumari in Pakeezah, Rekha in Umrao Jaan are classic examples of the heaviest costumes in the 20th century.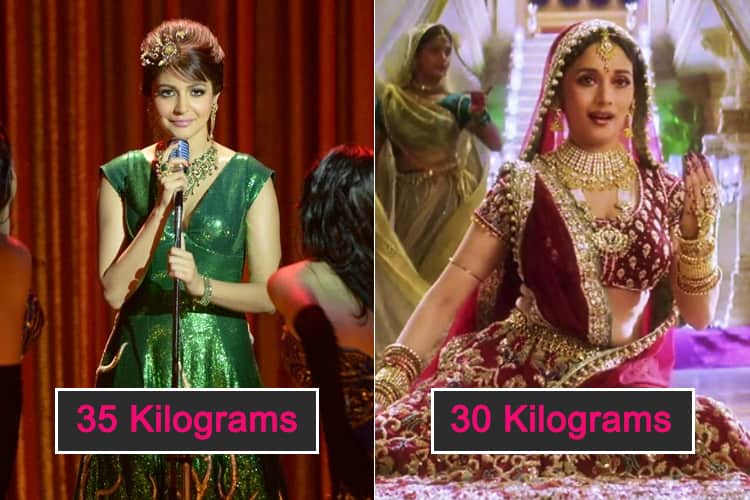 [Also Read: All-Time Bollywood Fashion]
Come the 21st century and we saw the modern and contemporary ladies donning the heavy costumes with aplomb.
There was the stunning Madhuri in Devdas and the beautiful Aishwarya in Jodhaa Akbar.
If there was Anushka in KJo's Ae Dil Hai Mushkil, there was Deepika's Mastani dress to wow us.
Yes, Deepika in Ramleela dress is just as impressive as her credentials as one of the 100 most influential people in the world named by TIME magazine.
How can I not go crazy about Deepika Padukone's costume in Padmaavat, which was crafted by couture designers Rimple and Harpreet Narula?
Any idea, what is the weight of the costume she wore as Queen Padmaavat? A whopping 35 kg! But our leading ladies never complain. Not once, thorough professionals, they are!
List Of Celebs Who Wore the Heaviest Costumes In Bollywood:
Now let us be in-the-know of Bollywood celebrities whose heavy outfits have left us spell-bound as much as their on-screen performance.
1. Anushka Sharma:
Those of you who have seen the film Bombay Velvet can easily recollect Rosie's (character played by Anushka) beautiful emerald green gown. For costume lovers, this gown designed by Niharika Bhasin Khan weighed 35 kg. It could be one of the reasons why Anushka's performance left a heavy impression in the minds of the viewers.
It was the first time Anushka donned such a grand and opulent outfit but she carried it with ease.
Was that all coming from Anushka when it comes to wearing heavy-as-a-ton outfits?
Well, the lady donned a 20 kg lehenga designed by Manish Malhotra for the song Channa Mereya from Ae Dil Hai Mushkil.
Hope you know how much hard work Bollywood celebrities have to put in.
A case in point –
To shoot the song Channa Mereya, dear Anushka had to climb the stairs wearing that 17 kg lehenga as it was shot on the first floor of a mansion, which had no lifts.
2. Deepika Padukone:
Remember, Deepika Padukone in a stunning lehenga in Ramleela – to be precise Goliyon Ki Raasleela Ram-Leela. Padukone's lehenga designed by Anju Modi weighed 30 kg! Deepika in Ramleela dress looked impressive as she delivered a power-packed performance.
Okay, what about the weight of the armor she wore in Bajirao Mastani as a warrior? It weighed a little less, about 20kg!
That's why the Mastani dress can never be forgotten.
Just imagine – Deepika had to perform stunts, yet keep her cool while carrying a 20 kg outfit.
3. Madhuri Dixit Nene:
Gifted with the most beautiful face in Indian cinema, Madhuri Dixit is one of the Bollywood celebrities whose acting and dancing skills have won her international fans too.
And yes, Madhuri in Devdas cannot be forgotten. She too had the honor and privilege of wearing a 30 kg opulent costume while performing on the song Kaahe Chhed Mohe in the romantic-tragedy Devdas.
Wearing such a heavy lehenga, at the same time managing the challenging dance moves came naturally to Chandramukhi (courtesan played by Madhuri).
Mads said in an interview "Imagine doing Kathak in a ghaghra weighing 30kg! Even when I stopped dancing, my ghaghra wouldn't stop swirling. It was almost impossible to do the shot."
Kudos to Madhuri for her performance in Devdas!
4. Aishwarya Rai Bachchan:
Aishwarya looked gorgeous and elegant in the film Jodhaa Akbar. It was a movie par excellence – from actors, director, music, the perfect set-up of the Mughal era. About 400 kg of gold and semi-precious stone were molded to recreate Jodha's jewelry carried effortlessly by Aishwarya Rai.
Here's an insight into the costume making for the film?
About 200 craftsmen worked for 600 days to recreateMughal ornaments which Aishwarya wore in the film. Apart from the ornaments, Ash wore heavily embellished ghagra-cholis too.
5. Sridevi:
The megastar Sridevi was a born performer and an acting legend. Her heavy Indian outfits in films were also larger than life. In her Tamil film Puli, her costume which was designed by Manish Malhotra weighed 20 kg.
This wasn't enough from Sri baby.
Sridevi wore a golden costume weighing 25 kgs for the song Dushman Dil Ka Woh Hai in the film Roop Ki Rani Choron Ka Raja. None other than Neeta Lulla had designed the costume who said in an interview "It weighed over 25 kg and Sridevi wore it continuously for 15 days. We had to mend it every night due to the damage caused by the vigorous dance routine."
6. Sophie Choudry:
Sophie is one of the hottest Bollywood celebrities we know and love. She did an item number for the film Kidnap where she showed us some fab moves in the song Meri Ek Ada Shola.
Prepared for a shock-n-surprise?
Do you know the skimpy costume she wore in the song was weighing a total of 20 kg? With so much sexiness shown, it had to look weighty.
7. Kareena Kapoor Khan:
The Begum of Pataudi apparently wore a lehenga weighing 32 kgs designed by Manish Malhotra for a song from the film Ki & Ka. This heavy lehenga had heavy layers of Zardozi embroidery. Bebo shot for the song for two consecutive days in a suburban studio.
Apart from the Bollywood actresses, even male actors have worn heavy costumes.
Examples –
Amitabh Bachchan in Shahenshah whose metal arm accessory in the film weighed more than 14 kilos. Big B chose to wear it in all the fight scenes in the film.
Vivek Oberoi in Krrish 3 couldn't be missed in his metallic costume that weighed about 28kgs as he transformed into a menacing villain.
So ladies, these were some of the most popular stars who left us speechless with their astounding performances in the heaviest costumes. Which celebrity impressed you the most? Feel free to share your opinion in the comments box below.