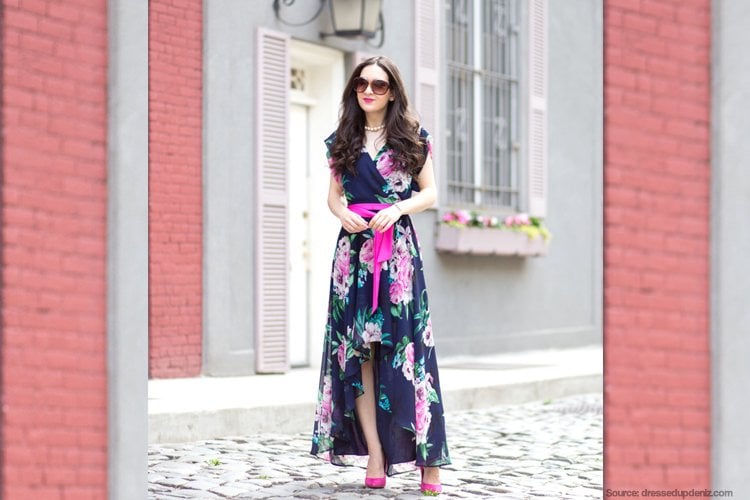 Life doesn't have a symmetry everywhere and every time. That is what makes it exciting and unboring. High Low Hems which are trending now is a classic example of dresses that put you one step ahead in the fashion race the non-conventional way.
How do you identify high low hemline dresses? They are higher in the front, or side, rather than in the back. It's like saying they are short and sassy in the front, and long and classy in the back. Uneven look, but that's where the beauty lies. This way, you can show off your killer legs without committing yourself to a short length.
Fit for every mood and occasion, there are several outfit options in high low hem outfits – the boho chic skirt and high low hem kurti (which have become more fashion regulars now) to even cool tanks and high low hem shirts. The options in high low hems are growing by the day. Will there ever be a high low hem saree? Best left to fashion designers.
All in all, the high-low trend is a great way to show off your summer-ready style. Matching tees and tops with a pair of shorts or skinny jeans is the best way to sport the high low hemline dresses for summer.
For now, here are some choicest picks – I will start with high low hem skirt so that you get a taste of high-low fashion.
Mood and Melody Washed Red High-Low Dress
Instant mood-lifting this High-Low Dress is. It has twin spaghetti straps which crisscross at the back and cascading tulip skirt ending in a high-low hem. Front of bodice is lined. Available in Washed Blue too. Complete the look by wearing suede lace-up heels and a gold bracelet.
I Found You, Black High-Low Dress
Perfect dress for those sunny days and evenings too. Fabric falls from adjustable straps to a bodice with overlapping flounce.
The Sky's The Limit Navy Blue Striped High-Low Dress
Easy-breezy high low hem skirt with fitted waist, multi-color striped prints, and bodice with criss-cross adjustable straps.
All Mine Rusty Rose Floral Print High-Low Wrap Dress
Summer-ready and chic looking high low hem dresses in the form of breezy chiffon. It's got a front slit and tying waist which makes it uber cool. Complete the look by opting for a cream-studded clutch.
[sc:mediad]
Lucy Love Tranquility Blue Floral Print Off-the-Shoulder Dress
For sunny and lazy days, go out with friends for a picnic in this front slit Blue Floral Print Off-the-Shoulder Dress. The dainty blue and white floral print forms a smocked bodice with short, off-the-shoulder sleeves.
Marisha Washed Olive Green Halter Wrap Dress
Wishing for that perfect dress that can carry you through hi-profile summer evenings? Just go in for this Olive Green Halter Wrap Dress! The gauzy rayon, the halter neck (with elasticized back), the wrap bodice with tying sash belt complete the high-low culture.
Christine Blue Floral Maxi Jumpsuit
This high-low floral dress has built-in shorts giving you a comfortable and flattering fit! Great for dressier events!
Tortoise Lady Like Flared Dress
Show off your lady like ways in this lovely tortoise-color day dress. Comes with V-shaped neckline, thin straps leading to an intricate laced back and an A-line silhouette with a high-low hemline.
Mauve Pastel Romance Lace Dress
Live a night of romance in this high-low hemline lace dress. It comes with uber cool off the shoulder neckline and short sleeve.
Lizbeth Taupe Classic Twist Formal Dress
Get prepared for a transformation as you walk into the room in this high-low prom dress from Lizbeth. A plunging V neckline, thin adjustable straps, curve-hugging wide waistband make you look a fashion diva without a doubt. The long back resembles an evening gown whereas the front hemline is short and flirty. You are already a star when you adorn this high low hem dresses.
Mesh & Lace High-Low Dress
Check out this charming skater dress with the loveliest of details such as mesh and delicately placed lace. A lovely lace bodice that drapes down into a pleated lace high low hem skirt. It also has an invisible back zipper.
Heart Strings Black Maxi Dress
Tobi-designed Heart Strings Maxi Dress gets you a flowy body for an elegant silhouette. The multi thin straps on a halter front neckline are attention-seeking as much as back zipper closure. To complete the look, pair it with strappy heels.
High-Low Jersey Dress
This is a jersey knit dress with a round neck, sleeveless cut, boxy silhouette, and a high-low hem. It is alright (in fact, great) to wear it in hot temps.
Selfie Leslie High-Low Dress
Get into the nude, I mean, nude –colored woven cami dress by Selfie Leslie™. It's got a plunging neckline, adjustable cami straps, a high-low hem, a pleated front and an exposed back zipper.
Crochet Lace Ruffle Dress
In this knit dress, you will find a split neck with self-tie detail, short sleeves with crochet lace trim, and a high-low hem.
High Low Hem Kurti
In this modern type of high low hem kurti, the front hem is shorter as compared to the back. Not only gives you a stylish look, it also adds a feminine touch to the attire.
High Low Hem Shirt
If you want the best of comfort and drama, then these high low hem shirts will be a good pick. The flowy fit and high-low hem that hangs longer in the back can't be missed at all. Added features include buttons in the front and convenient side pockets; 3/4 sleeves with button detail.
High Low Curved Hem Tshirt
Welcome the summers with this interesting looking blue cotton high low hem shirts. Casual style, it has got short sleeves and round neck.
Now that you have seen such stylish High Low Hems which are trending now which of them is your personal favorite? Do tell us in the comments below.