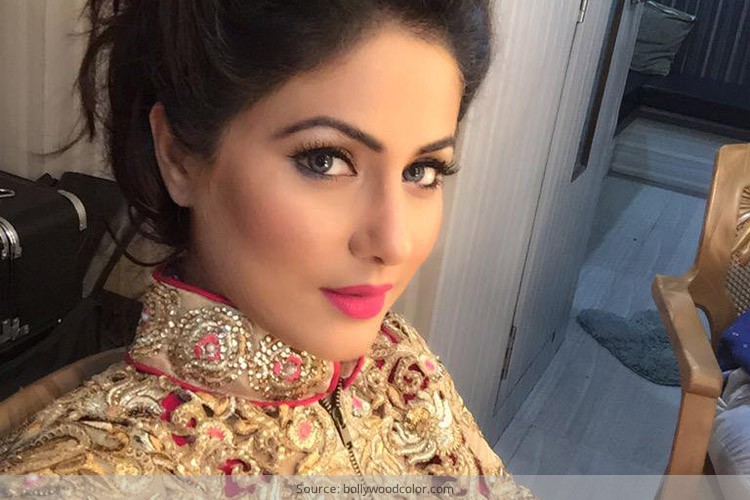 Her stunning body, her smart and funny retorts has led to Hina Khan's immense popularity on Bigg Boss. People are loving the Star Parivar bahu for all her unconventional ways of dealing with others and her really sassy way of dressing.
From her chokers to dungarees and the amazing earrings she managed to flaunt at the show, there's even a rumour that the Bigg Boss runner-up actually managed to bag more money at the show than the winner. Now that's just speculation, but Hina Khan beauty looks can actually make people run for their money! In every show, Hina Khan has managed to outdo herself with lipsticks that are alluring to eye makeup that speaks volumes. If you are a fan of the stylish actress, you have come to the right place. In this article, you will find some Hina Khan makeup looks that you should copy.
Her Doe-Eye makeup:
For Hina, one of the biggest assets are her eyes and time and again viewers could see that she concentrated on makeup that focuses on her eyes. Her favourite look to carry off were those doe-eyed looks. Not only did this style add to her advantage, but it is also a simple look to pull off. Doe eyes always conjure up images of innocence so, once she got her big puppy eyes to do the job, we are sure everything fell right into place.
How to do the doe: For getting her doe eye look, all you have to do is focus on different features of your eye and accentuate the lower lash line and use Kajal to line the lower lash line. To make your eyes look bigger, use a white eyeliner on your lower lash line, it will create an illusion of bigger eyes.
When that berry-red lipstick is a killer:
'Tis the season to go dark and Hina Khan literally slays it with her off-beat style and her berry-red lips. Mind you, these are not the usual berry red lipstick that we see on the streets, but Hina Khan actually went for one of the darker shades of red – something similar to wine and she looked amazing! The key here is to match it up with a smart dress and keep the other makeup toned down. You can focus on getting the red lipstick as the center point of your look, so keep your jewelry and other makeup next to minimal – let your lips do the talking!
Always test out the different red lipstick shades available. The darkest maroon one available might end up looking gothic on you if you are too pale. So make sure you test the colours before buying!
Mimic her Marathi look:
The Marathi mulgi look is often easy to pull off if you know just the things you need. A nose ring is, of course, a very important accessory, but so is the hair and the makeup. In this Marathi look, Hina keeps her look very clean and accentuated. She has used some little blush on her cheeks and used the nose ring as the focus of her look. Her bindi is also moon-shaped – a type of bindi that is often worn by most Marathi women. She has parted her hair in the middle and tied it – a classic Marathi style again. This is one of the best Hina Khan Makeup looks that you should copy – it's easy, it just needs some simple accessories and you are free to play around with your lip colours. You can either wear a red or pink lipstick depending on the saree you would be wearing.
[sc:mediad]
Charcoal Eyes for the Win:
Who doesn't love smoky eyes- we all do and since Hina has topped her eyelids with a little bit of golden glitter, we are head over heels in love with her subtle idea! Most of us Indians have a warm skin tone (a warm or cool skin tone depends on the kind of undertones we have) and charcoal or smokey eyes don't always look that great. However, if we use Hina's idea and sprinkle some golden glitter on our lids, it will work well to match with our undertones.
Channeling that Red Carpet Glam:
Red lipstick never fails to impress and from all the enviable looks that we have seen on Hina, red lipstick is something she is often seen wearing, in different shades and colours. While she wears dark red lips with a more formal look, she is often spotted wearing bright cherry red colours when she going for a night out or there is a media event. The biggest benefit of wearing a bright red colour is that it immediately makes you feel confident. So whether you are just heading out for a brunch with the ladies or for a date, put some red lipstick on and see your confidence soar!
Nude lips always work:
Not everyone appreciates the beauty of nude lips. Most people think that nude lips won't look that great for every occasion, but Hina Khan begs to differ. Even with some of the most glam looks, Hina has managed to wow everyone with her nude lip look. Choosing a nude colour shouldn't be that difficult but we advise you that you shouldn't buy the nude lipstick online. There are various shades available and hence, a nude colour is best bought after you have tested it out on your lips. Remember, not all nudes will look great with every skin tone. So try out the different shades available in the market and see which ones look the best on you.
So here was our take on the best Hina Khan makeup looks you should copy. We have handpicked some of the looks that require minimum makeup items and are easy to mimic. All you need are some good lipsticks, a foundation that suits your skin, and an eye makeup palette that you could use to create a smoky eye look – simple as that!