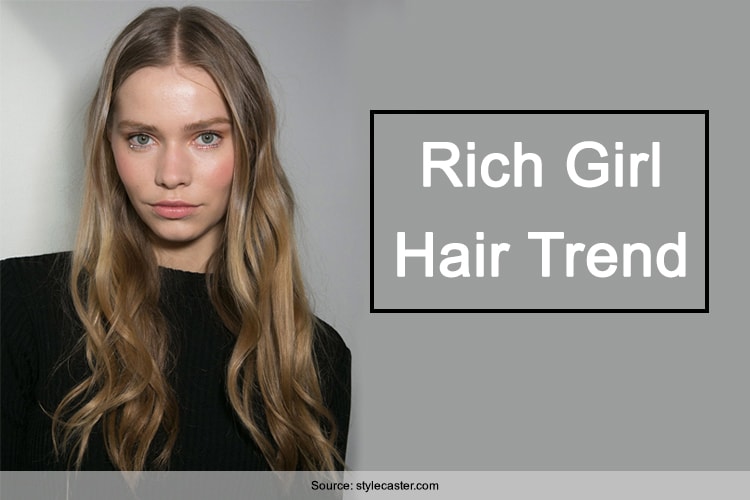 There is a hair trend that has rocked the ramp at various Fashion Weeks all over the world. It is known as rich girl hair. This is essentially super silky, straight hair with a slight bend in the middle. The rich girl hair is especially great for women who have straight hair naturally, and just want a little movement with minimal effort. In today's times, busy women are always looking for effortless beauty. The final result of rich girl's hairstyles is chic and natural looking hair.
What Is Rich Girl Hair Trend?
Most of us are not clear about what rich girl hair trend actually means. It's about achieving gorgeous, long tresses for a pulled-together look. Rich girl hair refers to a hair trend with loose wavy hair, most often styled with a middle parting. The tresses have a slight bend and are slightly wavy. There is no need for using texturizing products or gels for creating this hairdo. Your hair should be clean, soft, and shiny. The look is very simple to achieve. The goal is to create a look which is effortless and natural. It can be created on any hair length.
Following the popularity of rich girl hair, is the French girl hair trend. Both these hair trends are popular this season. Let us now analyze the difference between the two.
French Girl Hair vs. Rich Girl Hair:
Super sleek or 'out of bed' look which is your style when it comes to your hair? Let's decode the Rich girl vs French Girl hair to help you take your pick:
French Girl Hair:
The French girl hair is absolutely chic, yet requires less maintenance. This hairdo is mostly seen on Parisian models and in French movies.
How to achieve the look:
This is rather a low maintenance look and requires lesser hair styling products to pull it off.
The hair needs to be the right shade of brown and medium to long in length.
You should get the bangs cut too for achieving the perfect French girl hair.
The secret to achieving French girl hair is not to over style it. But keep the hair a little messy.
Tips:
You can match your French girl hairdo by balancing off your ensemble and keeping it chic, with minimal accessories. You can wear the hairstyle with skinny jeans, white shirts, and leather jackets.
Rich Girl Hair:
Rich girl haircut is all about a neat and well-maintained look. This is a hairstyle that looks long, luscious, and shiny.
How to achieve the look:
Rich girl hair is a low maintenance style.
This hairdo is easy and perfect to style long hair as its main highlight is cascading waves.
You can create curls and brush them out using a brush to create soft tousled waves effect.
With regular hair treatments, you will be able to ace the healthy looking rich girl hair trend.
Tips:
Rich girl hair is elegant and natural at the same time. This makes it versatile to wear for both formal do and casual outings. You can keep your makeup and hair color minimal. After all, the rich girl hair is all about sophisticated style and elegance.
How To Create Rich Girl Hair?
Those with long straight or slightly wavy hair can find it easy to nail the look. For achieving the fashion hair, you will need a great styling cream, curling wand, and a stronghold hairspray.
Apply a heat protecting spray or smoothing cream with thermal protection throughout your damp hair.
Make use of a paddle brush to blow-dry your hair for a smooth and sleek look.
Then use your curling wand to wrap front sections of your hair around the barrel. Release when they look like loose waves.
Keep moving backward with your curling tongs to create asymmetrical waves for a more natural and fresh look.
Gently brush your hair so that the curled sections are not clumped together.
You may rub styling cream into your hands and run your fingers through your waves lightly.
Set the waves using a flexible hold hairspray.
Girls with fine hair may achieve the rich girl trend even without heat styling. Use a little amount of styling cream on slightly damp hair. Twist two loose buns on top of your head or nape of your neck before you hit the sack. After you wake up, brush out the buns, to create a head full of gorgeous wavy hair.
[sc:mediad]
10 Hacks to Achieve Rich-Girl Hair Trend:
Rich girl hair trend made its debut at the A/W16 shows by Chanel, Hermes, and Ralph Lauren. The key highlights of this hairdo are a smooth finish with high-shine and a soft bend. You can achieve this stylish look with minimal effort through these 10 hairstyling hacks listed below:
1. Get Rid Of Baby Hair:
Baby hairs are troublesome when styling hair. You can try this toothbrush trick shared by Gigi Hadid. Dip an old toothbrush in a bottle of hairspray and use it to manage your teeny weeny flyaways.
2. Replenish Hair Moisture:
Rich girl hair texture is soft, silky without any tangles. If your hair is beyond repair, you will need a hair spa. You may switch to an intensive conditioner to replenish moisture and style your hair the rich girl way.
3. Replace Your Shampoo:
One hair hack that supermodel Suki Waterhouse swears by is using Coca-Cola in place of shampoo to treat limp hair problems. We see this treatment is definitely working for her.
4. Create A Rope Style Braid:
Celebrity hair expert David Lopez shared the most awesome hair hack of all time. To try this trick, spray a little hair texturizer on your tresses. Twist your hair into a rope-styled braid and blow dry. This is the most comfortable hairdo to carry all day.
5. Use Mayonnaise As Pre-Shampoo Treatment For Split Ends:
Rich girl hair is all about smooth, shiny, and healthy ends. If you do not have a pre-shampoo treatment for split ends, then try Blake Lively's version and use mayo. This works magically to treat dry and brittle hair ends.
6. Use Two Hair Tongs:
This is a secret shared by Selena Gomez's hairdresser- Lona Vigi on the singer's perfect ponytail look. For this look, she makes uses of two tongs with different barrel sizes for achieving undone, less uniform waves. This is a perfect hack for those wanting to nail the rich girl hair trend.
7. Use A Dry Shampoo:
Many of us feel that freshly-washed hair does not hold waves well. To sport the rich girl hair trend, you can rely on a dry shampoo. You may wash your hair later to restore a healthy, rich girl hair texture.
8. Do a Beer Rinse:
You can try Anna Ewers' trick of achieving the look by giving your mane a beer rinse. Just dry your hair off instantly to get rid of the smell. This hack is a must-try seeing her hair look gorgeous in the Hugo Boss advertisements.
9. Hair Clip Extensions:
The Kardashian-Jenner families are known for their beauty routines. Their hairstylist Jen Atkin's has shared one hack which is the clip trick. For trying this trick, apply mousse to damp hair. Bunch it up towards the roots and clip the hair extensions on. Repeat clipping all over your head leaving about two inches between each extension. Blow-dry or air-dry for achieving effortless, trendy rich girl waves.
10. Allow Wet Hair To Soak The Steam:
Rich girl hair trend requires volume and movement. Therefore, use steam as a way to create natural volume. Before leaving the shower, stand and allow your wet hair to soak up the steam for a few extra minutes.
This hairstyle for long, straight hair with diffused waves that's more like a bend is far less uniform and natural. It lays more emphasis on the middle hair portion for creating loosely formed waves.
Hairstylists like Odile Gilbert and Paul Hanlon described rich girl hairstyles with adjectives like sophisticated and luxurious. We cannot agree more on this.
What's your take on the rich girl hair trend? Do write and share your thoughts with us in the comment box below.