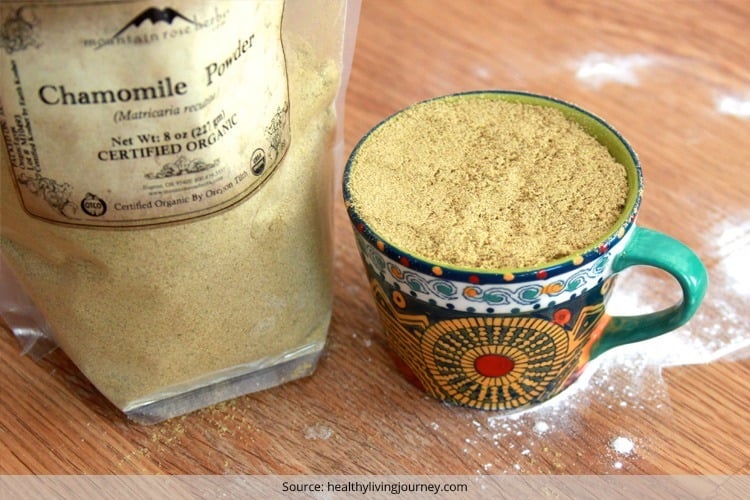 With plenty of health issues doing the rounds these days, one wonders if there would ever be a time when there are no cases to hear of with regard to our bodies, our minds and our overall lifestyles. Wishful thinking isn't it? But wait, we can actually garner plenty of accolades and health benefits from DIY homemade products, using what we find in the kitchen. While keeping the body well-nourished and in good shape is always a welcoming thought, let's not forget about keeping both the internals and the external aspects of our bodies in good shape too!
The Powers of Chamomile Powder Unleashed
Benefits of Chamomile
Chamomile powder since time immemorial has shown us how to deal with chest issues, common coughs and colds, abscesses and resin inflammation too. In some countries, Chamomile powder is used to cure duck pox, baby diaper rash, psoriasis and eczema as well.
Chamomile powder also is known to be a potent tincture for those who have insomnia and sleep issues too. And when Chamomile powder is added to warm water, it helps soothe the nerves, brings down anxiety pants, and promotes sleep, and more!
10 Benefits of Chamomile: The Wonder Herb
Senior citizens mostly need Chamomile powder as a potent catalyst to treat digestive issues. Chamomile powder can solve bowel issues, gas and indigestion issues, diarrhoea , stomach pains and more
With anti-inflammatory properties to its name, Chamomile powder helps beat inflammation of the intestine and the stomach walls. It also helps soothe burning eye issues and irritation too
Muscle spasms would be a thing of the past when Chamomile powder is used, since gas within the body is expelled, especially from the intestines and the stomach.
Chamomile powder helps bring the blood pressure levels to normalcy over time and relaxes the body too
Rashes and prickly heat no more, thanks to the use of Chamomile powder in our bath waters
Unwanted diarrhoea in kids and senior citizens would be a thing of the past when Chamomile powder is introduced into their diets
The use of Chamomile powder brings on the anti-microbial properties into the immunity system, keeping the skin safe from itches, rashes and exasperation, eczema, sores and other skin issues of great concern too
Post menopause, ageing signs take a rapid hike which now can be treated and brought to a minimum with the use of Chamomile powder. From age spots to forehead lines, hyper-pigmentation to wrinkles and dark circles, holistic treatments using Chamomile powder brings in benefits and beauty!
[Also Read: How to Deal with Menopause Anxiety]
[sc:mediad]
Chamomile powder in teas can help bring relief to the nerves. The anxiety pangs are brought down to a minimum for patients suffering from mental health issues
For a very long time, doctors too suggest the use of Chamomile powder to cure patients from ADHD (Attention Deficit Hyperactive Disorder)
NOTE: Before you start using Chamomile powder, topically or orally, we would ask you to speak with your doctor for any underlying health issues you may have. This article isn't a substitute to the current dose and course of medication that you would be following, which is why a doctor's word would take precedence over what is written here any day.
Start your day with a hot cup of Chamomile powder tea; here is the recipe
Ingredients to make Chamomile Tea
A tablespoon of Chamomile powder
3 cups of water
2 tablespoons sugar
Method to Make Chamomile Tea
Bring the water to a boil and on slow fire, add the Chamomile powder to the water
Let it simmer for a minute, to which you now can add the sugar
Remove from fire and strain
Serve hot with a dash of lime!
While most of us aren't happy about the use of sugar in our tea, we could opt for alternatives such as honey or jaggery for the sweetening effect in Chamomile powder tea!
[Also Read: Sugar or Jaggery]
Enjoy your cuppa and reap plenty of benefits of Chamomile!