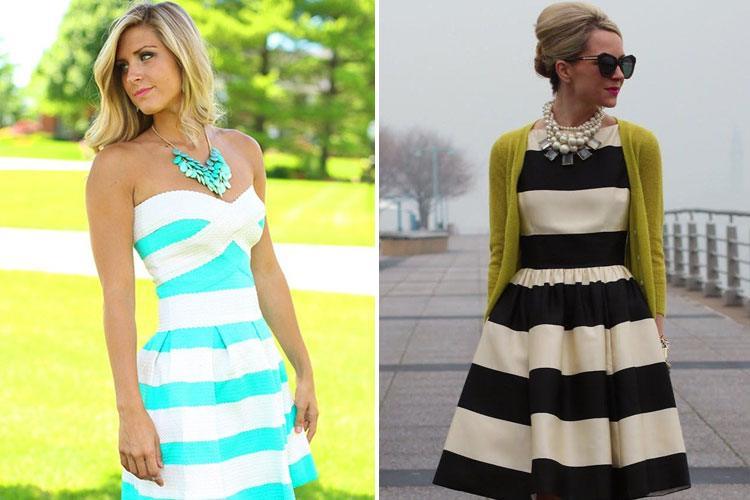 Patterns and prints are something the fashion world is obsessed about. Every year new patterns and prints dominate the runway, subsequently making their way into the street fashion as well. There are some patterns that are ever classic, such as polka dots, checks and stripes. Of these three patterns, the stripes are of particular interest to us. The stripes are now bigger and bolder than ever before and we are totally loving the look of that. Here's a quick guide on how to carry off wearing bold stripes.
Go Big or Go Home!
Let the stripes be the focus of your attire. The bolder the stripes, the better. When you are looking to make a statement, you need to be loud and clear. So go ahead and show off the bold stripes in some innovative way. How about this pair of vertical striped trousers? If that is not statement-worthy we don't know what is.
[Also Read: Best Fashion Books]
Tap Into Your Crazy Persona
In order to wear bold stripes, you need to step out of your comfort zone and experiment. So instead of trying to make your outfit match and look all subtle and classy, opt for a whacky look that has shock value. Like pairing a boldly striped pants or shorts with a printed top. You say crazy? We say trendy!
Colour Me Rainbow
While stripes are more often than not black and white, as we all know when it comes to fashion all bets are off. Play with colours, opt for coloured stripes or better yet – multi-coloured stripes. Bright, bold colours work well in a striped pattern and offer a fun element to your look.
[Also Read: Ladies Day At The Races]
Break the Rule
There's one hard rule when it comes to wearing stripes and that is: never pair stripes with stripes. This is simply a matter of visual appeal. Stripes on stripes can be a little overwhelming and distracting. While this rule is sensible we are going to give you some naughty advice; go ahead and break the rule. Yes, you heard us right. Break. The. Rule. Pair a striped shirt with a striped bottom for a totally crazy overdose of stripes. Why stick to the rules and be a good girl when you can make your own rules like a boss. We say ''Own it gal!"
[sc:mediad]
It Is All About Geometry, Baby!
Horizontal and vertical stripes are all well and good, but how about some variety? Weird angles, lines and cuts will help add interest to your look and keep it from being predictable and boring. Take a look at some instances where haphazard stripes worked their magic and made the outfit truly special.
Stripe Me Pretty
Why limit stripes to your clothing when you can opt for some really cool striped accessories. Opt for a boldly striped bag or even striped shoes. Striped accessories can jazz up any outfit and definitely fall under the 'must-have list'.
[Also Read: Stripes for Every Body Shape]
Stripes are actually a great addition to your wardrobe as they are timeless and will always in some sense, be in style. Bold stripes are just that much more eye-catching and all you need to do is wear them with confidence to rock the look. So go ahead and buy some striped clothing, after all it is an investment that you can wear for years without any fear of looking outdated or unfashionable. Get inspired from one of the above mentioned looks and fall in love with stripes all over again.