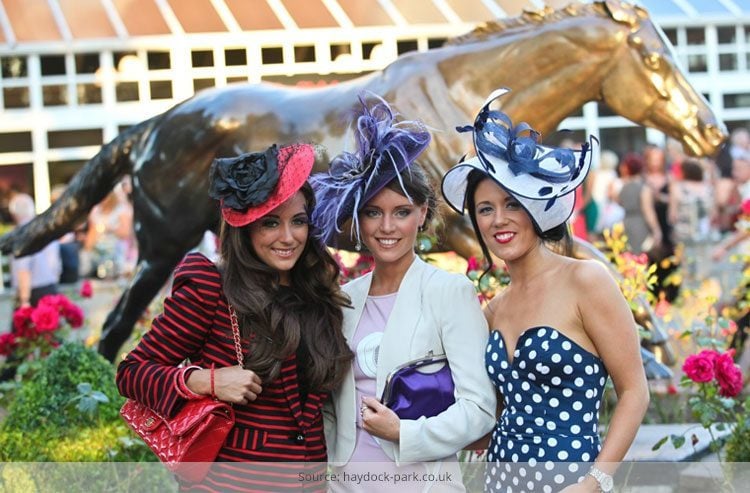 Racecourse fashion is one of those areas which are a little tricky. There are so many tiny nuances to keep in mind that at the end of the day you are totally confused! But not to worry milady, we at FashionLady have some really good fashion tips in mind. We have unraveled the secret to some great fashion at the derby and we have put them all in one place for you! So, what are you waiting for? Read on and put your best foot forward for racecourse fashion!
The Essentials:
Everybody who has been to one of these races will see certain stuff which keeps repeating every time. Well, just so you know, these are the racecourse essentials. These are the fashion items which are always there, albeit their forms and styles keep changing. We bring to you a list of those essentials you cannot forgo when you are at the derby.
1. Hats: The Most Essential and Mandatory Accessory
Though a lot of people believe this is just an accessory, hats are actually a necessity. It is warmer than most places at the derby and you have the UV rays falling directly on you. So, since you can't be carrying along an umbrella (A lot of women do, and we will talk about this later), you better wear a hat.
Almost 90% of women wear hats at the derby. Again, a point to keep in mind here is the fact that your style of hat is dictated by where you are seated. So, if you are in the field, a floppy, straw hat will do the deed, but higher up in the seating hierarchy demands a little bit style. They are dressier, embellished and have all sorts of designs. In fact, sometimes they even get bizarre!
Another point to keep in mind: Derby hats are a little difficult to find. These are mostly elegant and have a lot of embellishments. Make sure you select the one which suits your bill.
2. Dresses:
When you are at the derby, you do not think of any other attire other than dresses. You may have a lot of dresses in your wardrobe, but racecourse fashion, as we mentioned in the beginning is a little tricky. So you can't wear something which is too short or too long, it just has to be racecourse ready!
Floral:
It is summertime and you can very well invest in a good, structured floral dress. When it comes to the shape, the best possible one to invest in is A-lines. Right now big and bold floral dresses are in vogue. So, make sure you invest in a dress which will look derby appropriate.
[sc:mediad]
It's a daytime wedding!
Yes, exactly. You have to dress up like you are going to a daytime wedding. This means that the dress is not too short and not too bold. You can accessorize the dress with a statement clutch and a necklace to complete the look.
'Floaty' and billowy:
Derby fashion is bold only when it comes to the hats. Otherwise most of it is dictated by long, poufy dresses. Most of them are feminine and have a nice A-line cut, but they tend to be very billowy. If you are planning a very eye-catching hat, make sure you tone down on your dress.
There is nothing like derby day to showcase your style. Dress right and you would be a style icon for a lot of women there!