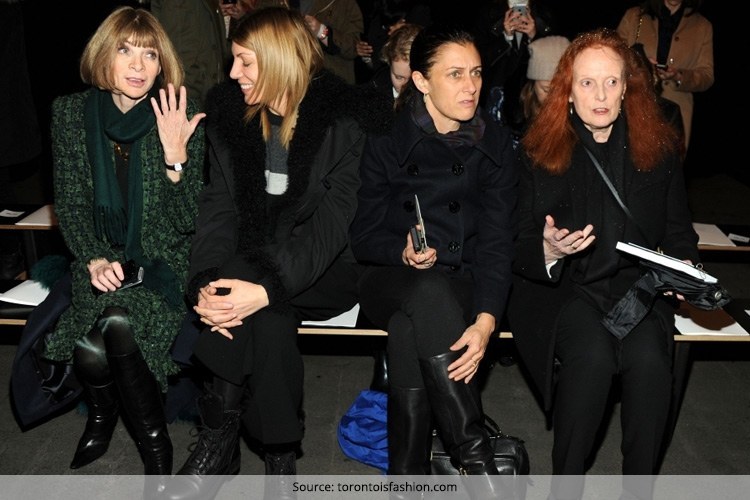 Miranda Kerr (The Devil Wears Prada) didn't find it funny when her assistant smirked over the range of belts and cardigans that were set out on display. She went on with a serious tone to explain how a simple belt or a piece of clothing conjured by the designers put bread on the table for many families.
While the real queen of the fashion world, the most honoured and dreaded Anna Wintour (editor-in-chief of American Vogue) may have had snippets of her personality shown tastefully in 'The Devil Wears Prada'- following her now would be many who want to know how to dress as a fashion editor.
Here are five easy ways for the woman of today to emulate fashion editors and their style! Read on!
1. Tailored and crisp
Fashion editors and their sense of style are known for the crisp effects their clothes display. Right from the crop tops worn to the beach, to the fine sheer or lace embellished cocktail wear. To complete the look, fashion editors choose the right shoes for each occasion and for every formal or smart casual style they flaunt.
Our recommendation: A V Neck tee with cigarette pants, flare formal skirts, pencil skirts with crop tops – classic open toe heels or crocodile mouth shoes. Perfect for the boardroom meeting or Friday dressing, and maybe a business lunch out with the clients too!
2. Statement accessories
Belts, necklaces, palm rings, midi rings and bags, fashion editors seem to have more of them and can never get tired of these babies. Every self-respecting fashionista who wants to emulate the look of a fashion editor in complete, a statement bag in leather for example is a must.
Our recommendation: Statement bags from Gucci or Louis Vuitton are the best to flaunt. And if you have the dough to splurge, do it like Anna Wintour (blue crocodile Louis Vuitton Old Flap Speedy at the Wimbledon 2012)! Don't forget the shades- black and browns in round frames for the Indie touch.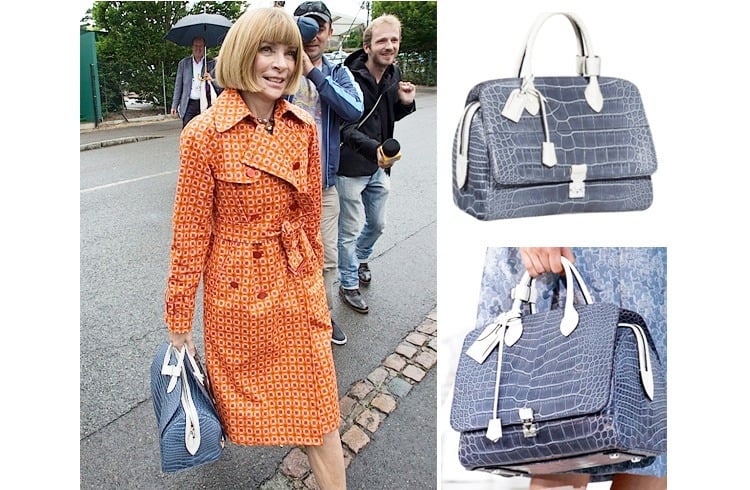 3. Graphics and prints or floral patterns
Shiona Turini (Fashion Market Director, Cosmopolitan) knows how to flaunt floral tops with colourful splashes below. Bright as ever orange, reds, pinks for pants and floral prints or patterns for the tops.
Our recommendation: Bright palazzo pants with printed tops and peep toe heels to complete the look. Shades for the eyes and minimal make up, plus a statement necklace to flaunt the V Neckline!
4. Black is the manna they all follow
From the elegant strut of Amanda Weiner (Harper's Bazaar) to the blunt and very nonchalant ways of Gilles Bensimon (Elle) – a black LBD or a long flowing formal skirt are 'must- haves' in every fashion editors wardrobe it seems. Some editors do play along with other block colours, or go all monotone style too, but black seems to rule!
Our Recommendation: The Duchesse-Satin Dress by Adam Lippes with Manolo Blahnik Pascalarehi Over-the-Knee Boots and minimal accessories plus a statement bag for the very formal occasions, too hot to handle!
[Also Read: Different ways to wear Over-the-Knee Boots]
5. Oversized shearling coats or printed coats
With the fast paced lives they lead, who has the time to press their shirts well, and that's where the oversized coats come in handy. Famously spotted in them are Candice Lake (Contributing Style Editor, Vogue Australia) and Carine Roitfeld (Editor-in-Chief, CR Fashion Book).
Our recommendation: The Carven Leopard-Print Felted Wool-Blend Coat over floral tops and pants for the bottom, or the Zara Oversized Structure Three-Quarter Length Coat with pencil skirts, denims or cocktail dresses.
We've given you a gist of what the queens of the fashion world dress up like- go ahead and shop to impress, you never know where a door opens!