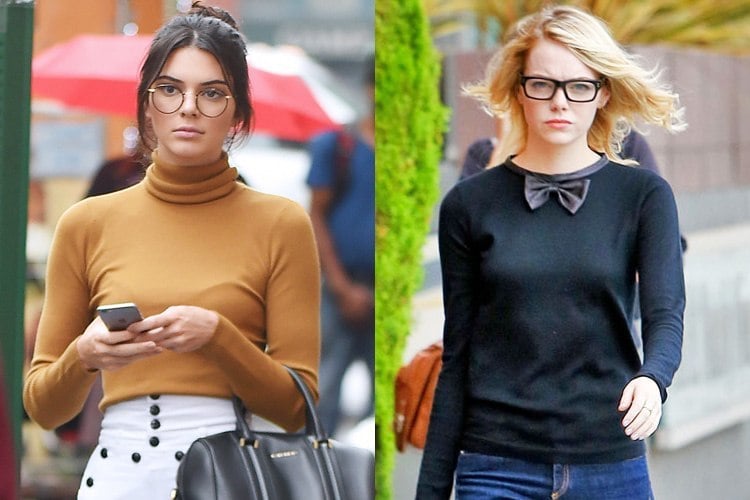 Gone are the days of associating glasses with nerdy students hiding behind big fat books. Glasses are no more the cousins to coke bottle bottoms, they have in fact come up a long way and are used as accessories by one of the most stylish divas around the world. Don't believe me? Scroll down to check out the "four eyed" fashionistas.
[Also Read: How To Wear Your Glasses Like a Fashion Statement]
Jennifer Lopez
Now who will look down upon spectacles when the royalty of pop world, Jennifer Lopez embraces a pair of elegant reading glasses? The Latin beauty was spotted wearing these sleek cat eye shaped specs during the premiere of Rock the Kasbah. Now if that is being nerd, I can't be so, any day of the week.
Jennifer Aniston
Talking of Jennifer Lopez, we have another namesake of her, though not from the same block. A decade ago an entire generation was swept in the fascination of Rachel Green's hair. If the voluptuous bob had given you hair goals too, during the nineties, prepare yourself to get some specs goals from Jennifer Aniston. Wearing accented black glasses during the screening of Cake, Jen showed the world how to look super cool in the geek accessory.
Anne Hathway
Rocking a striking smile with basic round reading glasses, Anne Hathway proves that if you have the right kind of personality, even the simplest things can look like the most coveted accessory from a high profile runway. Check out confidence with which the "The Devil Wears Prada" star wears her pair of round glasses.
Blake Lively
Blake Lively has certainly come up a long way since the 'Gossip Girl' days. Her performance in The Age of Adeline was one major milestone in her career and she showed how she can come out as a winner in any look she chooses to flaunt. The same is true with glasses, because even in a simple glassy pair, she is a Hollywood major.
[Also Read: How to Grab Eyeballs With Hair And Make-Up With Glasses]
Leighton Meester
When one 'Gossip Girl' embraced the "specs-ie" look with such expertise, what on earth gave you the impression that the other won't stick up to give her some company. Or is it competition? Check out the lovely Leighton Meester and decide for yourself. All we can say is, XOXO, Gossip Girl.
Ashley Benson
Moving from one fashion forward TV squad to another, we have the best of Pretty Little Liars, holding onto their geeky alter egos. Well, alter ego or not, but we were quite bedazzled to find Ashley Benson in specs. And does she look a hell of a diva in those glass or she does look one even in her casual street style?
Lucy Hale
To accompany her on-screen bestie, here we have another infamous but equally gorgeous liar from the ABC drama. On a casual day out Lucy Hale shows off some oversized spectacles. Look how she is shining like diamond in those glasses.
[sc:mediad]
Selena Gomez
This was certainly not the first time the pop star admitted to her love for glasses. But this was an exemplary combination that elaborated what happens when a skillfully taken selfie captures you with the cutest reading glasses ever. Not only the round frame complements Selena's face, the color of the rim brings out the color of the songstress's eyes too.
Kendall Jenner
A supermodel to have debuted on the ramp of Victoria's Secret, she is impeccably dressed, on and off the runway – every single time. When Kendell is walking, even the street transcends a designer's runway. That's why by getting clicked in a pair of geek glasses, with tons of 'diva' factor pouring out, the baby sis of Kim Kardashian basically turned the boring glasses into the most desired fashion accessory.
Emma Stone
If you start a discussion with a heavy weight name like that of Jennifer Lopez, it is a constituted felony to not close the same with another name of equal gravity. So we have saved the best for the last. Emma Stone is basically motivating us to ditch the dark kohl pencil and pick up the most obnoxious pair of reading glasses with fata$$ black rims. But if you can rock reading glasses like this amazing star of "The Amazing Spider-Man" you might as well pick up the glasses instead of kohl pencil.
I recall, during my school days, my friend Natasha suffered some major self-esteem issues. She was the only girl who wore those heavy reading glasses and the bullies would tease her calling her a four-eyed grandma. If you or anyone has found themselves in a similar situation, please collect all your self-confidence and rock your glasses like these stars. You never know, maybe you are indeed the next star in the making.