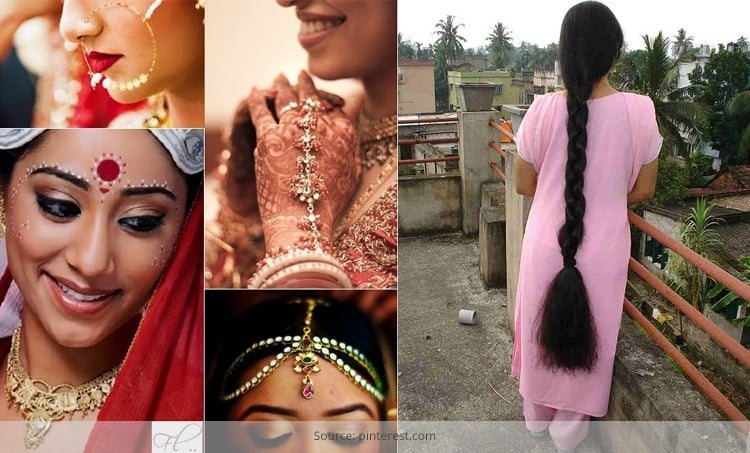 Did you know international fashion has been hugely influenced from Indian culture and tradition? Fashionlady takes a sneak peak on how a simple bindi, a maangtika or nath have rendered individuality in an age of clones to fashion connoisseurs.
Whether it's about draping a saree or donning a hair style or skincare, such timeless fashion tips which have been passed on from generations, have now takers from across the globe.
While Hollywood A-listers go mad about nathni, mehndi and bindi, our desi skincare products such as sandalwood powder, coconut oil, heena and neem are considered as miracle when it comes to health and beauty care.
Below listed are few beauty expertise that the world is eyeing upon from these rich treasures of ancient India.
Mehndi
Putting mehndi on hands and feet dates back to Vedic customs, representing inner as well as outer sun elements. This is also one of the reasons, sun is a popular design in this art.
Quite recently, with the advent of numerous online beauty stores, Americans and Europeans have embraced henna tattoos as one of their favorite forms of body art.
Fashion funda – You can make a strong fashion statement by flaunting a henna tattoo in a Warli or African design on your arms instead of palms.
Bindi
A red bindi has always been the symbol of a Hindu married woman. This red dot has deeper significance. The area between the eyebrows signifies the ajna chakra (seat of wisdom), thereby making the bindi the symbol of intellectual worship.
These days bindi has evolved into a cosmetic item, available in myriad colors and patterns. It was a huge rage in 90's, when Gwen Stefani and Björk were seen flaunting this red dot in various occasions. The bindi made a historic comeback on the red carpet as Kate Perry and Selena Gomez were seeing wearing it.
Fashion funda – You can add some twist by opting for metallic, jewel tone or mirror work bindis on your forehead and pair it with your jeans and tee.
Kajal
Long before when the concept of sunglasses was introduced, the homemade kajal protected Indian women's eyes from harsh sunrays. It also repelled flies and insects  and acted as a coolant to the eyes.
These days kohl liner has become an integral part in make-up.
Fashion funda – Now drop the fierce retro winged look and get your dotted cat-eye look. For this, you can use a thin black kohl pencil to line your upper eyelid and draw the line upwards beyond the outer edges. Now press the kohl pencil lightly at the center to create a striking dot. You now have a 60's hippie look with a contemporary edge. Voila!!
[sc:mediad]
Single Braid (choti)
The choti or the single braid which runs down the heap, used to be the traditional avatar of Indian women or girl. Indian culture was quite obsessed with long locks and braids. They also strongly depicted Indian feminine beauty and even there are so many folk songs out there having mischievous references to Indian choti…
This year, the braid has made a huge comeback on the red carpet through shows by Alexander Wang, Jean Paul Gaultier and Chanel to name a few.
Fashion funda – You can insert pearl-studded pins into the grooves of your braid to get an elegant hairstysle.
Nath And Nathni
Nath or the ornate nose jewelry and the nathni which extends from nose to ear were a mandatory bridal jewelry in Indian weddings, especially the rural weddings.
When Ashish Gupta showcased naths on his models and so did Manish Arora in different fashion runways, the international fashion domain began to feel their beauty. With Sonam Kapoor making it globally visible, as she wore it at the red carpet of Cannes; the French label Givenchy has show tremendous interest in this Indian piece of accessory. And these hoops are now widely seen in several Paris fashion runways.
Fashion funda – You can give this vintage jewelry a tribal-meets-cosmo element by donning a clip-on nose ring just like a septum piercing instead on the left side of your nose.
Maangtika And Haath Phool
These bridal accessories are typically made of gold or kundan and are usually embellished with meenakari work. These ornaments are crucial wedding accessories, representing royalty for centuries.
These days the haath phool has been modified into slimmer and trendier version. Singers like Alicia Keys, Kelly Clarkson and Kelly Rowland are frequently seen wearing such pieces for their high-end red carpet looks.
Fashion funda – You can wear a delicate hand chain with a thick leather bracelet for an androgynous look and pair it with your denims and tank top.
Hope you found this post interesting!