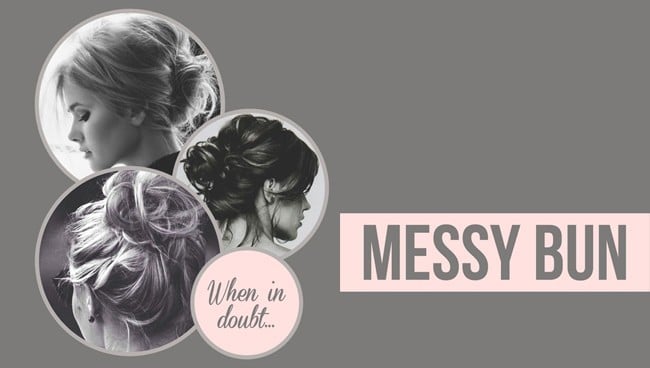 The reason behind messy buns' popularity is that it is an everyday look. It will never leave the fashion chart because millions of women swear by it. There are trends that follow up week after week, season after season, but what makes messy bun still in vogue is its feasibility.
You do not need to save up or buy anything to get the look, just your hands can do the trick. When so many people love the messy affair, then there is every reason why messy buns have taken fashion to a whole new level. The best thing about it is that every women can go for it. Your favorite celebs do it; the girl-next-door can do it; there is no term as plain-Jane now when a messy bun can transform everyone.
[Also Read: Messy Bun Hairstyles]
What marks its popularity again is how it has revolutionized the fashion world and changed the adage of prim and proper look. Now a messy look has made its own individual stand. Messy buns are definitely here to stay and are up for the long haul.
Messy buns are gateway to good fashion
As someone quoted that a good hair is a gateway to good fashion, so also the trend of messy buns has crashed the fashion doors. It is said that a hairstyle is the final tip off to know the woman knows herself or not. Messy buns can be fully embraced by everybody just for the simple fact that it is easy to achieve the look saving you so much time. Cut short your affair with bad hair days when you can create magic with messy buns.
Messy Buns Global Trend
Jessica Alba
Messy buns are catching up the trends. And the look has made it all the way to the red carpet. Seen in the picture is Jessica Alba in a messy bun, looking her stylish best. The messy style has sat elegantly with her black scallop dress.
Blake Lively at the CinemaCon Awards in Las Vega
Notice how Blake Lively has played with her hair, making it look not too made up and yet structured at the same time. She has managed to wound up a quality bun here.
Kate Beckinsale's undone Bun at the Golden Globe Awards
Kate Bekinsale looked her elegant at the 71st Golden Globe Awards in a Zuhair Murad dress. She has undoubtedly brought out the best of glamour. Her undone messy bun brought in all the right attentions and we are definitely not complaining.
Bollywood also hasn't ignored this trend. Deepika Padukone, Bipasa Basu and also the style diva, Sonam Kapoor has tried this trend at various events and promotions.
Chic Casual Messy Buns
The best thing about messy buns is that you can wear the style day and night. You can flaunt it in days when you don't look your best and also on days you want to play up with your hair.
Demi Lovato Messy Bun
Demi Lovato has always played with her hair a lot. Absolutely love the messy bun in the picture. She has worn it over a simple casual jacket and has given messy-cool a new version and dimension.
Taylor Swift Messy bun
Taylor Swift is the queen of pop culture. She is also the queen of experimental style. We love her take on the messy bun here. The hair is set to fall freely making it come and look undone. You can notice the twirls just sticking out yet looks structured and in style. She looks chic and her hair is just messy-perfect.
I heart Messy Top Knots or Buns
Messy hair buns are simple and are quick fixes, rich in versatility and can make you look polished and messy-chic at the same time. There are so many different styles that you can opt to do. Here are some cooler versions of messy buns:
1. Loop Chic Bun
The loop messy buns are edgy, crazy and fun. It looks super sleek and polished. It leaves you with more rooms for more crazy experiments. Go mindless with messy buns. That's how you will get it right.
2.  Messy Chic Top Knot
You can get up and get on with this look any day. Its messy-chic version will play up with your looks. Its low maintenance key is the highlight. You will feel more comfortable with this look as it won't get you too fidgety or glued to your hair. Once you are done with your hair, you will be ready to take on the street as the new glam queen.
How the Messy Bun has taken Fashion to a New Level
Messy Buns have definitely pushed the envelope and have elevated fashion to a different level and platform. It leaves you with a plethora of options and shows you what versatility truly means. Messy hair Buns have been adopted by most women today because of its easy styling. Its end result has always been tremendous. Its way from street style all the way to the red carpets marks its popularity. Its low maintenance is another landmark of this great innovative style. Messy buns have made its way for centuries together now. From high bouffant hairstyle to pompadour hairstyle, to messy buns, the fashion world has definitely grown and has accumulated so many success stories. With messy buns they have struck gold again. It has never stopped gaining popularity all throughout.
Now that you know most celebs – both Hollywood and Bollywood have used this style and caught eye-balls, it is time for you to learn the art to create easy messy buns. Are you ready to learn some new styles? I will soon be posting an article on how to make messy buns in under 5 minutes soon. Stay Tuned!