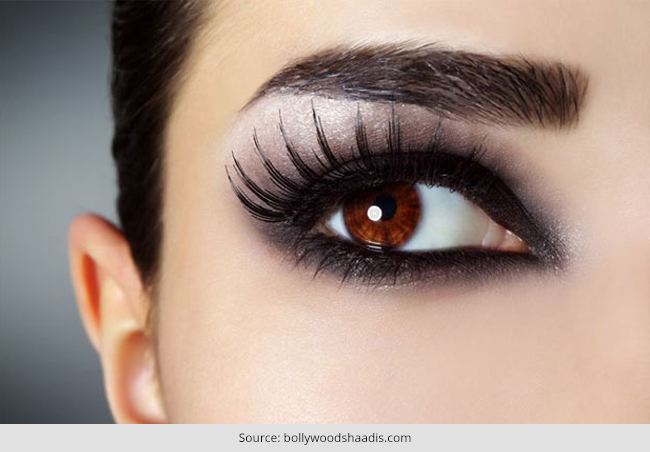 Kajal/kohl has been an essential part of every Indian vanity box since ages, and many girls believe that a dark black kajal/kohl pencil is all they need to look stunning! However, we all desire to get that dramatic kajal adorned eyes look, but a number of ladies still get frustrated with it as the kajal keeps smudging all the time especially from the inner corner of the eyes and makes them look like they have been punched in the eye. The overall dramatic look of kajal adorned eyes gets spoiled badly due to smudging and our eyes end up looking scary and dull.
Here are some simple tips to avoid kajal from smudging.
Clean the region around your eyes
Your flawlessly defined eyes may look dull and tired due to the presence of excessive amount of oil; the area around your eyes should not be oily at all. You can use a mild cleanser to gently remove this oil. Make sure that excess make-up around your eyes is removed completely; you can use a Q- tip soaked in a gentle eye make-up remover or baby oil.
Apply a primer or foundation on the area around your eyes. It provides you a nice base for applying the kajal flawlessly. A primer or foundation helps the kajal to stay in place for a long time. Any oil free foundation can also be used in place of a primer if you like; it keeps the region around your eyes oil-free.
Apply some loose powder under your eyes
Apply some loose powder in the region below your eyes, excess powder can be gently removed once the eye make-up is done. Loose powder helps in soaking up the oil present in that region.
Use smudge-free kajal/kohl pencil.
If you desire to get those heavily lined eyes, then use a long lasting smudge free kajal pencil. Always choose a best quality kajal pencil as the region around your eyes is very delicate and you might get eye irritation with low quality eye-products.
Start applying the kajal from the outer part of your water-line in the direction of the inner corner. Gently apply the kajal in small and cyclic strokes. For a hazy look apply it in 2-3 coats, Make sure that you don't apply much kajal on the inner corner of lower lid as this area usually tend to smudge the kajal.
[sc:mediad]
Once you are done applying the kajal, gently brush off the powder you had applied earlier and blend the foundation under your eye using a compact. It helps in absorbing the excess amount of moisture from the area under your eyes.
You can also set the kajal using a dark black eye shadow. When you are done applying kajal, pat some powdered eye shadow under your waterline in small and gentle strokes. It removes the excess amount of moisture and makes a natural and soft matte look around the kajal.
Always keep few Q-tips with you
Your beautiful deep dark kohled eye look is complete now; but don't forget that you have applied kajal on your eyes so make sure that you don't touch your eyes unnecessarily. However, the kajal in your eyes does tend to smudge a lot because of the oily nature of your skin. So if your skin is oily then keep a few Q tips with you all the time, so you can easily get rid of the smudging and get your deep dark kohled eye look back.
If all the above points still don't work for you and you still want properly defined kohled eye look, then the only answer to your problem is to apply at-least 2-3 gentle strokes of kajal when you go to sleep. Although, this simple trick will leave your eyes muddled when you get up, but after removing the extra kajal with a makeup remover the kajal will still be present on your water-line and it will continue highlighting your eyes.
Hope this article on how to avoid kajal from smudging was helpful.