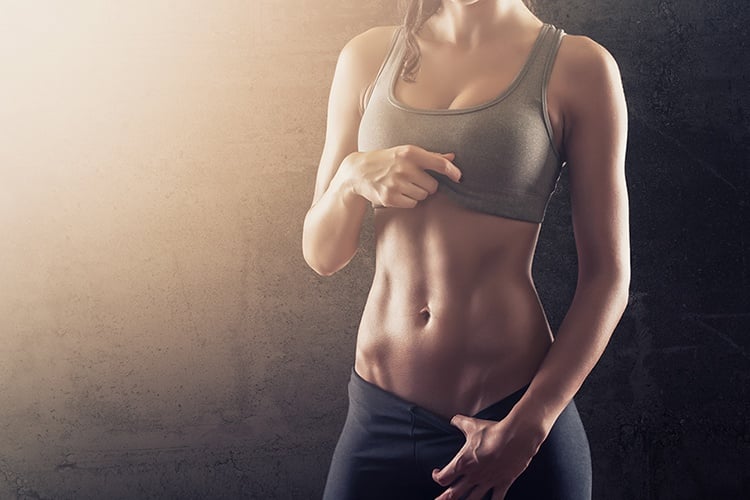 Many of us cannot get over the idea of six pack and well defined abs. Girls with abs are considered strong and beautiful and not just that, it actually means that they have a very strong core too. Six pack abs are a symbol of core strength and it you will need a lot of patience to actually develop female six pack. It isn't that we women can't work hard, but it takes a slightly more effort than a man because of the way we are genetically designed. Getting abs for women is a little hard, but with some patience, perseverance and diligence you too can get six pack abs!
In this article we will talk about a six pack abs diet as well as some beginner six pack abs workout that will help you to get a start to your six pack journey. Keep in mind the fact that there are literally no shortcuts to get chiseled abs and you will need to be very consistent with your diet and your workout plan. It's hard, but it is achievable! So let's get started!
How To Get Abs For Girls: The Correct Roadmap
We women are genetically designed differently than the men. It does become a little difficult to gain abs, especially for women after a certain age, but with proper guidance and dietary practices as well as a regular exercise regime, it is possible. Here is the roadmap to getting the abs the right way.
Six Pack Abs Diet:
Every trainer will explicitly tell you that to get six pack abs, you will first have to follow a proper diet. In fact, when it comes to getting well-defined abs, only 30% of it depends on exercise. The rest of it is all about food. Your diet will change the way your body feels and small diet changes can help a great deal. The bottom line is to keep having proteins because they are the building blocks to muscles and you will need them to get proper abs.
You will also have to reduce and restrict your portions. At the same time, this reduction cannot be sudden because the body will go into a shock and start accumulating calories to nullify the calories restriction.
Here's A Sample Diet Plan For A Week For Getting Abs:
Breakfast: One egg, four egg whites, one medium apple
Snack 1: Zucchini fries
Lunch: Grilled chicken with brown rice and broccoli
Snack 2: Cottage cheese and almonds
Dinner: Barbecue chicken with cucumber salad
Total Calories: 1480kCal
[Also Read: Best Calf Exercises for Women ]
This is just many of the sample diets available online to start your journey of rock solid abs. You should always try and maintain a minimum quantity of protein in your diet and find out what exactly are your daily calorie requirements. For a female who is 65kgs and in the age group of 20-30, she will need at least 1200kCal per day.
Six Pack Abs Exercises:
Another misconception most people have is the concept of spot reduction or spot training. If you have a chubby tummy then just doing crunches will not work! You do have abs, but they are hidden beneath that layer of chubby fat. Your first action would be to lose fat overall and then work on defining the abs. So along with cardio or heart-pumping exercises for 30 minutes, here are some ab-defining exercises you can follow:
Walk the Plank+Rotate
Great for a strong core, this exercise involves getting into a plank position and then rotating your body to each side by extending your arms towards the sky.
[sc:mediad]
Arm Pull-Over Straight Leg Crunch
This exercise requires you to take light dumbbells and lie on the back with your arms behind you. Extend your legs at a 45-degree angle and bring your arms up and lift your shoulders while raising your legs.
[ Also Read: Thigh Exercises For Women ]
Planks, Planks And More Planks
The only exercise that works wonderfully well for your abs are planks and you should always practice these for longer periods of time.
So here are our tips to get some solid abs. Your funda should be to start slow and stay strong!