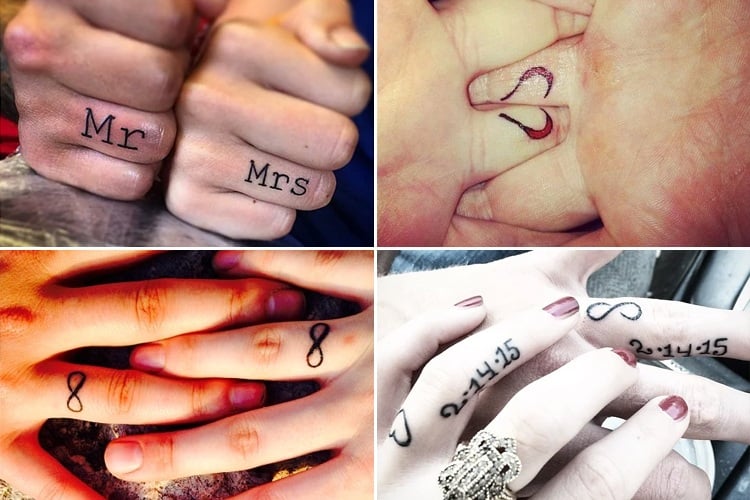 There is nothing more exciting and fun-filled than a wedding. Dance, sing, eat, meet, there are so many things to do in a wedding. But one of the truly adventurous ways to bind a prospective bride and groom is not just the costume and venue props but modern age wedding ring tattoos.
Go back to the history pages and you will find Egyptians exchanging marriage tattoos and that was over 4800 years back. Kudos to them as they believed in the concept of eternal life and being bound to the spouse, even after death!
[Also Read: 24 Wrist Tattoos Designs For Girls]
Talk of popularity, and marriage ring tattoos have been worn by Hollywood celeb couples such as Pamela Anderson and Miley Cyrus. That could be one reason why they have become so popular.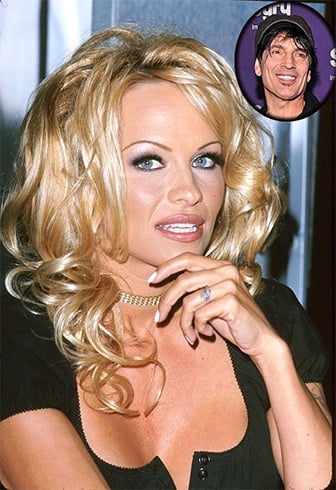 Question is why should a pretty gal like you lag behind? Here are some tattoo wedding bands, wedding ring finger tattoos, marriage ring tattoos, matching wedding band tattoos, couple ring tattoos, couple finger tattoos, wedding tattoos on ring finger, his and hers ring tattoos, tattoo wedding ring ideas that would be sure shot inspiration for those of you tying the knot. Keep reading and exploring 'cos life is an adventure waiting to be discovered!
Lifeline
The wedded couple is nothing short of a lifeline to each other. This tattoo rings for couples virtually seals the long term association between man and wife, doesn't it?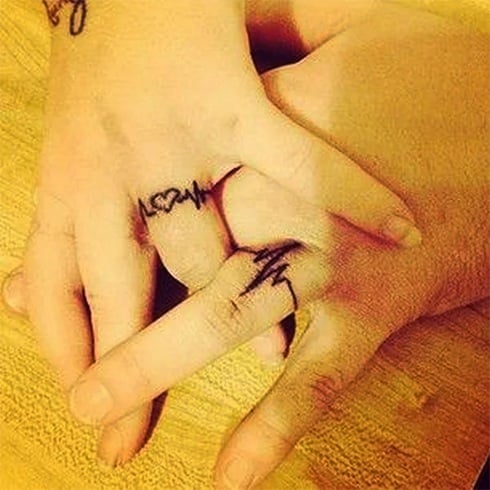 'Til Death
There is no better way of saying 'till death do us part' than this marriage tattoos. As you can see it is not a ring but serves as a good tattoo for wedding ring finger.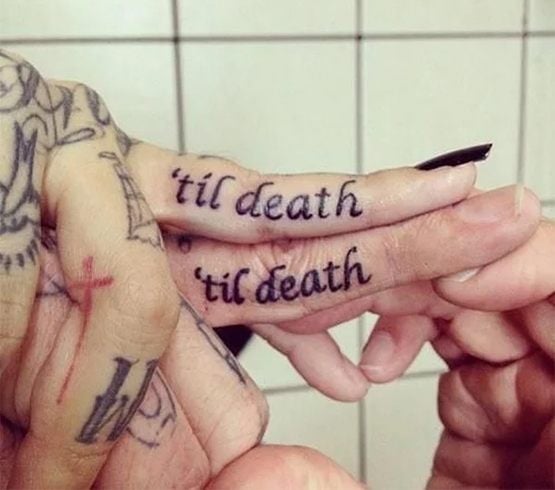 Unique Wedding Bands
Match or mismatch, this tattoo wedding bands can pass off as a debate. But because it is unique looking, why not enjoy the charisma of this unique wedding ring tattoos instead.
[sc:mediad]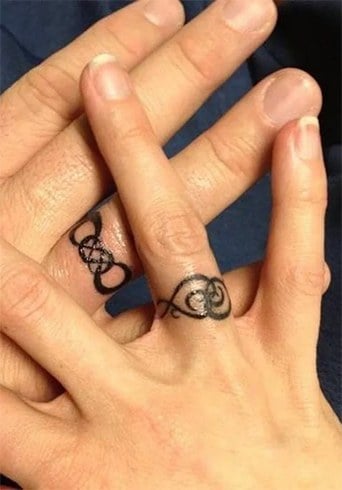 Infinity
Never knew how simplicity can be so artistic looking, cute and simple in this tattoo wedding ring ideas.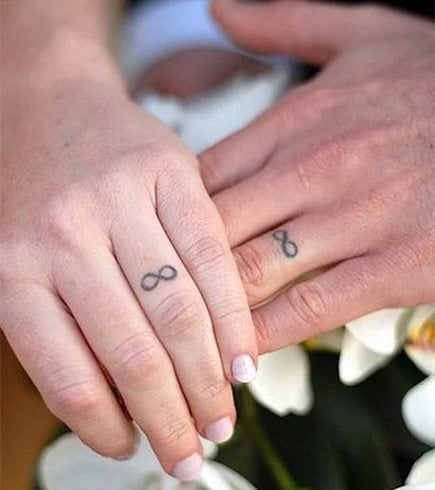 Always
There can never be an end to 'Always' wedding ring tattoos. It is a perfect way of expressing 'forever' love and bonding.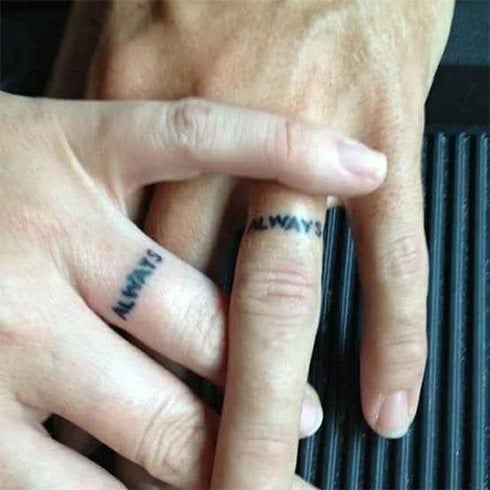 Heart And Spade
No we are not playing a game of cards. It's just that this engagement ring tattoos is such a delight to wear and watch, you can't rule out its importance in life.
[Also Read: Top 50 Cute Couple Tattoo Ideas]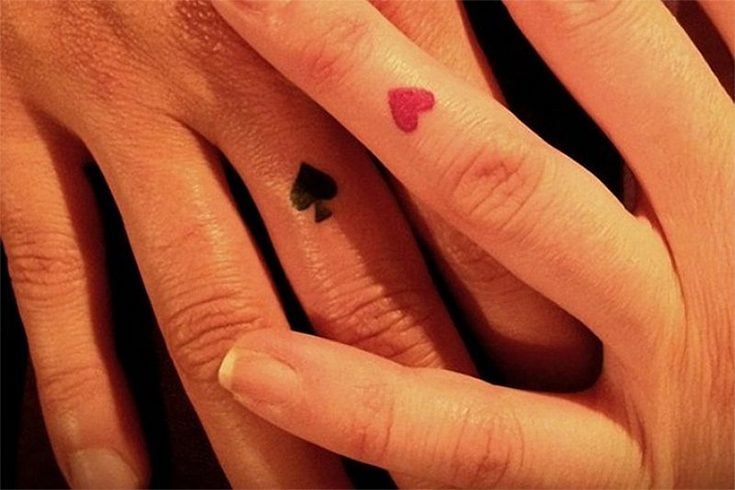 Couple Bonding
Call it couple finger tattoos or couple ring tattoos, doesn't this wedding ring finger tattoos remind you of the rings exchanged between the two of you?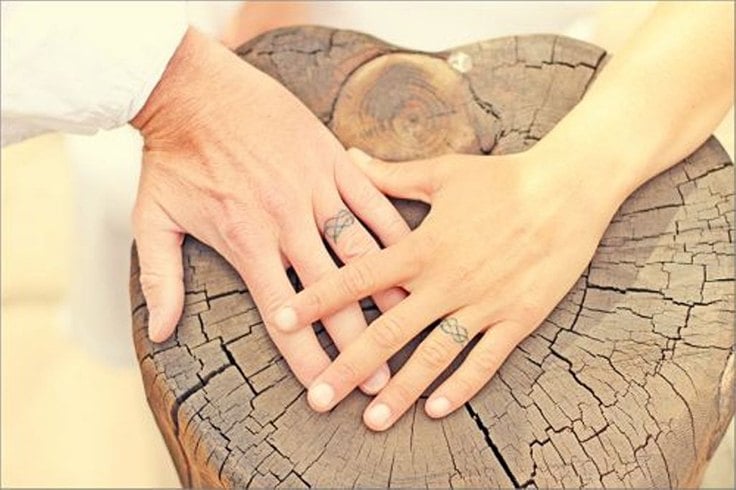 Initials
So what if the fonts are different, it's an interesting way to show and express his and hers ring tattoos.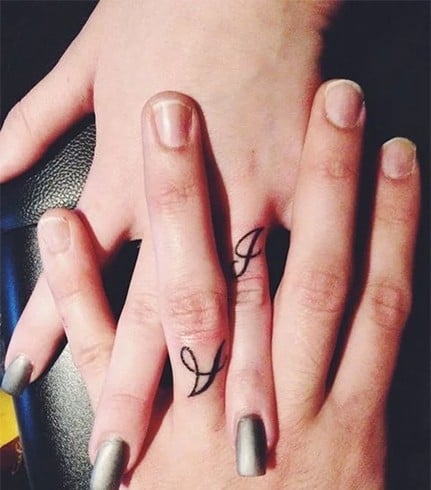 Sailor Soulmates
Check out this fabulous tattoo wedding ring ideas of two sailors meeting. This is pure bonding for life.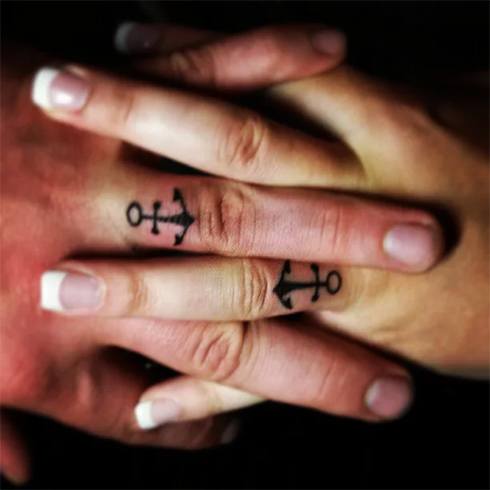 Diamond
You think you need to remember to put this diamond on? That's the interesting part about this diamond ring tattoo.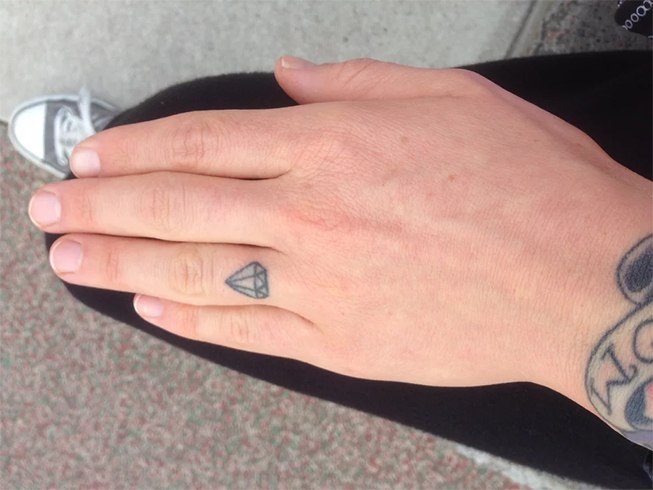 White Ink
Inking of wedding ring finger tattoos reaches great heights with white ink wedding ring tattoos. The wedding band tattoos white ink need a touch up so that it looks nice and crisp.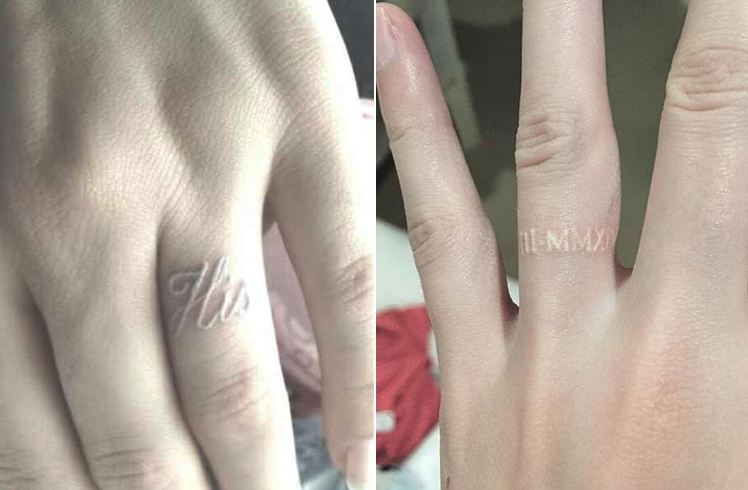 Now tell us which of the wedding ring tattoos have you set your mind on? Drop us your likes and feedback on the wedding ring finger tattoos that you and your better half wish to go in for. It might bond you to each other even more.