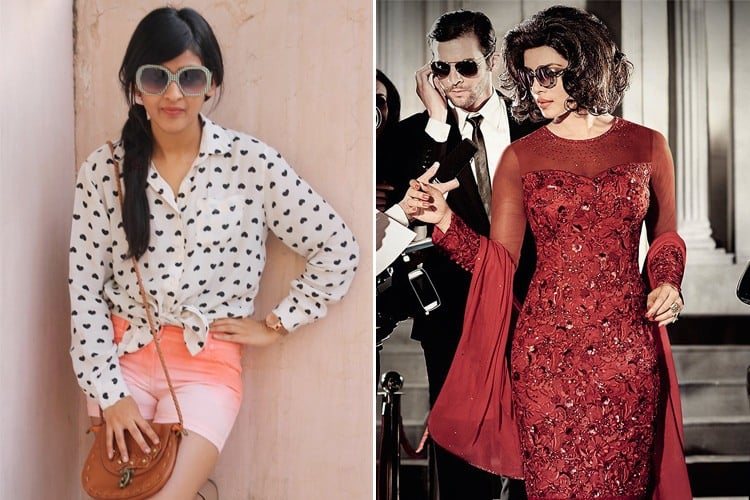 There was a time during the raging sweet sixties and the flower power seventies that the retro Indian look was ablaze. Everyone was bathed in the nirvana fashion, where retro was the norm and a fashion statement to make. The popular ways on how to get the Indian retro look, is what we are going to talk about today. Bringing back the late sixties and all through the seventies, our divas back then made us aware of power dressing. So if you also want to know how to get the Indian retro look, here are a couple of things you must have as fashion essentials.
[Also Read: Step by Step Retro Hairstyles]
How To Get The Indian Retro Look In Elegant Ways
The comeback of the How to get the Indian retro look is taking the fashion and the movie world by storm. From Alia Bhatt to Isha Koppikar, we've witnessed Bollywood girls making a splash in all things retro. Let's take a look at the must-have's that would convert your wardrobe into a retro scene.
1. Polka Dots And Bobby Prints
Dimple Kapadia was known for the polka dots and bobby prints on her shirts back in the seventies, and that is one aspect of the Indian retro look to wear and flaunt this season.
2. Maxi Dresses
We've seen Aishwarya Rai in maxi dresses, just as Zeenat Aman would wear them back in the seventies. So yes, you need to have a couple of floral printed or striped maxi dresses in your wardrobe for the retro style to come through.
3. Elephant Pants
You can wear palazzos or elephant pants if you don't fancy wearing indian retro style dresses. Crazy denims to cottons and linen, chiffons to georgettes too, printed and plain with wide waists and large flared bottoms, you cannot but have them all or else you would miss out on the retro look for sure.
4. Gowns With Floral Touches
Embroidered or printed, we leave that choice to you. Floral gowns though are must have's and they make retro fashion come alive. You can wear them at parties or probably to work on a Friday too.
[Also Read: Bollywood Actresses In Retro Look]
5. Shimmery Jackets
Shimmer and disco themed jackets were the norm in the 70s all through the 90s, and who better to think off wearing them back then than the late Parveen Babi. She stole the show in plenty of disco themed jackets whenever she performed on stage. Plenty of metallic golds and silvers did the rounds back then, so pick one for yourself today!
6. Skirts With Flowers
Once again, long skirts with crop tops and embellished with floral touches on the flare, was the scene of the 70s till the 80s, which brings about a gorgeous retro style clothing to wear and flaunt.
7. Tennis Shoes And Skirts
Cannot miss out on the sixties and the seventies when the Indian PYT had many of these in her closet; tennis shoes and skirts are must have's.
[sc:mediad]
8. Denim Shirts
The alpha male on a woman back in the 70s and the 80s was a sign of the uprising of the feminist movements. It stayed on till the 90s when the women in the fashion world wore denim shirts with skirts, skorts, midi skirts, mini skirts and long lehenga skirts too.
9. Retro Sunglasses
From Rakhi Gulzar to Shabana Azmi, everyone wore those large shades and flaunted their sassy self too. Helen also was known for her chic ways in sunshades that hid her pretty eyes when on any set for a shoot.
10. Wedges
For the feet, much more than heels and lace ups, wedges were a trend and you would notice if you see very carefully how the Bollywood divas back in the seventies wore more of wedges than any other shoe around!
So if you really want to make a fashion statement in retro clothing, these are the essentials you need to work upon and fill your wardrobe with. Do let us know what your take on retro women's clothing and retro wear is!