Babies are God's gift. It brings anxieties and anticipations to the pregnant mom apart from happiness. What is stressful and painful is the process of delivery, especially when it happens through a Cesarean (or C-section). After a cesarean, getting back into shape can be tiresome for the mother. But, it can be made easy and achievable.
How?
Let's find out:
How To Lose Weight After Cesarean Delivery
A C-section or cesarean is an abdominal surgery. In all probability, it causes pain and tenderness in the abdomen after the operation has been done. It also means any kind of activity or exercise after C-section (which strains the body) is not-at-all advisable.
'Wait for 6 weeks'. This is what the doctors will say before you start an exercise session after c-section. It's okay. You need to give your body some time. Thankfully, there are low-impact exercises which the doctor will advise you first, along with low-fat diet, to slowly get back into shape. Let's find out more:
1. Swear By Workout Sessions
A workout routine is the first and foremost thing for a lady who has gone through a c-section. The options include yoga, cardio exercises, weight training etc.
Practice Yoga Asanas
After about 6-8 weeks of delivering a baby, the new mom can start yoga. It is ideal to talk to your doctor about your health and well-being, when you decide to take up yoga. Lot of things has to be looked into – your body's ability to withstand physical stress, stretching and muscle pull.
Once you get a 'go-ahead' from your doc, try out these yoga poses to start with:
Start with simple breathing exercises. Do them for 2-3 weeks
Try out 'Pranayama' and recite the "OM" mantra and Gayatri mantra when you meditate.
When you feel you have recovered, switch over to the following yogasanas (but in the company of a certified yoga practitioner):
Do Agnisaar for your belly, Kandharasana for your pelvic area, Bhujanga Asana in order to strengthen your abdomen muscles and tone them

There is a 'full body' yogasana too – the Urdhva Prasarita Padasana which is an upward leg extension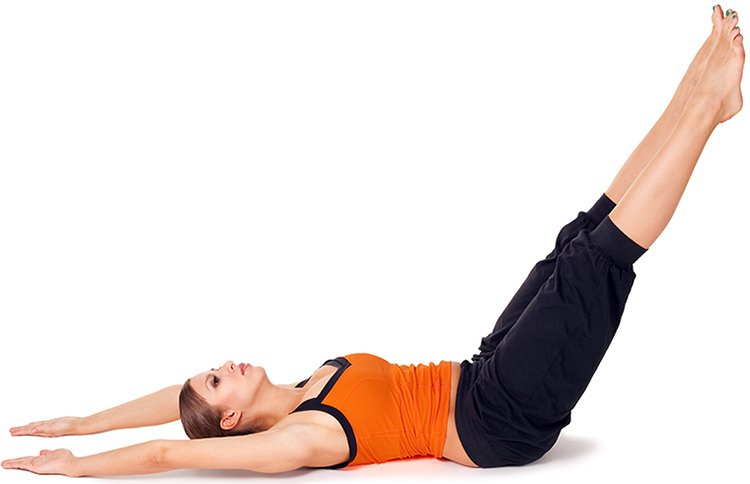 Want to stretch your back and spine? The Dog pose or Adho Mukha Svanasana will help in relaxing the muscles of your outer thighs and calves and improve their strength.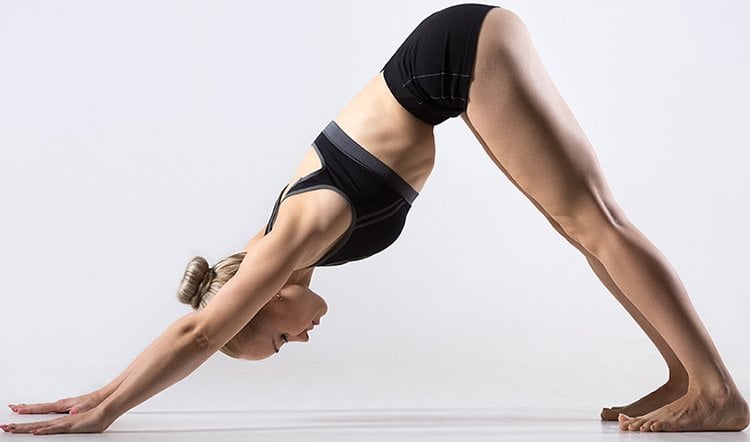 The Snake Pose or Bhujangasana helps you lose fat around your belly.
A word of advice – do pay attention to how your body responds to yoga postures. In case, you feel discomfort in any way, then stop them right away.
2. Focus On Your Regular Diet
Agreed, fitness is on your mind to reduce the flab and pounds. But diet also needs equal attention. Nutrition-packed diet which is well-balanced is as much important as working out and toning your muscles.
Tip – Make sure your foods are low in sugar and saturated fats
Have a High-Carb, Low-Fat Diet
Kandharasana – Have plenty of carbohydrates, fruits (fresh ones not canned), organic veggies, whole grains, low-fat dairy products, lean proteins, and healthy fats.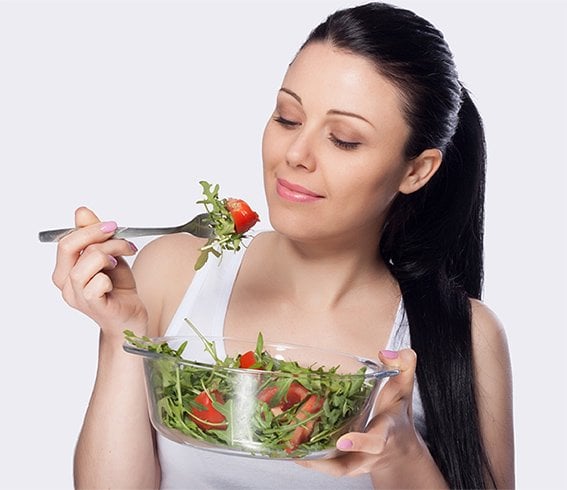 Any benefits?
Yeah, this will reduce unexpected weight gain, also rebuilds muscle mass. What you therefore get is a well-toned body.
Stay away from raw fats, like butter, clarified butter (ghee) and sweets. They can never be your good friend when it comes to losing weight after C-section.
3. Be Patient
No hurry, please! You have delivered a baby though c-section. It means your body has gone through a lot physically.
Losing weight will happen, but in a 'slow and steady' way. Don't push your body too hard. It will take you a bit longer to slim down your belly area, so relax. 'One by one' is the best methodology to regain your lost figure. You've had a major surgery, and you can't ignore it. Can you?
4. Stay Positive
Having a positive outlook towards life after becoming a mother is the need of the hour. Just because you can't practice abdominal exercises after your c-section doesn't mean the end of the road. You can certainly get back into shape, all you need is a bit of time. A positive outlook is of utmost importance; you will eventually get into the waistline you have always admired.
[sc:mediad]
5. Opt for Lipid Bursting Massages
Find it tough to do yoga after C-section? Lipid bursting massages is the way out. But what are they? Ayurvedic therapies, which tone up muscles and fasten the process of fat loss.
6. Get an Abdominal Belt
Don't confuse it with the belt one wears for spinal ache. The abdominal belt can be worn by ladies who have delivered through C-section. The only thing is that it has to be worn all the time, except when it's time to eat meals or during sleep time.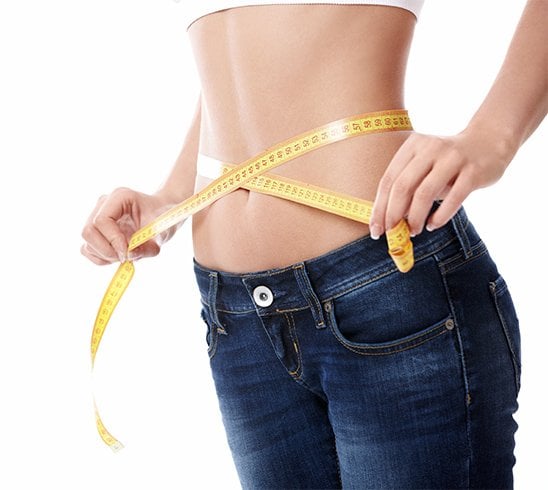 Are Home remedies effective? Yes.
How to reduce weight after c section home remedies
Guess what the most important challenge is to a c-section mother- losing weight. Indian Ayurveda has plenty of home remedies which can give results. For e.g. keep drinking water (loads of it), eat plenty of fruits and veggies, sip green tea etc. and in no time you will get back into you fittest self. Have patience.
Okay, here are the home remedies to reduce weight gain post c-section.
1. Honey Water and Lemon
How It Works: Remember what is suggested to do first thing in the morning to lose weight? Honey and lime in warm water works best for c-section ladies as well.
Ingredients: Half a lemon, Honey, and water
Step By Step:
Cut a lemon into half
Side by side, warm up water in a small vessel
Pour the lukewarm water in a glass
Add 1 tbsp honey and lemon juice
Now drink it (but on an empty stomach)
Stick to this plan for 30-45 days until you notice the post-pregnancy flab reduce.
2. Green Tea
How It Works: Green Tea is the best remedy which gets you from "flab" to "fab".
Ingredients: Green tea bag (even in loose powder form would do)
Step By Step:
Boil a cup of water in a cooking vessel
Put a green tea bag in a cup
Once the water has boiled, transfer it to the cup containing the green tea bag.
Let the tea bag infuse
Enjoy the drink!
3. Apples
How It Works: Talk of fruits, and apples steal the show. They are rich in iron, vitamins, etc. which is very good for the health of the mom (after c-section).
Ingredients: Apple (in raw form or juice)
Tip: Include apples for breakfast, and as an in-between snack throughout the day to benefit the most.
4. Drink Plenty of Water
How It Works: Breastfeeding is a natural way of feeding a new born. But it can exhaust a mom and make her thirsty. Drinking water (8 glasses a day )is the best way for new-mom to produce sufficient milk for the little one.
Ingredients: Water (in "pure" water form or in the form of "fluids" such as lime etc.)
Tip: Avoid taking caffeinated drinks (cold drinks, energy drinks, carbonated drinks, coffee, tea etc. as they are no way similar to drinking water)
5. Tomatoes
How It Works: Tomatoes have Vit C which speed up the recovery process of the mom (after c-section) and helps combat infections.
Ingredients: Just Tomatoes
Tip: Have raw tomatoes (after thoroughly washing it in cold water) or in the form of tomato soups.
6. Curry Leaves
How It Works: Curry leaves are not just aromatic, they also have essential nutrition in the form of Calcium, Phosphorous, Iron and Vit C.
Ingredients: Curry leaves (plucked from the kitchen garden)
Tip: Curry leaves are a good garnishing aid in Indian cooking and useful for moms who have just delivered.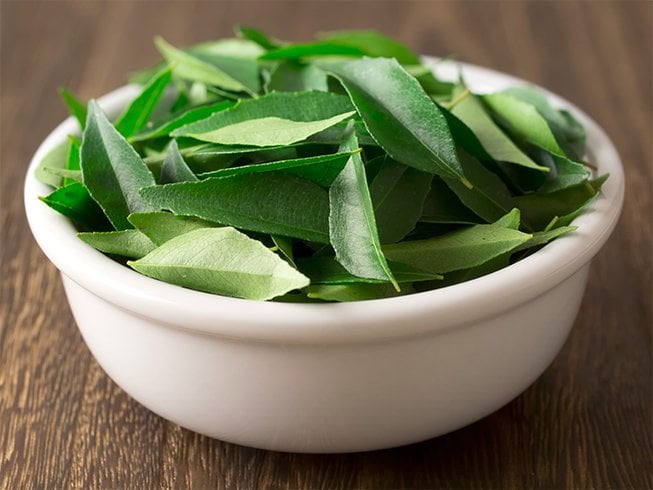 7. Garlic
How It Works: Garlic helps in digestion of foods and also reduces PP (meaning post-pregnancy) weight.
Ingredients: Garlic pods (in raw form) or in paste form
Tip: Add garlic-ginger paste to your food items (as suggested by the dietitian) while cooking. This will not enhance the taste, but also reduce the weight.
"Q & A" time, for the ladies who have had a cesarean:
Faqs
How much weight do you lose on average after a c-section?
A C-section means, your road to recovery will be slightly longer than a woman who has given birth via vaginal delivery. The only way weight loss can be assessed is after you have completed your six-week postpartum. Diet, exercise, home remedies will contribute for sure, but it all depends on the body built of the lady, before she conceived.
What is the best exercises to flatten the stomach after a c-section?
Yoga, Kegel exercises (vaginal floor exercises where you have to pull in your vaginal muscles, hold it for 30 sec and release it again) are some of the best ones which help flatten the stomach after you have had a cesarean delivery.
What are the weight-Loss supplements for post-baby body?
If you go the natural route, breastfeeding by itself helps you burn 500 to 600 calories daily. That's huge! Other than that, changes in your diet and exercise routine are itself adequate weight loss supplements for your post-C- section body.
I hope, this piece was informative and detailed. Let us have your comments and experiences of losing weight after a C-section. Sharing is caring, after all!