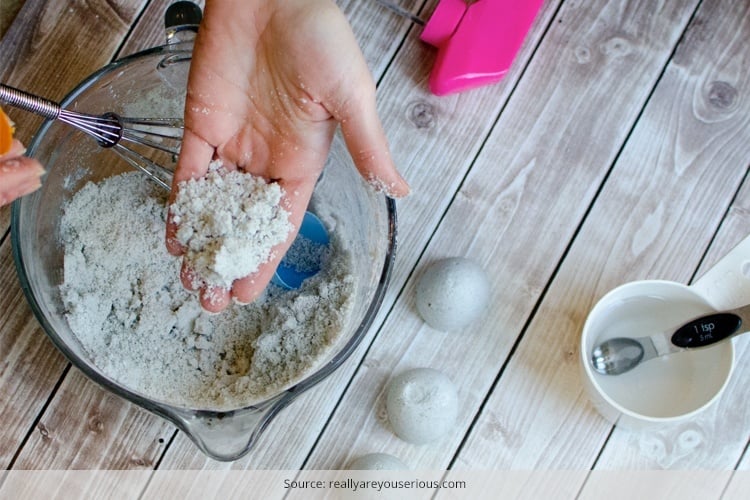 Ever heard of bath bombs? Let's mess things up here, and this is one mess you would love. Now the concept of bath bombs isn't new, but if you haven't heard of it, today we shall tell you more about it and teach you how to make homemade bath bombs too.
BATH BOMB RECIPE AND HOW TO MAKE
Ingredients
Four Ounces Of Baking Soda
2 Ounces Of Corn Flour
2 Ounces Of Citric Essence
2 Ounces Of Epsom Salt
2 Tbsp Of Water
1 Tsp Of Any Essential Oil Of Your Choice
A Quart Tsp Of Coconut Oil
Food Coloring A Pinch
How To Make Bath Bombs Explained
Here is the recipe on how to make bath bombs, so follow the Bath bomb recipe and teach others once you master the act.
Take a large and deep bowl and combine all the dry ingredients to begin with. Use a whisker to remove the clumps.
In another bowl mix all the wet ingredients, and pour the coconut oil in it. Give it a good mix and leave aside.
Now pour the wet mix into the dry mix and keep whisking for five minutes. The mix shouldn't turn foamy or fizzy at this point, but if it does, you have added the liquid too fast. Hence go drop by drop as you whisk.
When the wet and the dry ingredients have combined, with your palms take out a small amount and squeeze it together very gently. If at this stage you feel the lump in your hand is still a little powdery, go ahead and dab a little water to make it into a ball mold.
Place the molds on a tray and keep them to dry for fifteen minutes. Do the same for the other side when one portion dries off.
Let them rest for twelve hours or overnight, and when very dry wrap them in a plastic sheet and store them dry.
[Also Read: Essential Aromatherapy Bath Oils]
Bath Bomb FAQ's
Where to pick the molds from?
Any art and craft store would have soap molds or you could try one of the shopping sites online when embarking on homemade recipe for bath bombs. You could also check with the local confectioneries for molds, since they make cupcakes and Easter Eggs. Ask them for spare molds and take it from them.
[Also Read: Detox Bath Recipes]
Can I add my own aroma and flavors to the bath bombs?
Yes, when making homemade bath bombs for kids, you can customize the making spree and come up with your own concoction. But do follow the making method by an expert maker, because aroma oils can burn the skin if used in excess, kids skin especially can be very sensitive.
[sc:mediad]
Popular flavors for bath bombs to try and for all skin types would be peppermint, lavender, lemongrass and citrus, quite a colorful bunch and a yummy bathing spread to use. In addition to aroma oils and flavors, you could use spices and dried flowers, buds and potpourri remains too.
There are many more recipes from master DIY soap and bath bomb makers that you could find around. The idea is to get innovative and make bathing a fun regime each day. So go ahead and try your hands at them all.
[Also Read: How To Make It A fun Bath]
Make bath bombs and use them, gift them to someone special or maybe start a small business of your own and spread the word on social media too; from the cupcake bath bombs recipe to the luxe and lush bath bombs recipes in coconut, olive, rosemary, thyme, basil, mint, roses, citrus, orange, tangerine, lemon and anything you can think off. Bath bombs are going to rule every washroom around the globe, and soon.
Make your own bath bombs and share your recipe and images with us. Have fun!