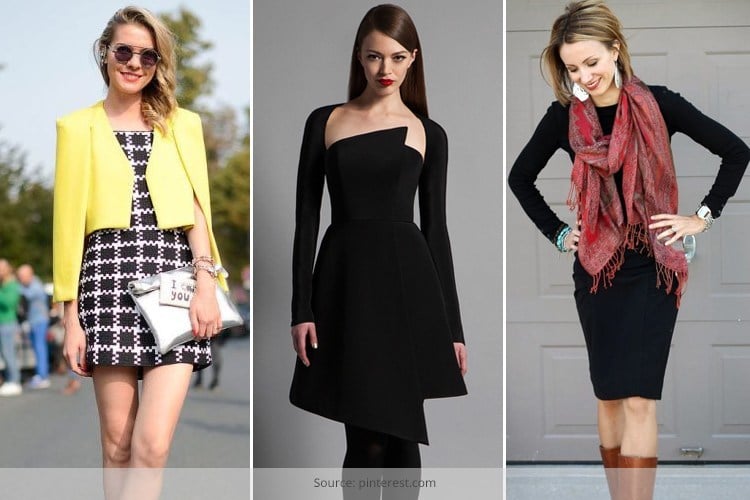 Your little black dress is the most prized possession of your wardrobe and why not? It is the perfect answer to all your dressing up woes. But as the winter sets in, your perfect little black dress gets drowned in those cozy woolens. Well, we are not telling you to starve yourself in cold by wearing the little black dress. However, there are better ways to wear your black dress and still remain warm. Let us show you some simple and smart ways on how to wear a little black dress
[Also Read: What to Wear with a Black Dress?]
The Little Black Dress Trend
The little black dress trend is here to stay for long; wear it for all seasons and all reasons. Winter is no wonder chilling and it is necessary to wear layered clothes to get the appropriate warmth. Fashion is important and so is the necessity to remain warm and cozy to enjoy the cold weather.
Check out how by adding some simple essentials you can easily wear your little black dress in winter also.
Tight It Up
The most important thing in winter is to cover your body as much as possible. In that case how about wearing tights with your little dress? You can choose to wear sheer tights to make it look more sensual. Wearing black colour sheers looks good. You can even experiment with colours and wear different colour leggings. Try neon shades for leggings. In this way you will look cool and yet remain warm in winter
Warm Boots
Let not the chilly cold make your legs shiver. Wear those whole shoes or ankle boots to protect them. Moreover they look fascinating with your black dress. The more solid and neutral colours you choose the more interesting your look will be. Black, Brown and Blue still rule the roost. We cannot agree more that these shoes can instantly up your glam quotient.
Scarf Story
A scarf is an easy way to prevent cold and it also is a beautiful option to pair up with your black dress this winter. Black dress outfits and a scarf or a stole make a wonderful pair. Choose your scarf with care. Whether you wrap it around your neck or let it hang from your shoulders, it is an ultimate style statement for sure.
[sc:mediad]
Team With Blazer
Whoa! A cropped and short blazer can turn heads when you wear it. Especially it can instantly brighten up a formal look. It is not only a good way to keep yourself warm but also a unique way to dress your little black dress. Let it not have much design and jazz. The simpler the blazer the better. The colour you choose say a lot about your personality. Choose neutral colour and look elegant, bright colours look chirpy.
Glove Glamour
Lastly, a pair of stylish gloves is essential for your winter wear. Black gloves pair nicely with your black dress. You can choose to have beautiful designs or sequins on the glove to complete the look. Your ultimate black dress look is beautifully complimented with gloves.
We are sure now you are waiting for winter to start so as to wear your little black dress in different ways.