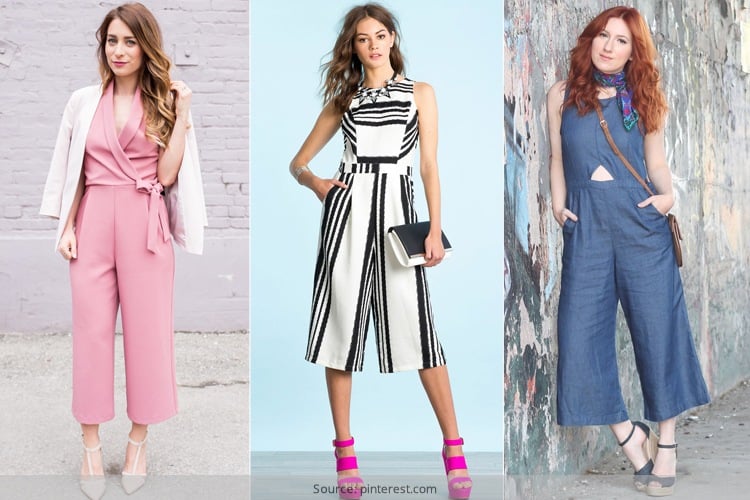 We bet you are a huge fan of jumpsuits already, but have you heard about culotte jumpsuits? If you haven't already got yourself one, you might just consider getting one by the end of this article. For starters, let us tell you that not every jumpsuit is created equal, especially when considering culottes.
Some of the most common problems that you might be experiencing when working with normal jumpsuits is choosing the appropriate jumpsuit for your body type. There are some basic ground rules for pulling off the jumpsuit stint fabulously.
If you're bustier on top, you would want top for something that gives you support, which means trying a strapless design is Big No!
If you're bottom-heavy, a jumper with a stretchy fabric is just your thing.
If you have a good height, say, 5 feet 10 inches or over, longer jumpsuits will suit you much better.
So, Why Deviate Off From Traditional Jumpsuits?
There are quite a few reasons for doing so. First and foremost, Culottes are one of the biggest trends in recent times. But, more importantly, they have a great feminine backstory too. The culotte become popular in first in the Victorian ages as, they would allow daring ladies to covertly wear shorts disguised as skirts.
[sc:mediad]
But, culottes have come a long way since then, the most recent culotte trend being the extremely popular culotte and jumpsuit hybrid known as the culotte jumpsuits. We would say that they are very easy to style but when right, culotte jumpsuits can work wonders to your entire look.
Tips To Wear Culotte Jumpsuits
In this article we are going to bring you a few tips to wear culotte jumpsuits and few culotte jumpsuit styles.
1. Evening Out
Like the Little black dress, the plain black culotte jumpsuit is all ready to become a wardrobe staple pretty soon. This dark, monochromatic jumpsuit can suit any body type and you should especially consider grabbing one if you want to look long and lean. You can easily pull off an evening date in style donning this jumpsuit since it oozes of class and elegance. Our advice would be to add some perky accessories like a chunky neck piece or a nice handbag and some colorful high summer sandals to enhance the overall look.
2. Comfort is the key
If you are a person who chooses comfort over everything else, you just couldn't ask for more. Having the perfect mix of comfort and style, this is the best culotte jumpsuit for you. You can get your hands on a variety of colors when it comes to baggy jump suits, but it is advisable that you stick to solid darker hues. You could pair this jumpsuit with a variety of things starting from hats to nice white sneakers. What's more? This could even be a great choice if your weight fluctuates a lot.
3. Prints And Patterns
People say Floral prints might never go out of fashion. This type of cute culotte jumpsuits proves the fact right. The culotte jumpsuits can come in a myriad of patterns and prints. This type of flirty jumpsuits are ideal for both day dates and summer evenings as they add a touch of subtlety to this chic fashion trend. You can consider getting a printed culotte jumpsuit if you are a little bulky in your midsection as the jumpsuit's pattern helps in camouflaging that. You can throw in a few light accessories to complete the look.
[Also Read: 14 Ways To Style The Culottes]
4. Casually sexy
Love the halter necks? What if there could a cross between Halter necks and culotte jumpsuits? Guess what! There is a culotte jumpsuit just like you wanted. This super sexy design not only makes you look chic but also has an added oomph factor to it. Girls with a more athletic build would look best donning this type of culotte jumpsuits. We would advise you to keep the accessories minimalistic on this one and rather get a good pair of flats to go with the outfit.
5. Cross Back wonder
Cross straps your thing? Then this jumpsuit will intrigue you to no bounds. This jumpsuit is amazing in more than one ways, besides being a super sexy culotte jumpsuit that just heightens your entire appeal, it also is the best option if You're Flat on Top. This culotte jumpsuit with a sexy crisscross draws attention to your back, and gives you the perfect excuse for not to wearing a bra. Minimal accessories should only help to highlight your super chic jumpsuit.
Now, that you have a complete guide, go get all your friends jealous!