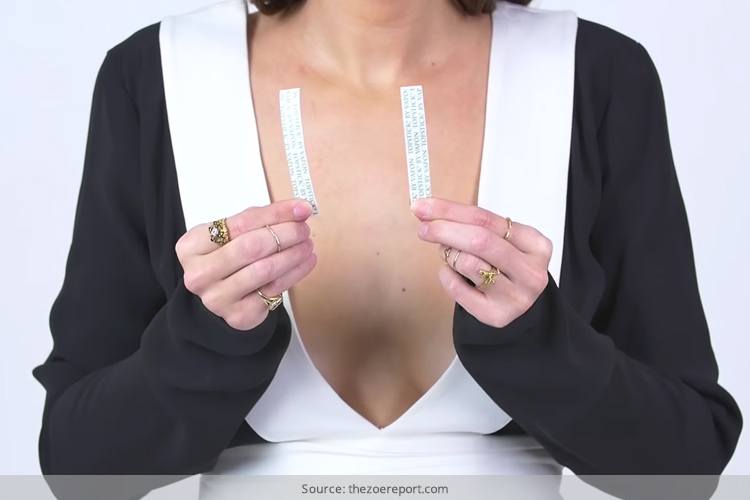 Have you ever wondered how those celebrities manage to look perfectly dressed at all times? Well, Fashion Tape is the secret. It works like magic in securing clothing on skin and gives the desired effect of a perfect fit.
Fashion tape is something every woman needs to have in her purse. It is super versatile, highly useful double sided tape that can help prevent embarrassing wardrobe malfunctions. It is skin friendly and helps keep your clothing in place at all times.
[Also Read: Fashion Taglines That You Can Sport On Your Tees]
Every woman has at some point been embarrassed because of a part of clothing that just won't stay in place. Perhaps the most innovative and useful beauty invention ever in this regard, is the fashion tape.
Why Should We Use A Double Sided Fashion Tape?
Double sided fashion tape works like a charm when you want to hold stubborn clothes in place. Every woman dreads wearing a blouse with gaping buttons, broad necks that keep slipping off the shoulders, necklines that plunge when you don't want it to, dresses that don't fit the way they should, and the list goes on. So, if you're sick of your bra strap showing or your dress keeps slipping off, you need to look no further than a fashion tape.
We all have that piece of clothing we bought impulsively because we loved it at the time without paying much attention to how it fits. Now, obviously you don't want to let your money go down the drain, and here comes fashion tape to your rescue! With a little bit of this tape in the right places, it can go from an ugly, ill-fitted dress to a fabulous and well-fitted dress that looks like it was tailor made for you. After all, the fitting of an outfit is what makes or breaks a look.
Whatever be your fashion problem related to fitting or rather, the ill-fitting of your clothes, worry not, because fashion tape is your savior! It is formulated with anti-hypoallergenic adhesive for skin and fabric, to keep everything in place and it can even work as a hem for your jeans. Unlike clear tape, it blends well with the skin. And, since it is made especially for fabric, you can rest assured that fashion tape will not leave any residue on your precious clothes.
Tips On How To Use Fashion Tape
Fashion tape is wonderful as it can help you avoid any fashion faux pas. You will be amazed to see how many uses this versatile product has. This tape is more discreet and fabric-friendly than safety pins, and you can use it for almost anything.
Like any other fashion product, you need to keep in mind some tips and tricks to exploit its full potential.
All you have to do is simply peel the backing from one side and then press it firmly to the clothing or skin. While you're doing this you need to be extra cautious and make sure that you get it in the right place the first time itself, because it can't be re-positioned easily.
For a heavy dress, don't hesitate to use more than one strip of tape to get the fit right and ensure it stays that way for a long enough period.
For those of you with very sensitive skin, try not to keep it on for a very long time as it may irritate your skin. Just for a few hours though, it should be fine.
If you have a blouse with gaping buttons, just fix it with some tape and you're good to go. Fashion tape is best for delicate blouses such as silk ones, because you don't want to create holes in it.
For blouses or dresses with deep necklines, a little bit of tape near the hem will avoid any unwanted wardrobe malfunctions.
Not just clothes, you can even use fashion tape for shoes that are too loose and tend to slip!
Another use of the fashion tape can be to keep wigs and other accessories in place.
Fashion tape will keep your strapless dresses in place, provide support and give you the confidence like nothing else can.
There is no best fashion tape use, you can be as creative as you want and create your own hacks!
Fashion tape is invisible, comfortable and reliable. Next time you want to experiment with a daring outfit or need a fix, don't be afraid, and just try a fashion tape. Once you start using it, you definitely won't be able to live without it.
It gives you the confidence to wear any type of clothes you want without worrying and helps you to pull off any look with poise, so you never have to hold back.