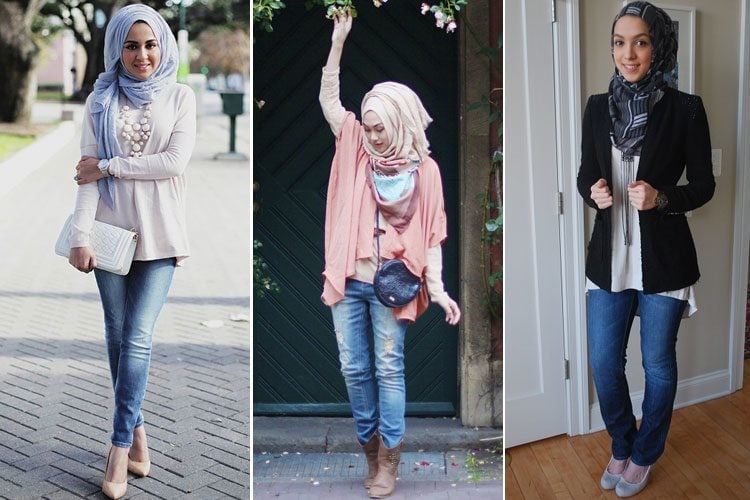 Wearing Hijab in Muslim women is not just about modesty. It is also about grace and can be styled in different ways to suit different tastes. If a hijab can be worn with a kaftan, it can also be teamed up with a pair of denim pants. Style rules, after all and can always be explored, given the set of religious obligations.
Talking of denims, there are many ways in which hijab can be worn – varying from a baggy pant to a maxi skirt. It's all about having a set of ideas ready on how to combine it with the latest denim trends, and bingo it is done! So get ready to look chic and funky with a hijab and denim combo.
The East-meets-West Trend
Styling hijab with jeans does not need any formal training. Get your pair of sandals or loafers, long top and jewellery accessories and you will be ready to rock in the deadly combo of hijab and denim.
When pairing Hijab with Denim Outfits
Try to keep the following things in mind while wearing a denim-based outfit with hijab:
Colour Block
Using large blocks of colour in your outfit is the biggest challenge and that applies to hijab too. Interestingly, a hijab can be the perfect colour block for any stylish outfit. Just pair it with simple patterns in your denim skirt, shirt or dress and look how stunning you look.
Wearing jeans
It is tough to wish away the overwhelming and swelling pride of wearing jeans. It is in fact a fashion staple that has grown with time. All you need to do is pair skinny jeans with a long flowing top or sweater, as per the season. Go one step ahead and wear boyfriend jeans with flats or sneakers. Make it a point to buy jeans in distressed patterns. As for the colour of the jeans, black or coloured denim would be great to get you a funky, colour blocked look.
Expressing style
What is you fashion code? Is it Hip-hop or Punk, Hipster or Retro 90s? When wearing a hijab, there are no limits to expressing yourself. You can create hip-hop style by wearing a baseball cap, tee, and baggy clothes. If you want to go punk or skating with black fabrics, then pair red and black plaids with white and black checkered prints, and intensify your look by wearing chains on your hijab. The hipster or 90s retro style can be achieved by wearing a jean vest and high-waist pants or skirts. As you can see, there are endless possibilities in expressing your fashion sense with denim and hijab.
[sc:mediad]
Sunglasses
Wearing sunshades with denim and hijab is like the icing in the cake. There are so many styles available – from large and round ones to retro looking Rayban to vintage cat-eye. And there are colour options too, such as black to bright colours. By the way, there are fake sunshades too to accessorise your hijab.
Jewellery
We had recently told you how to wear earrings with hijab. Hijab with denims looks all the more jazzy when you are sporting nice jewellery in the form of bracelets, necklaces, earrings, and rings. Go rock with stack bangle bracelets on your wrists, large cocktail rings, and long necklaces to finish your outfit.
Now that you know how to spice up the hijab, try it out on you. Who knows, you might look the best of both worlds, eastern and yankee!