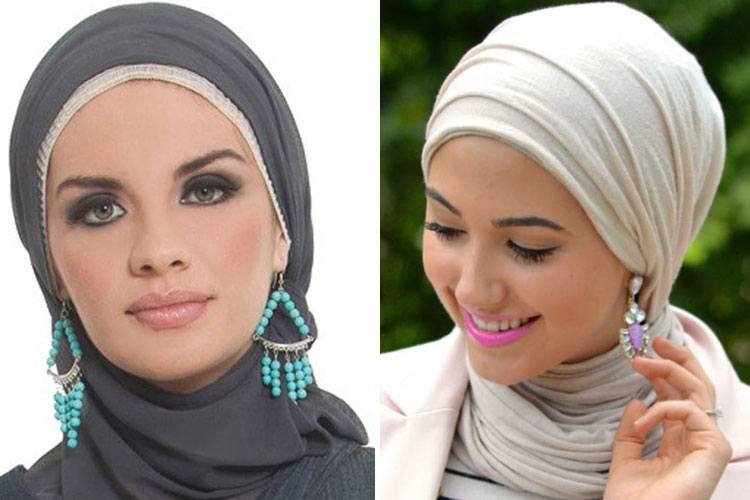 Fashion is universal and knows no language or religion. It is followed in letter and spirit by women and men despite the rules and regulations laid down by the priests, Catholics or Muslim religion bodies.
[Also Read: How to Wear Hijab with Maxi Dress]
One such conservative fashion must is Hijab. A hijab is a head covering worn by Muslim women in public. Seen as Allah's blessing, hijab as per the rules laid down by Islam brings an element of grace and dignity to Muslim ladies. It is a garment which has to be worn each time the Muslim lady goes out of the house.
These days, Muslim women are taking to wearing the hijab with a fashion twist. Incidentally, wearing a hijab does not mean women can't wear earrings or show them. There are various ways and means in which the earrings can be worn and styled with a hijab. For instance, there are long earrings, loop earrings, tussle earrings and gold earrings that make a good fashion statement. All you need to do is pick the right earring that goes well with your hijab and the outfit you plan to wear.
Let us find out how Muslim ladies can wear fashion accessories particularly earrings with a hijab in order to look gorgeous and graceful.
[Also Read: The Hijab Fashion: The Demure Nature of Islamic Clothing]
Occasions
There are so many occasions – casual and formal parties that need earrings to be worn with a hijab. It's the earring design and style that can bring out the beauty of a hijab. When you have to go to an iftar party or attend a nikaah (wedding ceremony), delicate earrings look beautiful and appropriate with a layered hijab or cap style hijab. Turban style hijab also goes well with earrings.
Kaftan with earrings
Beautiful lengthy earrings
Round earrings with hijab
Round-shaped Gold earrings with hijab
[sc:mediad]
Loop earrings with hijab knot
Hijab with loop earrings
How to complement Hijab with Earrings
Most of you might think that a hijab cannot match earrings. But this ain't the case. Here are some tips that give you a closer perspective of how to go about wearing earrings with hijab.
1. Long earrings the best bet
Why go for long earrings you may ask when you are wearing a hijab? That is because you can carry off any costume with any hijab style with immaculate ease. They bring in a sense of drama and make you look a woman of chic substance.
2. Wear Underscarf or Headband
The best way to show off your earrings is when you wear a headband or underscarf beneath the hijab. The headband will help you pull your hijab further back so that you can happily reveal your earrings dangling from your earlobes. Don't you find it an easy way to keep your ears covered, at the same time show off your earrings to the world?
3. Hooking the Earrings into the scarf
The beauty of an earring is to show it off and flaunt it, not hide. If you have splendid looking earrings that might get hidden or camouflaged under your hijab, then try to hook the earrings into the scarf. The best way to position your scarves would be when they naturally hang from your ears. This tip would come to be of use in case you don't have any ear piercings.
Now that you have had a fair preview of earrings that can be worn with hijab dress, do so and get ready to share the limelight.
Image Source: outfittrends.com