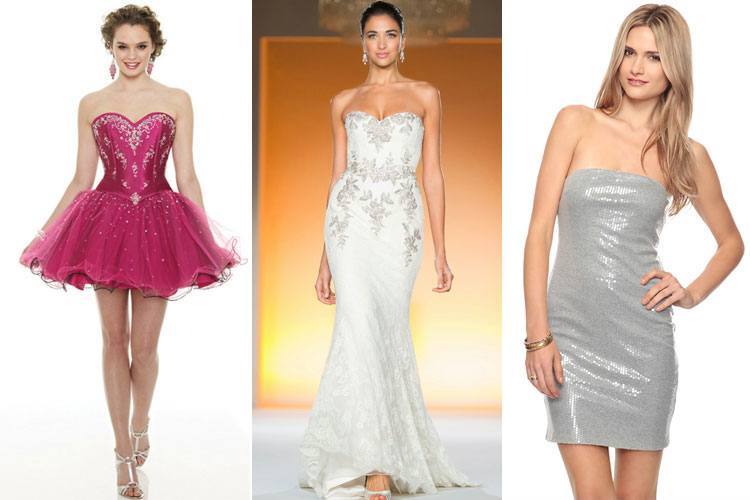 Yes, it is the age of minimalism, of keeping things limited, short and snappy so that they are easy to grab and easy to flaunt. A strapless dress is the best example of it. There is no complexity in the material, no bulky yardage which is seen in traditional dresses. Okay, one could complain that it might show the cleavage. But beauty lies on the art of the wearer, so it all depends on your whims and tastes. It goes without saying that a strapless dress looks great for evenings and hangouts with friends. Now before you start fearing on whether you will be able to manage it in a crowd of many, here are some tips that will help you pull off your strapless dress confidently and to perfection.
Smooth and tanned shoulder line
Since a strapless dress shows a lot of skin around the neckline, shoulder, back and arms, it is important to make all of them look great. Begin with thorough exfoliation of the parts of your body likely to be exposed when you wear a strapless garment.
Take a loofah or body scrub while taking a shower to dust off rough skin and thereafter apply a moisturising cream or lotion. Sun-tan cream should be religiously applied a few days before wearing the strapless skirt or gown so that your skin shows up the bronze shade. If you suddenly decide to go out with the strapless beauty, use a tinted body bronzing gel which will give you an instant glow.
The right support
It is understandable to skip wearing the usual bra while wearing a strapless dress, but you can still wear a supportive strapless bra. The best part about it is that will hold your bust line in place. So you needn't fear much on the garment falling down exposing your chest. If you have small chest line, you can opt for a push-up style. There is shapewear available too which you can wear under your strapless dress which gives the best impression of slim belly, buttocks, thighs and backside.
[Also Read: Top 20 Types of Bra Revealed]
The Fitting
A strapless dress has to have the right fitting if you want it to be the centre of attention. Make sure the garment you are intending to wear is neither too big nor too small, otherwise you will end up spend most of the time in pulling it above or tugging it. Trial is very important in this case as it will help you check out loose ends when you raise up or bend your arms. Also look into the back and sides of the dress to locate any unwarranted bulges. If you want a slimmest look, go for a strapless dress that has boning on the bodice. This will help give you the figure to die for!
[sc:mediad]
Adding Bling
The right kind of accessories can create all the difference if you want to shout out in a strapless dress. This is where necklace options play an important role. Feel free to choose between a pearl choker (single-stranded), pendant necklace or rhinestone style bib necklace. These are ones that would look great for black tie events…ooh la la! For an evening cocktail or dinner, wear enamel stones in turquoise, tangerine or magenta and for earrings, large hoops or even chandelier earrings will flatter your strapless dress beyond imagination.
[Also Read: How to add bling to your outfit]
The right accessories
A strapless gown can work wonders if you add the right kind of frills such as wraps, scarves or for that matter shawls. They will not only help bring sophistication but make them look classy as well.
Indeed, strapless dresses are the ones to try out this summer. Claps and flying kisses might come up for sure!