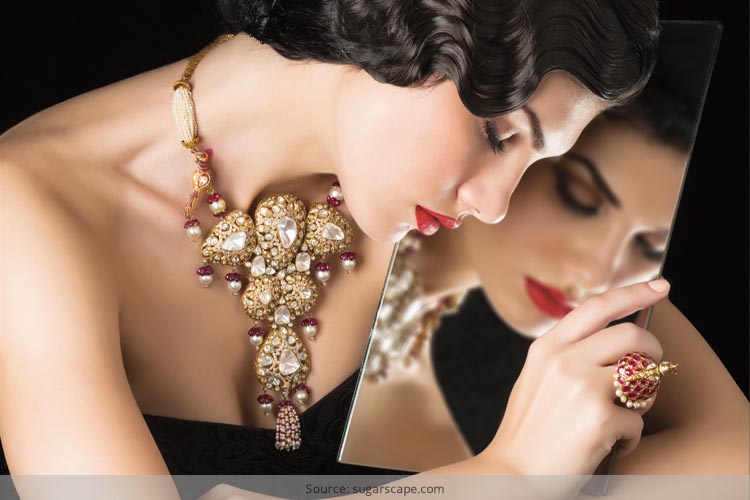 You know that feeling when everything is just right. From shoes to clothes, makeup and the statement neckpieces so blingy and chic on you- yes, that is what we are talking about. However, whilst the praises come through, expensive looking jewelry on you is a farce. And sheepishly though you smile through the gathering and the formal do, no one can tell the difference.
[Also Read: Jewellery For Different Face & Body Types]
Fake It Till You Can Make It: Ways To Make Cheap Jewelry Look Expensive
While most of us invest in costly statement pieces, which is good, there are a few of us who would shop smart for the moment. Why spend a bomb for just one gathering, when you can have the not so expensive looking jewelry for cheap. And here are a couple of statement not so expensive looking jewelry, which brings the eyes to the personality you own.
Dress Up Like A Queen On A Budget
1. Necklace
When was the last time you'd to sport a necklace that would live up to your "always-in-vogue" self and yet not cost you a fortune? Probably many a times!! A necklace supports your entire attire and adds a considerable depth and jazz to your image any day. So it's only natural to own one which lives up to all that heavy duty and yet be a hassle-free regret-free purchase!! Here's one such customized fashion jewellery product that would go with a saree or a lehenga and save the day.
Price: INR 699
2. Bangle
When we wear a saree or any dress for that matter and try and be sporty to the world, the eyes of the on-looker checks us for any imparity that's noticeable & empty or over gauged hands don't really help us to avoid a sneer or a snort. Bangles can either make you look chick and hip or geek and gaudy. One such life-savior in the genre of bangles has been presented. It's safe to say that this gold plated and studded bangle will make many faces green out of jealousy.
[sc:mediad]
Price: INR 500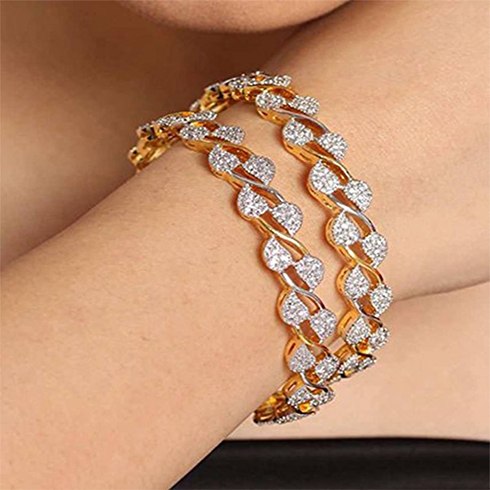 3. Ear Ring
Ear rings love us the way we love our perfumes. With the ears seemingly naked, our sense of fashion is often misunderstood. So to save a fashionistas image, a cool and inexpensive earring is a must. These gold plated and studded ear rings made of brass with near-about designer looks can make your best critic or worst enemy compliment you.
Price: INR 435
[Also Read: Celebrities Who Have Been Sporting Amrapali Jewellery Like A Star!]
4. Ring
Just nail-art on a manicured hand doesn't fit the bill unless we have a set of rings or just a ring to make the magic happen!! Here's a ring to be-witch them all. This rose-gold glossy ring studded with appealing stones can re-vamp a common every-day dress or suit a designer wear and make the others go "oh-la-la"!!
Price: INR 700
5. Bracelet
To compliment a saree or to create a contrast bracelets have always been adorned. Without them a complete ethnic look is so incomplete. Here's a bracelet that's antique gold based and diamond studded and worked over with crystals and pearls.
Price: INR 311
6. Anklet
For a desi femme fatale, an anklet adds to the image. Or if you want go completely Indian, an anklet is much in demand accessory. This anklet is definitely going to change your definition of being ethnic and yet modern.
Price: INR 549
7. Brooches
These little things are just as important as the design and fabric of your dress in order to be a complete diva. Be it a saree or a kurta, it can be said that a brooch is only going to add to your glamour quotient and give you a definition and make over.
Price:   INR 465
Here were thus the seven most exquisite pieces on the not so expensive tastes, but regal as ever to wear. Next time we would also like to show you Ways to make cheap jewelry look expensive and teach you maybe how to have expensive looking rings for cheap styled with street style and coffee date wear. And if you would like to add to the expensive looking costume jewelry your own ideas, do write in!