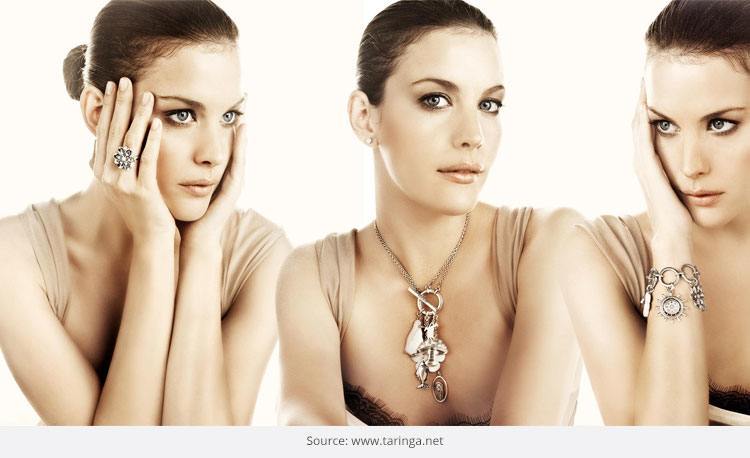 Women, admit it don't we all love jewellery! We all adore jewellery to the hilt and cannot possibly do without making it a part of our daily lives. And why not, the right kind of jewellery can accentuate our features besides draw the eye away from problem areas. As jewellery aficionados we love to buy jewellery from stores, online boutiques, malls and the varied options available today. Jewellery pieces should be statement-worthy, or simple yet classy and multifunctional, so they can be worn to any event under the sun.
[Also Read: Jewellery Designers in India]
Types Of Basic Jewellery
A delicate necklace in gold or silver can be paired with formal or even casual attires.
A chunky pendant over a simple dress spells instant chic.
Stud earrings for daily wear are ideal for work wear and to get a minimalistic look.
Get yourself timeless hoop earrings for styling casual dressing; they match every mood and attitude.
Cocktail rings in real metals, stones and varied embellishments are the latest fad, embrace them for an uber cool look. From ethnic to western gowns, you cannot go wrong with the rings.
Bracelets are extremely versatile, so invest in one with funky danglers. It would take you from day to night with enough ease.
Jewellery To Suit Face Types
Jewellery can be a woman's best friend and the treasure worthy pieces can take your look several notches higher! A good photo frame draws attention to the picture in it, selecting the best fitting jewellery can highlight your best features to the hilt. We are all aware that a pair of earrings can draw attention to a woman's face; necklaces put focus on the face, neck, or even waist and rings besides bracelets let your hands do the talking!
[Also Read: Body Jewellery]
Women must keep in mind their height, weight, appropriate shape of frame and bone structure while selecting jewellery for themselves!
Earrings
Long, dangling earrings are good options for the heighted women while the geometric shapes look striking on full-figured women. Besides they also minimize the narrowness of the face or the length of a nose.
[Also Read: World's Most Expensive Earrings]
Hoops, round pieces and wide styles often the length of square, rectangular, or oblong face types.
Women with round, square, oblongs, and rectangles faces can opt for dangling earrings, so as to take away attention from the roundness of their face.
Necklaces
Women with medium height and weight, or with oval face types, and thin or tall women can select almost any style of necklace.
[sc:mediad]
Necklaces in symmetrical pearls or gemstones look appealing on tall women while chokers and U-shaped necklaces reduce the length, help break up or flatter the face angles. Basically they aid de-tract from the height.
Rectangular faces should opt for jewellery that adds width and conceal its length. These styles also help alleviate the sharp chin of a heart-shaped face.
Long necklaces help in lengthening the look of a square or round face. Voluptuous figures need longer styles to draw the attention downward besides lengthening the height.
Bracelets
Wide bracelets are more proportionate for women of an average height.
Narrow bangles are great choices for petite women. Delicate bracelets make longer arms look lanky and depending on the height, women can add several narrow wristlets together or a few wide bands to balance out a round figure.
[Also Read: Most Expensive Diamond Bracelets]
Rings
Women should select rings according to the size and shape of their finger.
Long fingers can handle almost any style of rings.
Oval or round settings soften the look of thin fingers and wider bands are ideal than the thin ones.
Rings that envelop the knuckle tend to make fingers look shorter. Narrow bands are definitely a better choice for short fingers.
Varuna D Jani, jewellery designer cum adornologist recommends easy ways to adorn jewellery according to your type. She says,