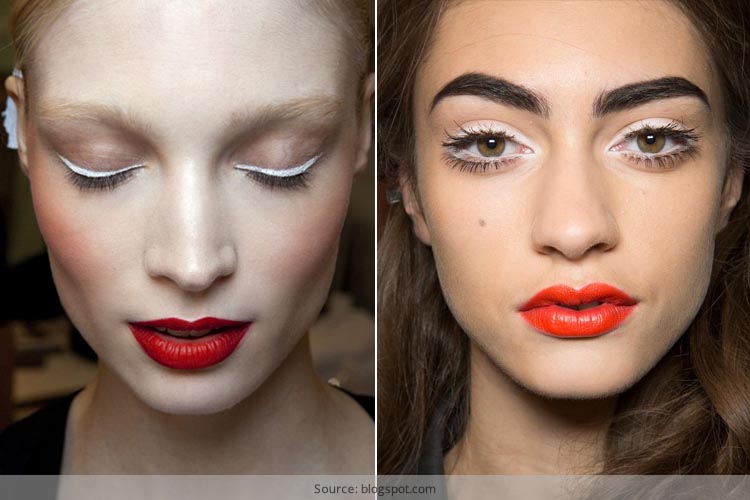 Black might be a hottie colour in apparels, and makeup bag, but it's time to check out its absolute opposite – white. From the red carpet to the runways, white eyeliner is becoming the new must-have.
And you thought it is a fantasy story. The popularity of white eyeliner tricks and white eyeliner looks goes to Hollywood celebrities who have made it the in-thing. Let's get a deeper insight into this eye-trendy fashion.
[Also Read: How To Apply White Kajal Like A Pro]
Celebrities And Their White Liner Looks
From giving white cat eye a chalky effect to making a thick white underline, white eyeliner tricks are juicy and reserved for those of you who want to go the bold and experimental way.
For instance, Rihanna has never been afraid to show her spunk. She went ahead and lined her waterlines with black eye liner and then traced her eyes along her lash lines with a white shimmer pencil. Her white eyeliner could well be the talking point in press.
Sarah Hyland portrays the classic white eye pretty well. In making white liquid eyeliner a statement, she went for a black cat eye in favor of a white-washed one.
Ever heard of the white waterline? It is a good statement in itself.
Now look at Blake Lively. Love her for her blue eyes, but you can't miss out on her white eyeliner looks drawn out lightly on the inner corners of her eyes. Come closer to your screen to know how hot an understated look is.
Turn the classic cat eye on its head with the reverse cat eye syndrome. Like the Kate Spade Spring 2014 wherein there was a smooth white liquid liner swoop below the waterline.
[Also Read: Different Eyeliner Styles]
Camilla Belle looks a stunner with traces of white eyeliner underneath her waterline. It gives you a muted, yet effective brightening look.
Going bold with the white eyeliner looks is Kenzo's Spring 2014, where a slash of white eyeliner on the upper eye evokes nothing less than attitude.
Emma Roberts adds some drama to black eyeliner by sporting white liner in bold just on the crease of her eye.
[sc:mediad]
Tips On Wearing White Eyeliner
Here are some techniques that will convince you to go the white eyeliner looks way.
Perhaps one of the easiest ways on how to wear white eyeliner is wearing it solo. All you need to do is trace your upper eyelid with a white pencil, and move the pencil towards the outer corner of your eye.
[Also Read: Different Ways and Styles to Apply an Eye Liner]
Double up the impact of your liquid eye liners by first applying the black eyeliner along your upper lash line, and then putting shimmering white liquid eyeliner on top.
Want to go a little adventurous? Line your bottom of the lid in white, and top of your lash in black. Try it. It is one of the most creative adventures you can do with eyes.
Now this might not be an everyday look, but it's a brave way to wearing a white eyeliner. Use a white kohl pencil to pull off this challenge, like the one shown below.
This is one of the white eyeliner tips you would love. All you need to do is brighten up only the inner corners of your eyes, not the upper ones or the outer ones.
You can also line up your eyes with white eyeliner, give it a smudged look, and then go back and retrace your upper lash line. This will give you a near optimum cat eye look.
[Also Read: Ribbon Eyeliner]
Hope you liked white eyeliner and white eyeliner looks. Tell us what you think.