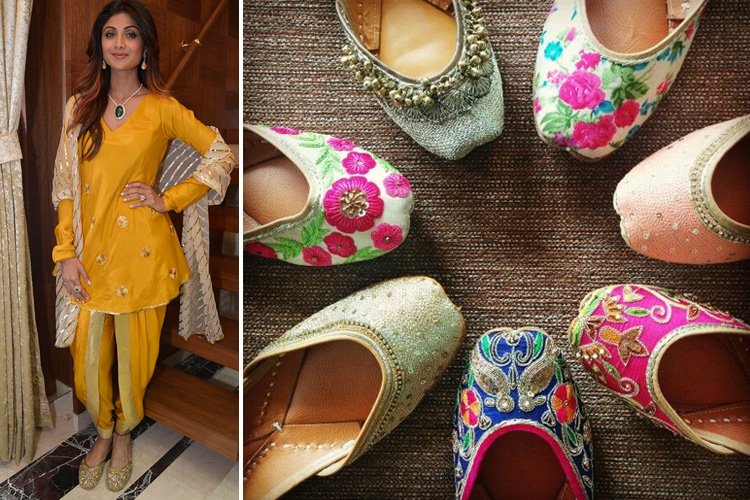 The importance of footwear in our attire goes way beyond words. Which footwear should we invest in this season? JUTTIS. For the love of juttis, we have seen plenty of B-Town celebs sporting it. Juttis have established themselves as a go-to destination for any outfit, be it ethnic or western. The kind of ease we have with juttis is making us swoon over them and here are more reasons why – Forever pieces that don't break the bank, more colourful than life itself, comfort at its peak, blends with outfits due to its designs. Maybe this is why we have come across plenty of juttis over the seasons and think it's time for you to buy a few pairs as well.
Take a look at these celebrity inspired must-haves for this season of footwear.
Juttis Blending The Indo-Western And Indian Styles
1. We are mesmerized by this monochromatic look of Deepika, that spells bling and beautiful. These Juttis from Juttichoo are just the perfect match for the saree keeping it etched in our minds for a long while.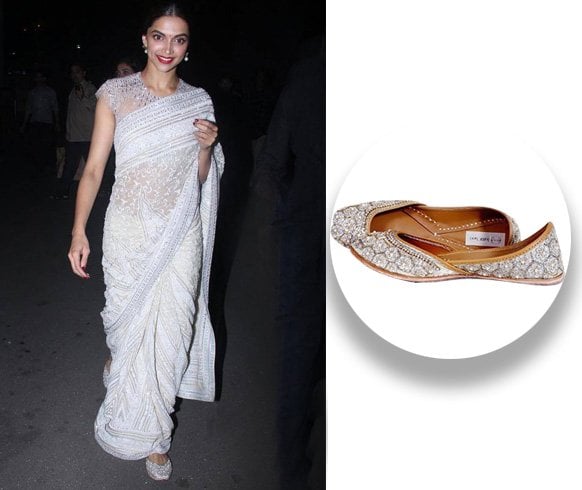 2. Sonam Kapoor sporting this Needledust juttis that got us going back for more and more. This gorgeous juttis are just perfect for any outfit and can make an unbeaten win.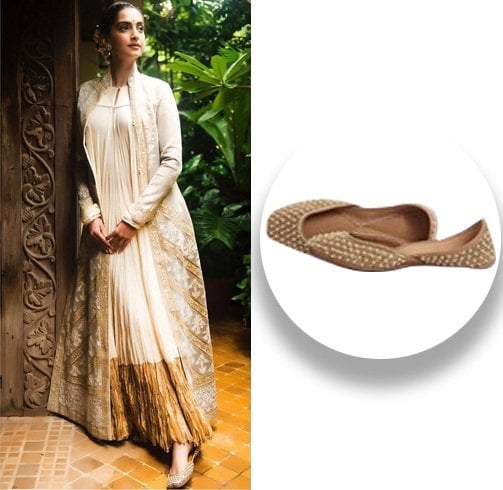 3. Sharddha Kapoor was seen in these floral pink Vanshika Ahuja juttis, beating her blues with the pinks. We have realized that juttis matching with your outfit is always a safe option.
[ Also Read: Who Dazzled At The Filmfare Nomination Party? ]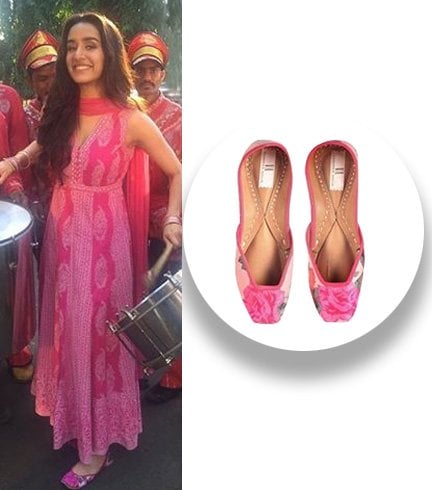 4. Keeping it electric, Esha Gupta was a pleasant surprise in this Fizzy Goblet juttis, that tied the entire look better than we could think. We love how the subtle hiding colour of the outfit matched the juttis.
[sc:mediad]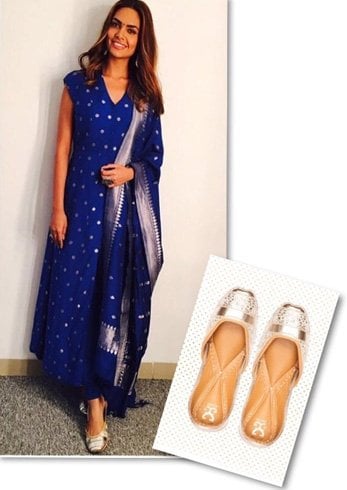 5. The classic mirrored jutti look was nailed by Bebo and we love it. Kareena Kapoor cannot be missed when it comes to fashion, and her footwear game is on point once again. This mirrored juttis is perfect for a day out where over emphasis on footwear isn't needed. Classy and stylish!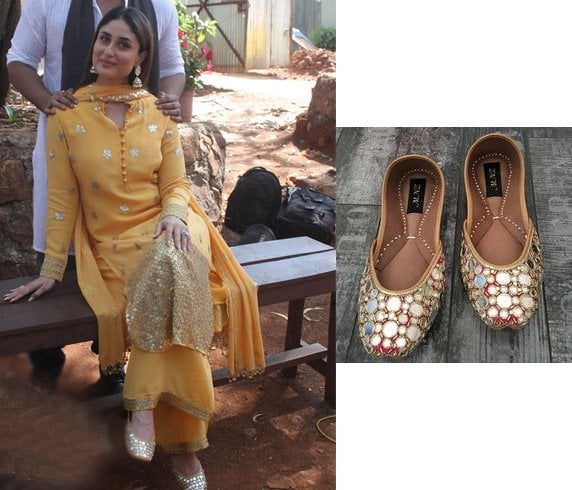 6. Shilpa Shetty went contemporary desi in this glitzy pair of juttis. She is worth drooling for, but well, the juttis stole the show this time.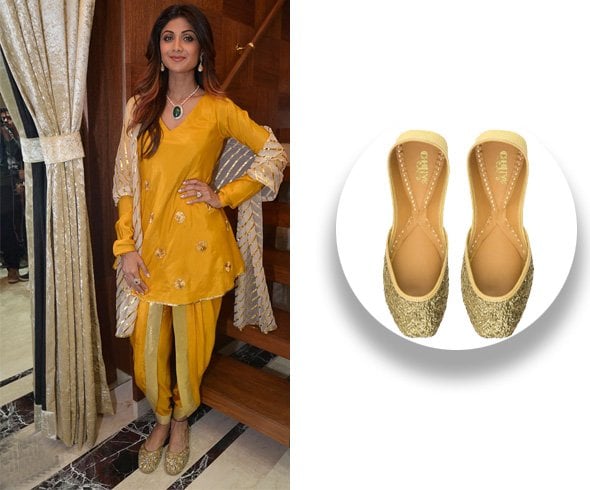 7. Sarah Jane Dias in yet another indo-western outfit with JuttiChoo juttis is a breathtaking sight. Her contrasting juttis add the much-needed colour to the pale outfit making her stand out, looking every bit goddess like.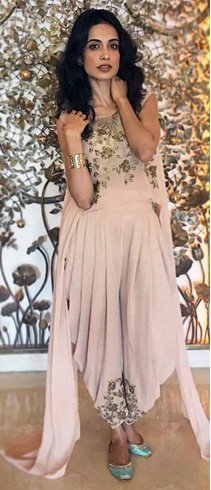 8. Karisma Kapoor in these bright pink JuttiChoo juttis is sure to make your day a wee bit brighter. JuttiChoo juttis have gained a good amount of fame, and there's no looking back at quality, seeing its clients.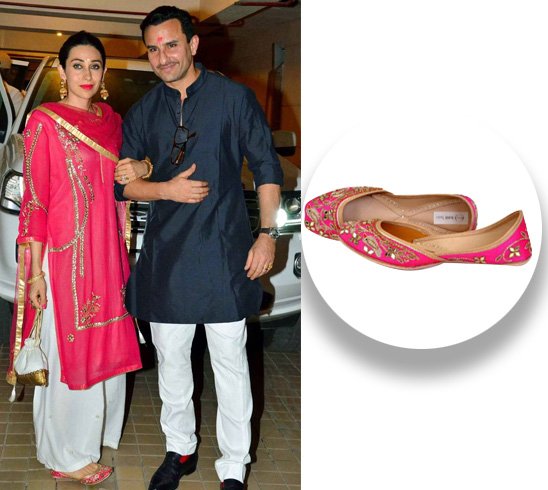 9. Sonakshi Sinha flaunting her JuttiChoo juttis doesn't need any explanation. These beautifully designed cream juttis have caught our attention, and we are on the hunt for one.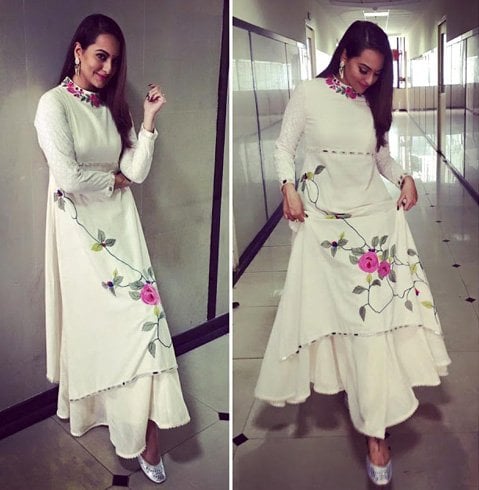 10. Ankita Sharma in CraftsAdda juttis is chic and stylish and we want every pair similar.
Juttis Fitting Into The Western Trend
1. Anushka Sharma in these pomegranate passion Fizzy Goblet juttis is a rage, complementing her red dress outfit better than any Louboutin we can think of.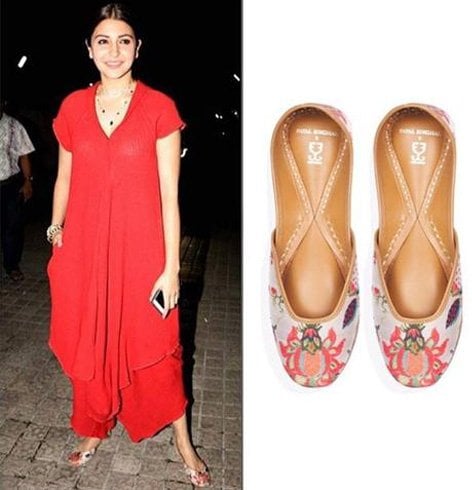 2. Juttis have a personality too, ever thought of that? See Jacqueline Fernandez in these tutti fruity quirky juttis from Fizzy Goblet that reflects her personality and of course, also look amazing with the midi dress.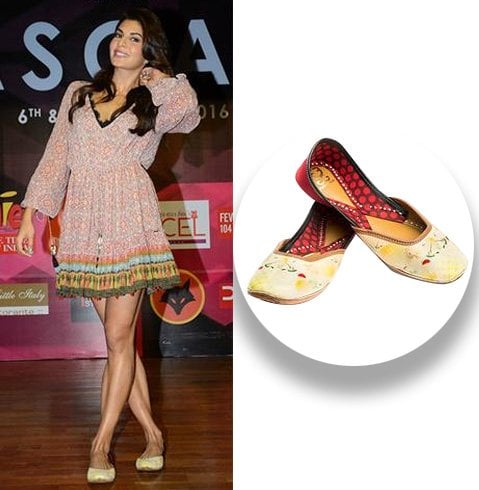 3. Parineeti Chopra shows us how easy and casual her look is by teaming a pair of Fizzy Goblet juttis for a day out, with distressed jeans. Casual and sporty, just how a sunny day out should be.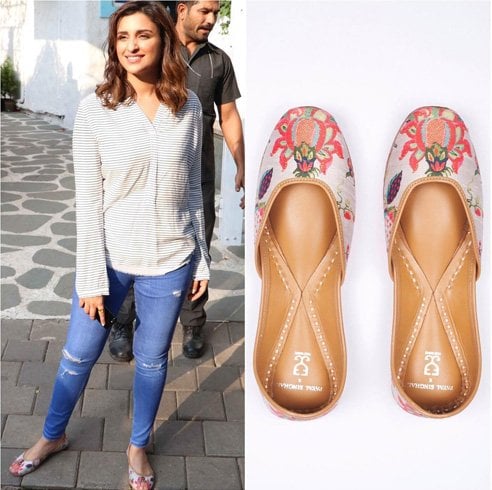 4. Rocking a casual college look to the most sophisticated marriage look, is only possible by Shilpa Shetty. Sporting colourful bold juttis with a tee and a scarf, we dig her look. Who thinks of such styling? Thanks, Shilpa!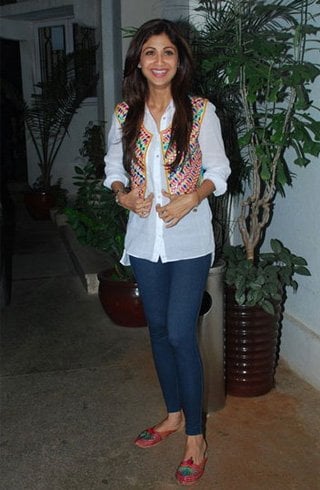 5. We are crushing on everything about Shilpa Shetty's look. From her face to the perfect juttis, we love everything.
Thinking of getting a new footwear closet ready? We hear you!
Images Source: Instagram.com