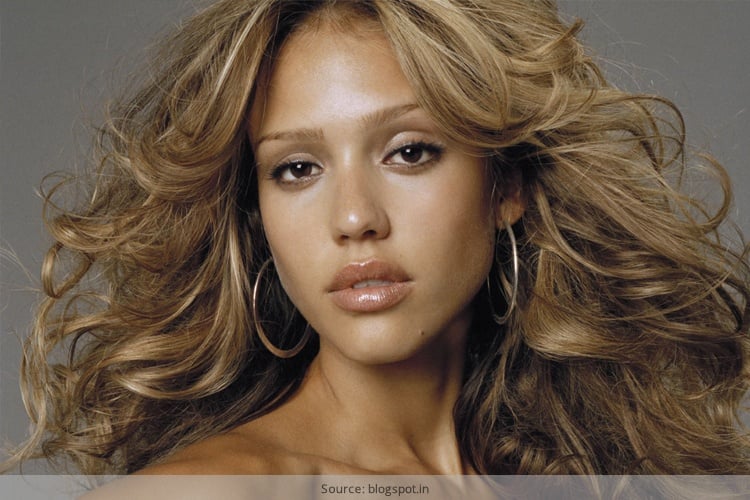 If there is anyone who can rock hairstyles like a pro, it's Jessica Alba. The Latina beauty has rocked a number of different hairstyles and hair colours and each one of them more gorgeous than the other. If you like Jessica Alba hair and derive inspiration from her locks, here are some ideas you can totally steal from her.
Jessica Alba Hairstyles
Whether it is Jessica Alba short hair, Jessica Alba curly hair, Jessica Alba long hair or Jessica Alba updo; there is no doubt that you will find your next hair style inspiration from her!
[Also Read: Natural Hairstyles For Short, Medium And Long Hair]
1. Long Layered Look
Jessica Alba's long layered bob look was one of the first looks she sported and ever since then she has been sporting this look pretty often and in various variations. The reason this look suits everyone is because the layered look frames the face pretty beautifully.
There is texture and there is movement in the hair. For women with longer faces, it pulls off an illusion of width and works opposite for women with rounder faces. This look never goes out of style, but you will need a good hairstylist to pull off this look perfectly. And the best part – you can wear it as an updo, you can leave it open or you can even part in the middle. This was one of Jessica Alba straight hair looks that has remained iconic.
2. The Red Layered
There was also a time when Jessica Alba decided to wear her layered hair in red. For this look you can have the former layered look and all you need to do is change your hair to red! Everyone just loved her look when she came out with this hairstyle. Plus she rocked coral eyeliner that totally changed her look.
3. The Blunt Lob
This Jessica Alba haircut has no layers at all and is especially good for those who may have damaged their hair with too much styling and heating tools. If you have longer hair, chop it off into a blunt bob without layers. This hairstyle will not only remove all the split hair as well as the damaged hair at the bottom, but since the hairstyle is so versatile, you can also wear it a middle part, an updo or even a high pony. For those of you who have a rounder face, this hairstyle will make your face look elongated and give a kind of definition to your neck.
4. The Messy Haircut
One of Alba's most iconic hairstyles, this one is easy to maintain and can frame your face very well. It's a really casual hairstyle and for those with limp hair, this one can give you quite a bit of subtle volume. Use a volumizing spray to add more texture and definition to your hair. This Jessica Alba hair best suits women with round faces and heart faces.
[sc:mediad]
5. Long Ombre Hair
Ombre hair is anyway a lot in vogue this season and top it off with a layered and long hair look – you are sure to turn heads! There are tons of ombre hair variations that you can opt for, depending on your choice. For Jessica Alba's hair, she chose to have brown hair merging into blonde ombre hairstyles. We seriously can't take our eyes off this one!
Here is another Jessica Alba hairstyle where she sports her longer, ombre looks – but this time her hair is a little shorter.
Both long and medium length hair looks good with ombre hair colour – all you need is some confidence to carry that kind of hairstyle and you are good to go!
Jessica Alba is a living legend and a style icon for ladies all around the world and if ever we need to get some hair inspo from her, there are hundreds of easy hairstyles that she has sported! So, go ahead and get chopping!