The hair goal for 2021 is lavender. From purple pastel to cotton candy pink, to grey-lavender, there are plenty of lavender hues to choose from. The lavender hair will be interesting enough to carry all seasons this year and add that extra touch of zest.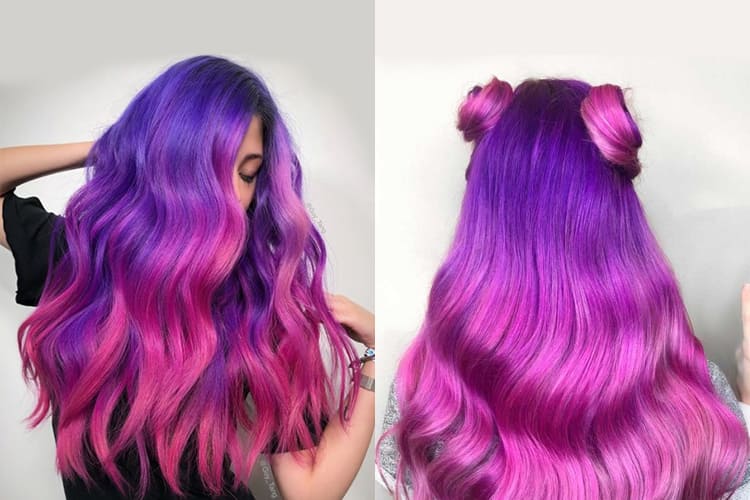 So here is everything you need to know about lavender hair color.
How to Select your Lavender Hair Colors in 2021
Lavender hair is extremely versatile and suits many skin tones. But it's most suitable for those with warm (yellow or olive) or cool (pink) skin tone. Those with lighter skin tone will look better with classic pastel lavender hair dye and deep violet hue, while those with neutral skin tone can choose any purple shades. But, shades of lavender hair can also be achieved by mixing cool and warm color schemes.
If you prefer the cool metallic purple color, but your skin is warm, then you can highlight with lilac balayage. This will give your look intensity and also flatter your skin tone.
While those people with an undertone skin can try the opposite steps.
If you are worried about damaging your hair roots, and frequently having to dye them, you can consider a touch of ombre purple and lavender balayage hair.
The lavender hair color also suits those with hazel or light brown eyes. The light purple hue greatly draws attention to the eyes and makes them pop out.
Tips to Consider before getting Lavender Hair:
Before going for the hair color your should remember that it requires a lot of maintenance to achieve pastel colors, like lavender.
Lavender hair colors tend to fade off quickly and require frequent salon visits.
If you have natural dark hair then you need to bleach at least twice before dyeing your hair in lavender shades.
Dyeing the hair frequently tend to cause a lot of damage. You should make sure to keep your hair healthy.
How to Take Care of Lavender Hair:
Purple or lavender hair will require lot of care and maintenance. Here are few lavender hair tips on how you can take care of your colored hair:
Before dyeing start using nourishing masks like coconut oil to strengthen your hair.
Use a sulfate free shampoo for protecting the hair dye and which won't strip off hair oils.
Consider using a semi-permanent lavender dye to your conditioner. Doing this will refresh your color with every wash.
How to Achieve the Lavender Color Look?
There are many options for getting the lavender hair color look. For getting semi-permanent hair, you can browse through several hair color brands like Jerome Russell-Punky Hair Color Crème Purple, Manic Panic- Purple Haze, LIVE Purple Punk, Special Effects Semi-Permanent Intense Hair Color-Deep Purple, L'Oreal Paris Colorista Semi-Permanent Hair Color-Purple, etc.
To achieve the lavender shade, you will need to start using a light blonde base color. If you haven't lightened or use natural light blonde hair before, then you can start with a pre-lightening pack. If your hair is already colored, then refrain from bleaching at home. For better guidance, you can always book a salon appointment.
Here is a detailed breakdown on how to do lavender hair on your hair at home:
Apply the color on clean hair. Wear gloves and old towel around your shoulders to avoid staining. Apply petroleum jelly over your hairline and ears to prevent your skin from getting hair color stains.
Mix some amount of the purple color of your choice in a non-metallic bowl with a hair conditioner (note some hair color brands may come with pack-in conditioner). Mixing the two will create a pastel shade. Add more conditioner depending on how light you want your purple hair to get.
Apply the mixture evenly onto hair. Wait for 5 minutes for allowing the pastel color to develop.
Rinse off your hair until running water is clear and finish off using conditioner.
For achieving permanent lavender hair, you can opt for lightener and lilac shade combination. This can lighten and color hair in a single step.
Combine developer and color crème. Shake well. Apply onto dry, unwashed hair. Massage well from root to tips. Leave onto hair for 30-45 minutes.
To maintain purple hair, refrain from over washing your hair. Use shampoos and conditioners meant for colored hair.
When roots start to appear, only lighten your natural root hair and not your entire hair line.
Makeup Tips for Lavender Hair Colors:
Here are few makeup tips to help you choose better:
Eyebrows: Those with cool hair can go grey taupe or a shade darker than your purple hair. Or those with warm lilac shade can go for red color.
Eyes: Shades like yellow and gold can look really cool. You can also match lavender with rose shades will also be ideal. If you like dramatic eyes then go for green smoky eyes.
Cheeks and Lips: Do not go for matching cheek and lip color but try sticking with similar undertone. If you have a cool lavender hair color, then a cooler lip color will be more suitable. And those with cool lilac hair can look great with any lipstick shade.
15 Lavender Hair Color Ideas to Try Out in 2021
Lavender hair is much simple to create than you'd imagine. This 2021 you can wear the pastel hair color shades with style. There are plenty of shades to choose from. We've chosen these 15 lavender hair color ideas for you to try out. Here are all the inspirations you need:
[sc:mediad]
1. Shades Of Lilac:
If you aren't comfortable with getting a global lavender do, add a contrasting hue to the under layers. And one color that will always complement pale purple hue is pastel pink.
2. Lavender With Roots:
Visible roots are gaining popularity at the moment. So instead of rushing to your hair dresser for fixing a bit of natural hair at the top of your head, allow it to grow for an inch longer.
3. Deep Lavender At Tips:
If you are too scared to bleach your whole hair, but still love the idea of wearing a vivid hue, request your hair stylist to dye your hair tips.
4. Bright Neon:
The shocking bright hue isn't simple to achieve but if you absolutely love the wilder shades, then its all worth it.
5. Touch Of Lavender:
If you are worried about attaining an unnatural hair color, add a little bit of lavender to one side of the hair.
6. Amethyst and Rose Quartz Ombre:
Since dark roots are in trend right now a mix of cool tones like pink and lavender looks great. They make the lavender colored hair healthy and luxurious.
7. Lavender Galaxy Balayage:
Indigo blue blends perfect with lavender hair color, and this balayage idea proves it. Just begin with dark indigo roots and apply a lighter purple shade at the hair tips. Then apply a touch of lavender hair dye to finish. This creates an ethereal effect.
8. Dark Violet and Pale Lilac Ombre:
Dye the roots in a dark violet hue for a trendy look, and spice it up with lilac hair colors. The result is a dark but chic effect.
9. Metallic Lavender with Magenta Touch:
Metallic lavender hues look awesome with warm magenta roots. Wearing the same color with soft, loose curls will make your hair stand out.
10. Warm Cotton Candy:
Violet roots with lavender undertones and cotton candy pink roots create an interesting balayage effect. The color can be beautifully matched with messy waves.
11. Blueberry and Pink Grapefruit Balayage:
The purple balayage hair is stunning and vibrant. The look can be achieved by going dark at the roots mixed with a bright grapefruit pink and lilac as a transitional hue.
12. Titanium and Lavender Hair Streaks:
The silver lavender hair color is a unique and cool combination. The final effects of lavender show up beautifully. Curl your hair ends for an extra touch of refinement.
13. Pastel Lavender Balayage:
Ultra cool tresses of purple shades and pale violet create a stunning highlights effect. To get a natural effect, keep the roots natural.
14. Dark Grey and Lavender Ombre:
Grey roots bring an interesting contrast with lush lavender waves. Wear the pastel colored hair with a crown ponytail.
15. Neon Top Knot:
While lavender hairdos look quite soft, you can opt for neon pink with metallic lavender hues. The contradiction of this ombre effect can be greatly enhanced with a cute hairdo.
This is all that we have on lavender hair colors. We hope this blog have covered all your questions and doubts about this hue.
Feel free to drop us a message in the comment section below for any kind of queries or feedback.