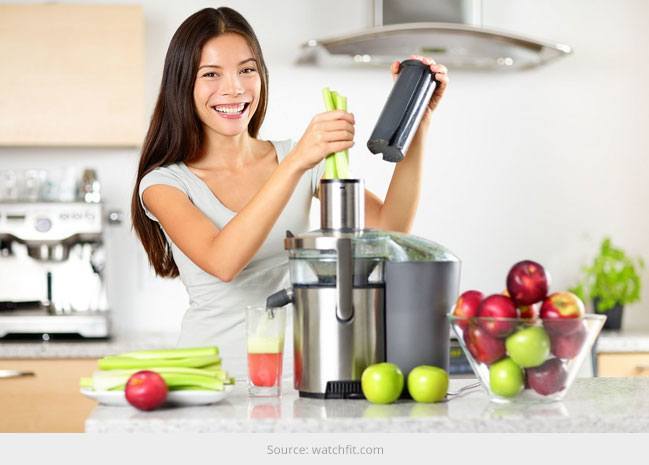 Dropping pounds was never so delicious. Thanks to delicious fruit smoothies, you can go about shedding troublesome belly fat while you enjoy the sip. The best part about smoothies is that they are high in fruits and monosaturated fatty acids which help around tremendously in having a flat belly. So whether it is breakfast or lunch or casual party occasions, go for smooothies and see your waistline trim down. You don't need to do any hard work at the gym by the way. Just lounge around on a sofa or workstation and enjoy the goodness of going slim and trim with mouth-watering smoothies!
[Also Read: How to Lose Belly Fat]
Things needed to make Smoothies for weight loss
Here are a couple of things that you need to make a great smoothie. They wouldn't be heavy on your pocket for sure.
1. A Liquid Base
This can be obtained through non-fat milk. It's rich in vitamin D and calcium, which helps in breaking down body fat. You can go for non-dairy milks too, like soy and almond and flavored water.
2. Lean Protein
Proteins are very important part of our meals as they help us get lean muscle mass (meaning we burn out more calories throughout the day than otherwise). And so plain non-fat yogurt, silken tofu, or for that matter unflavoured protein powder are the best possible options to acquire lean protein.
3. High-fibre Carbs
Any variety of fruit would do, but there are two fruits – raspberries and blueberries that score the most when it comes to providing fibre with least possible sugar. Why leave the veggies behind when there is spinach and cucumber to contribute to the slimming aspect?
4. Healthy Fats
Fats are known to give our body the energy component but they also help in making our smoothies satisfying. Ideally use up to 2 tbsp of an ingredient that contains monounsaturated fats such as avocado, seeds, or nuts.
[Also Read: Fruit Infused Water For Weight Loss]
Smoothie Flavours to try out
The joy of making appetising smoothies on your own can be unique. Here are some healthy smoothie recipes for weight loss that need no training, just your spirit of adventure will be sufficient.
1. Apple Smoothie
Bright green and incredibly yummy, the Green Apple Smoothie can be prepared in a jiffy.
[sc:mediad]
Mix 1/2 cup of skim milk or soy milk (depending on your preference) to few grams of vanilla yogurt. Add 1 tsp of apple pie, 1 chopped apple, 2 tsp of cashew butter and 6 ice cubes. Now blend all the ingredients in a blender until smooth. Enjoy the smoothie with a spoon.
[Also Read: Apples for weight loss]
2. Peanut Butter & Banana Smoothie
Peanut butter tastes yummy when lathered on bread. But it is healthy too because of the protein component in it.
Slice half portion of banana, add 1/2 cup low-fat peanut butter and 1/2 cup of non-fat milk. Prep it up by adding ice cubes and 1 tbsp of chocolate whey protein powder. Now mix all the ingredients into a blender until smooth. It's light and delicious to the taste buds.
3. Mocha Smoothie
Who wouldn't want to enjoy chocolaty goodness, be it any season or reason? Gather your friends and together enjoy chocolate-flavoured smoothie.
[Also Read: Lemon Juice For Weight Loss]
Collect 1/2 cup low-fat vanilla yogurt (frozen preferably), add 1 shot of espresso, 2 tsp of cocoa powder to a blender in this sequence and then blend at a high speed. Put in a few ice cubes to complete this heavenly smoothie.
4. Watermelon Smoothie
Summers taste wonderful as we bite into the fresh watermelons that replenish our bodies with water intake. Since watermelon is low in calories and fat, it makes a great smoothie as well.
[Also Read: Lose Weight With Water]
Add 6 cups of chopped seedless watermelon to 1 cup of non-fat milk. Put in about 10-12 ice cubes to add the thanda effect and blend all until smooth.
5. Mango Surprise Smoothie
Mango is the national fruit of India and no Indian summer is complete without it. Apart from munching on mangoes, how about going for a low fat smoothie?
Take 1/4 cup each of sliced mangoes, mashed ripe avocado, fat free vanilla yogurt, 5 to 7 ice cubes, 1 tbsp lemon juice (freshly squeezed), 1/2 cup mango juice, 1 tbsp sugar. Mix all the ingredients in a blender except lemon juice and blend it till it looks smooth. Now pour it in a serving glass and add lemon juice into it. Garnish it with sliced mango to give it a yummy look.
Now that you have seen absolutely rocking smoothies for weight loss, go ahead and start preparing some for yourself, family and friends. Happiness would come in double proportions for sure.
Hope you enjoyed this post on best smoothie recipes.