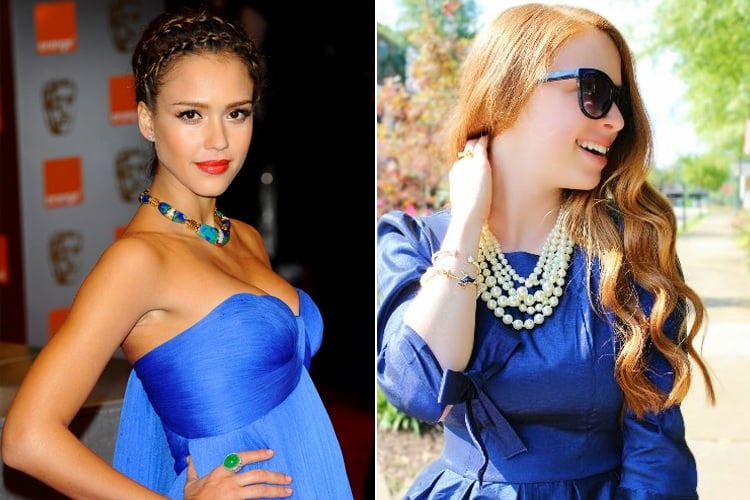 Going blue has its own fun – whether it is a blue denim pair of jeans or shorts, or makeup for blue dress.
Blue is a colour that matches all types of skin tones. It not only enhances your overall look, it looks ideal for casual to formal events whether it is cocktail or prom nights.
But but but….you have to be extra cautious when it comes to picking up makeup cues with royal blue dress without looking too cheesy or low. You know there are things like what color lipstick to wear with blue dress, what type of eyeshadow for navy blue dress, what type of lipstick for blue dress, and blue outfit makeup.
So here are some DIY tips on makeup for blue dress.
Lipsticks With Royal Blue Dress
All possible freedom you have in picking the lipstick colour that goes with your complexion. Should your dress be bold in colour doesn't necessarily mean you can't have bold lips. But it will be stupid if you are sporting bold lips and bold looking eye makeup all at the same time.
To create a balanced look, let us check out what color lipstick to wear with blue dress.
[Also Read: What Is The Best Makeup For Red Dress?]
Red crimson lips look glam value with soft metallic eyes, particularly when the skin tone is porcelain looking
Coral lipsticks would be suitable for all skin types, and in daytime preferably
Those of you with dusky skin tones should wear peachy red lipstick
Royal red and fuchsia lipsticks are suitable for those of you with fair to medium skin tone
Pale pink lipstick is the perfect choice for those having olive to almond skin tone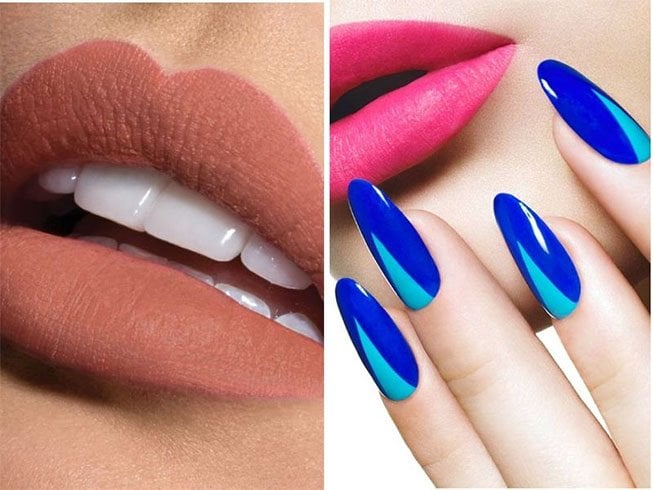 Eyeshadows For Royal Blue Dress
Here is the first tip – if you want your eyes to be the focal point, stay away from making your lips overdramatic.
Having said that, there are plenty of techniques in eyeshadow for navy blue dress like cat eyes, glitzy eyes, metallic, and wing tips smoky eyes. Let us explore the eye shadows.
Pink/Brown Eyeshadow
Such shades of eyeshadow are neutral and look best for day time wear. Even for prom nights they can be applied by adding golden glitter in small measure. This would be a good tip to get a jazzed up feel.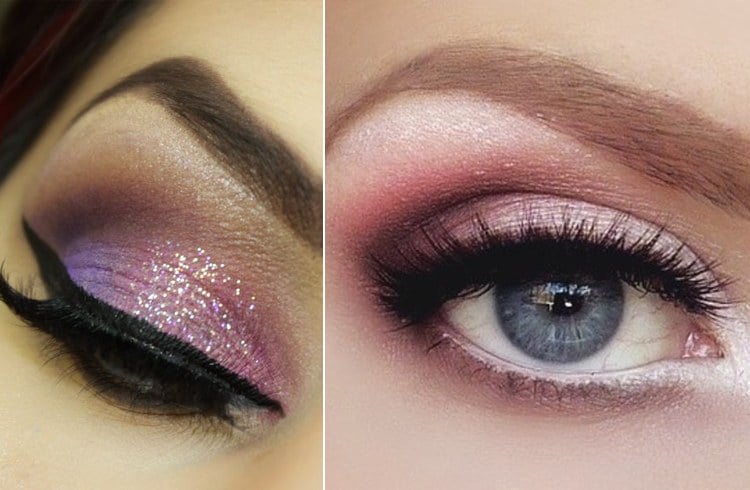 Blue Eyeshadow
Now if you want to highlight your eyes using blue eyeshadow for navy blue dress, your lips should be nude.
Sporting blue on eyes is a bit tricky and only bold and savvy girls with medium to fair skin tone should try it out. In terms of accented look, you can consider different hues such as dabbing silver glitter on the center of eyelid or using black in the smoky style eyes.
[sc:mediad]
A blue eyeliner having neutral undertones of blue shades can also be considered to compliment the outfit.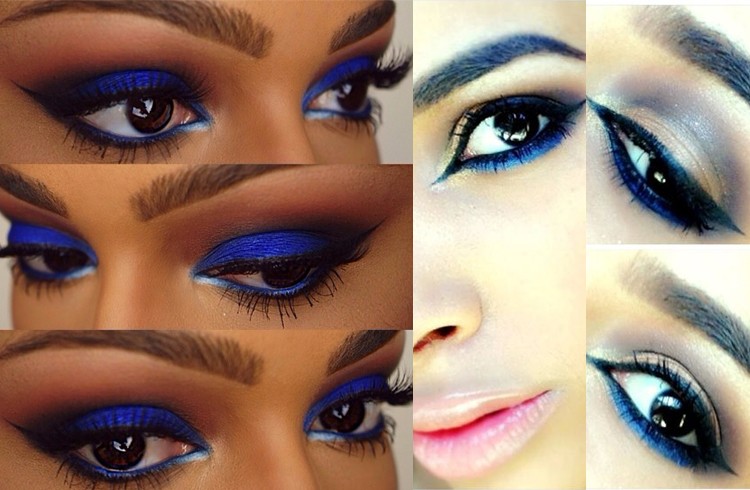 Going Cheeky With Royal Blue Dress
As far as blue outfit makeup goes on cheeks, one thing is certain. Try and stay away from highlighting your cheeks. Go for a soothing look by applying softer tones of pink.
[Also Read: Makeup For Brown Eyes]
A plum colored blush is the best option if you want to go for a warmer feel. When evening strikes, glamorize your look by going for shimmer bronzer.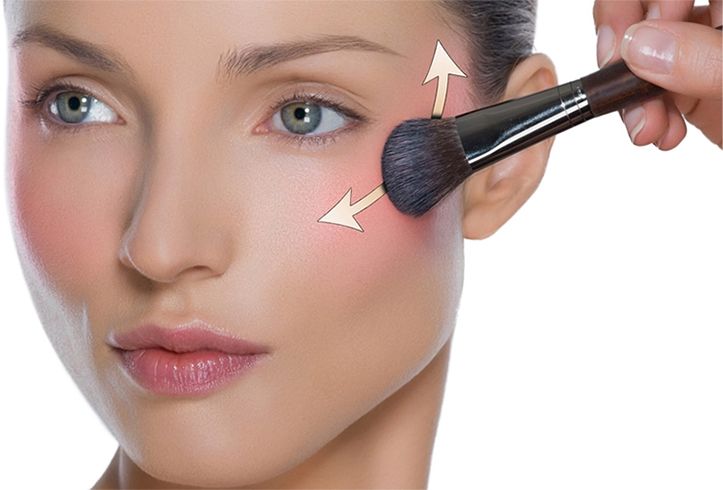 Fashion Accessories For Royal Blue Dress
Fashion Accessories are as important to look into as much as your makeup for blue dress.
Bracelets And Earrings
While choosing earrings, some of the best colors include turquoise, white pearls and coral to silver, golden, metallic, pink. Whichever earring you choose, leave your hair open. If you want to go for a tightly tied updo, then bigger sized earrings would look all the more flattering. Bracelets would look cool when paired with sleeveless dress and matched with necklace or earrings.
Necklaces
A strapless dress would add flair to a blue looking necklace in the form of blue stones which can be combined with silver, golden or metallic necklaces for evening.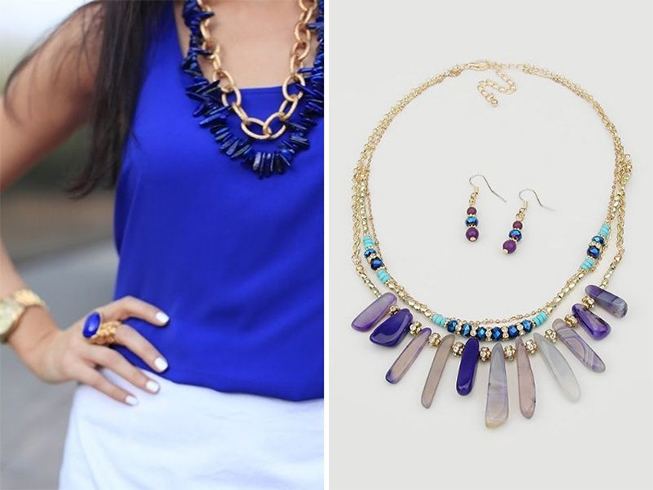 Clutches
Hold a clutch of some bright or contrasting color when you are wearing a blue dress. To get a subtle look, go for a royal blue clutch.
[Also Read: makeup for pink dress]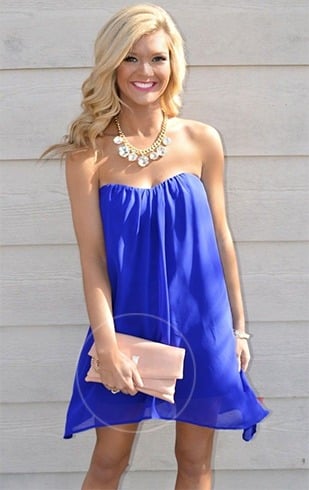 Now pour in your replies and comments as to how you found makeup for blue dress. And do adopt it for your evening party invitation.
Images Source: pinterest