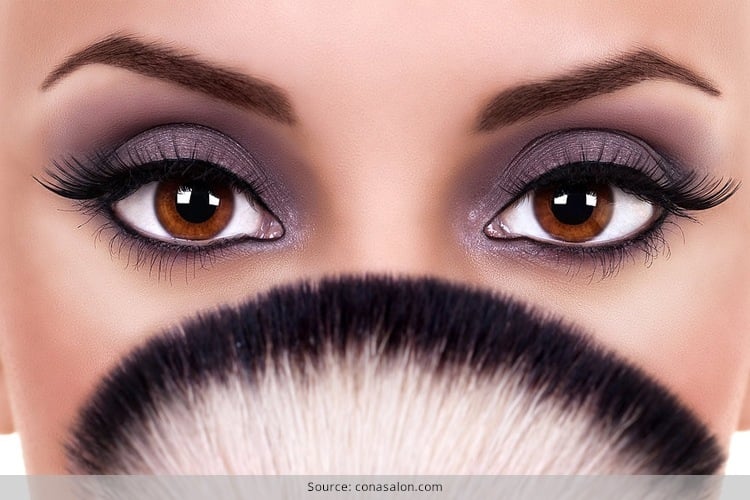 Let's have some fun ladies, shall we? Instead of emulating the same old boring smokey-eyed look and winged liner each time there is a party, an occasion or an important event to attend. Make a statement and flaunt those lovely eyes like there's no tomorrow. And the best part is, we have 12 fabulous Makeup for brown eyes, black and coloured eyes too in dramatic tones for you to flaunt for each month. 2016 is sure going to be a year of parties, isn't it?
WHAT COLOR EYE MAKEUP FOR BROWN EYES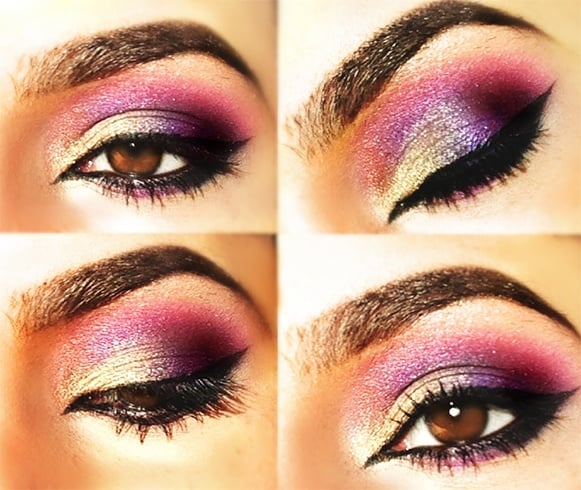 1. A Boho Chic Look For January
Blues and light shades for the eyes, while the winters bid adieu, seems like an apt choice to match up with your winter ensembles, doesn't it? The best part is, you could wear this look for various occasions and from Indian to western wear too!
[Also Read: 70s Makeup Tutorial]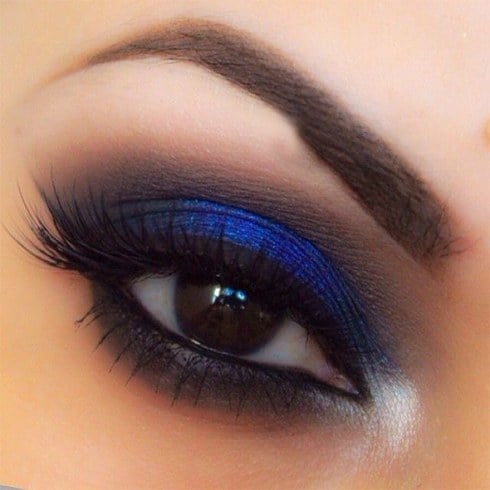 2. A Matte Mystical Touch For February
The month of love and if you have been invited for valentine parties or maybe out to a dinner with someone special, your eyes surely needs to do the talking! A touch of all things smokey, and with hues dark and chocolate should be on your lids!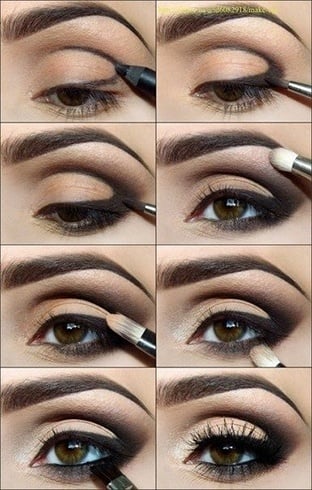 [Also Read: Best Eye Shadow For Grey Eyes]
3. Pink Cat Eyes For The Month Of March
While the solitary reapers as sung and praised by million writers and poets go along their ways to reap what they can for the months ahead, make your eyes dance to the shades of vibrant fuschia pink, and dark kohl rimmed waterlines!
4. Turquoise Pink Eyes For April
A hint of lime green and a dash of pink, make the eyelids dance to the cocktail of colours for a diva look to attain at pool parties, night events and very summerish weddings to attend. The best part is, the look can be worn with plenty of embellishments on any ethnic wear!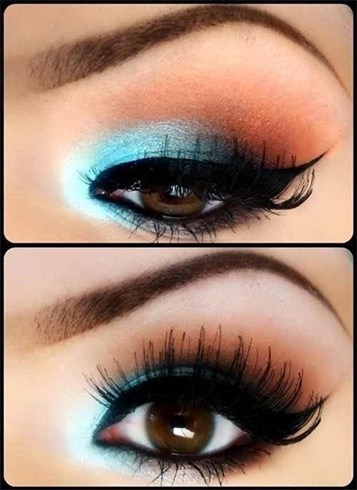 5. Bohemian Rhapsodies In May
A touch of matte eye shadow and a little glitter to the lower lash lines in steel blue, focussing more on the inner corner and less on the outer corners of the eyes would be the best way to beat the Summerish heat!
6. Sunset Moments For The Month Of June
[Also Read: Eye Makeup For Oriental Eyes]
Before the monsoons hit and should you want to make statements at the evening parties you've been called too, all through June, sunset moments on your eyelids in dark orange tones and darker rimmed kohl eyes, would be the haute statement to flaunt! What color eye makeup for brown eyes was your question, here is your answer!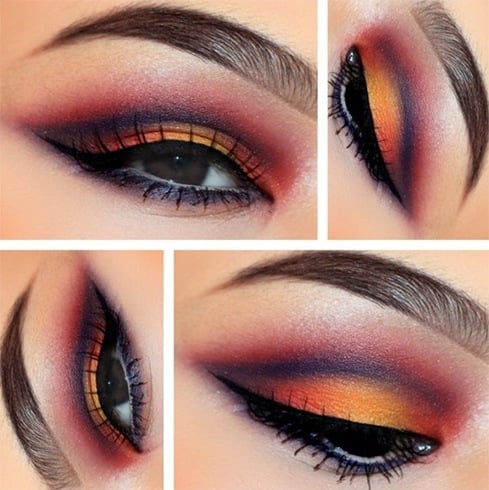 7. Steel And Shimmer For The July Monsoons
Monsoons are here and they are hard hitting, sparing no corners and nooks around. For the ultimate dramatic eye look to match up with the gloomy season and yet to contrast it too, a touch of shimmer and metallic shine for the eyes would be apt!
8. Dare To Bare This August
August is a month when you can make more of a fashion statement than ever before, simply because the seasonal changes are on and everyone's busy ramping up their fashion sense too. Experiment with very bold lilacs and purples and dark rimmed eyes this time, we dare you to!
[Also Read: How to Make the Eyes Look Big?]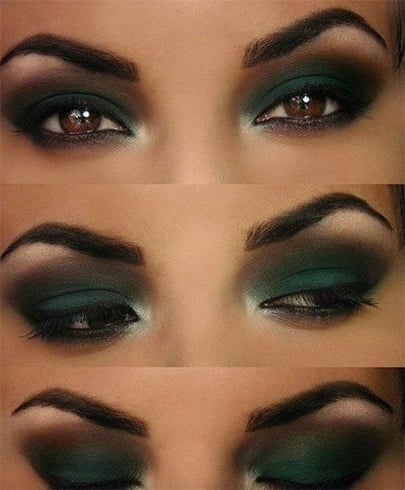 9. Vibrant Light Greens For September
Spruce up those lids and make them come alive for the month of September, with the many evening parties at work or at your friends home's to attend. Pair the look with chic ethnic or western wear, keeping the accessories to a minimal, since the eyes would steal the show!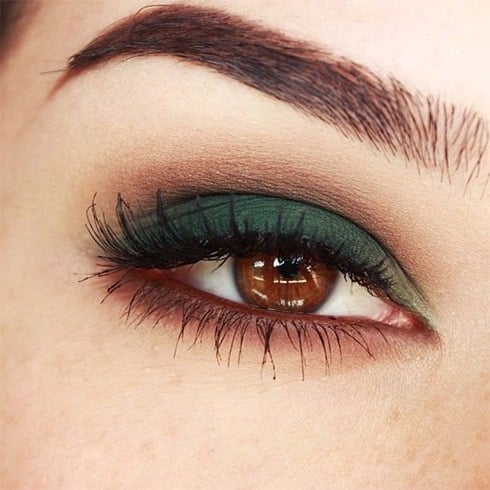 [sc:mediad]
10. Twiggy Eyes And Under Lid Focus For October
Diwali would be the festival now, where you can match up the chic ensemble chosen with an ultra-feminine and very dramatic eye makeup look. Focus more on the lower lash line and the region around it, and doll up the lashes the twiggy way!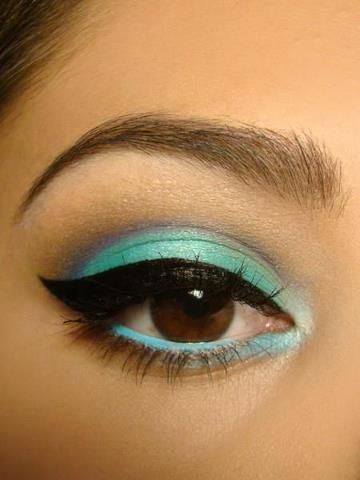 11. For The Month Of November
Hot lovely full red lips and the sexiest of all eyes for the party crashers to be wary off, show them girl what the power of purples and lilacs can do. Two strokes for the upper eyelid and three for the lower, with or without kohl, and your eyes would be a mesmerising pair behold!
[Also Read: Best Makeup For Blue Eyes]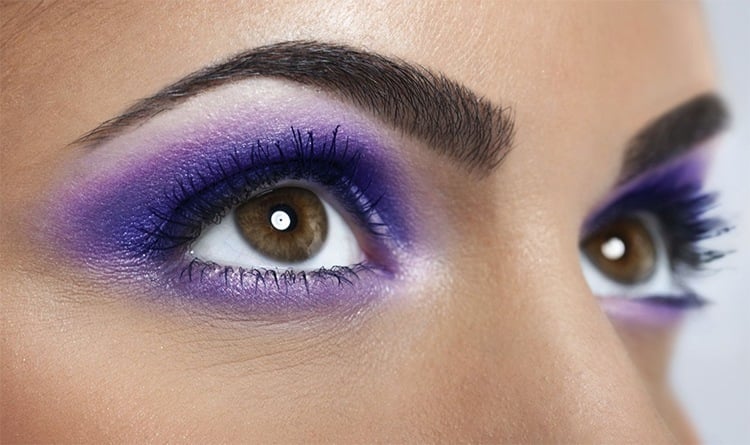 12. Festive Season Caramels
Christmas is not only about the puddings and cakes you can gorge on, but off a time when you can flaunt your dramatic eye looks for the numerous parties you've attended too. A touch of Poison Ivy to the eyes while we celebrate the birth of Jesus, why not?
[Also Read: Christmas Party Makeup Ideas]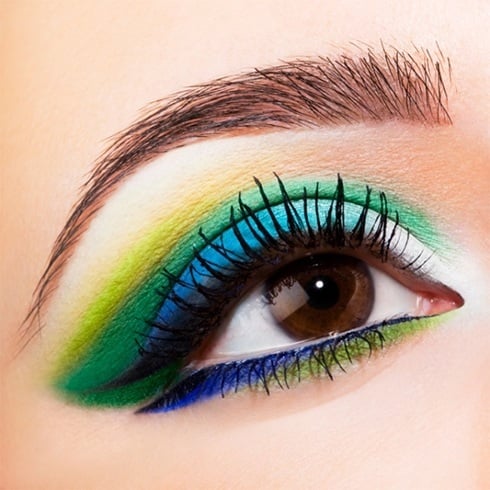 13. Metallic Silver
Lucky are those with brown eyes as they can rock any shade of eye makeup. The high-drama party style would definitely include metallic and hence go with a silver shade for a night party. Defining the eyes with a black thick liner, finish the evening makeup for brown eyes.
14. Gold Eye Makeup For Brown Eyes
The duo, brown eyes and gold eyeshadow perfectly complement each other. This is the one of the best makeup ideas for brown eyes that will make the eyes shine like jewels. Add a glittery finish to bring out the spark of the eyes magnificently. Add a smokey touch to the eyeshadow towards the brow for a sensuous party look. This look will also work great as wedding makeup for brown eyes.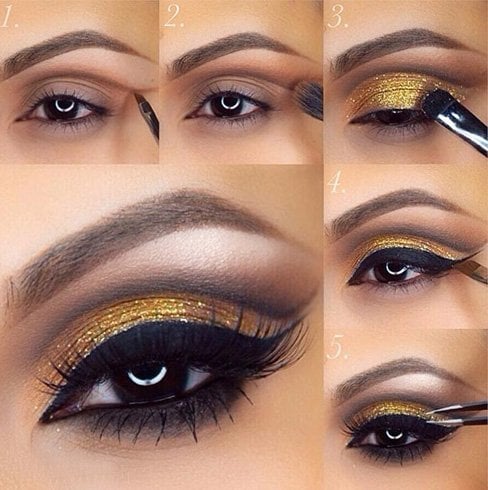 15. Copper Eye Makeup For Brown Eyes
Copper hue is in full swing in the beauty world and surprisingly it works great on brown eyes. This is one of the colors to make brown eyes pop. Try it once and we are you will add this hue to your collection of brown eye makeup ideas. Use a black liner on the upper lid and play with a different shade on the lower lid to add a bit of spice to the look.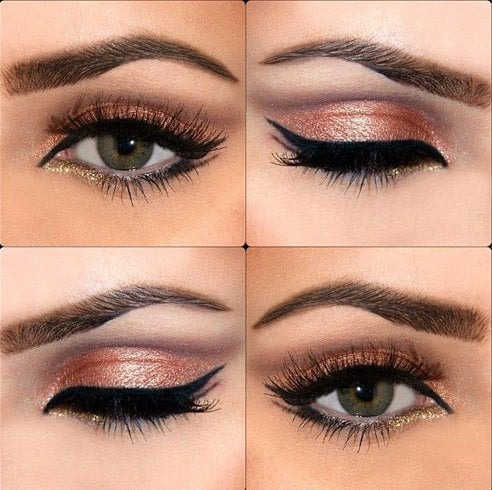 16. Red Smokey Eye Makeup
Red eyeshadow is often linked to Halloween parties but this season, the let us experiment this as an everyday makeup for brown eyes. Though a bit tricky, it isn't too hard to achieve. Blend it a bit of black giving the ultimate seductive smokey eye look. Nail this for the next upcoming party and flutter those eyes away!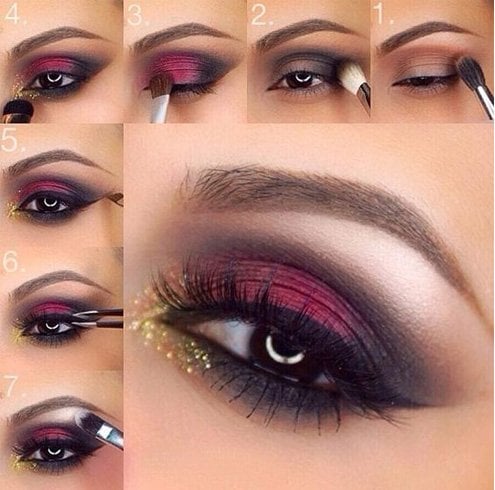 17. Cranberry Eye Makeup
Sitting right on top of the best eyeshadow palette for brown eyes is the cranberry shade. It is the right pick to make your everyday makeup for brown eyes interesting and charming. This eyeshadow for brown eyes gives a polished yet peppy look.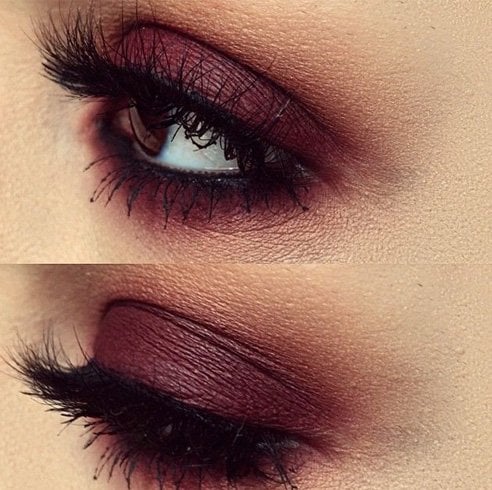 18. Light Brown Eye Makeup
It is one of the best natural looking makeup for brown eyes. Skip the dark brown smokey eye makeup if you are unsure and switch to this near neutral eye makeup for brown eyes. Make sure you highlight the inner eye to make the eyes pop. A black winged liner will make the eyes look more attractive.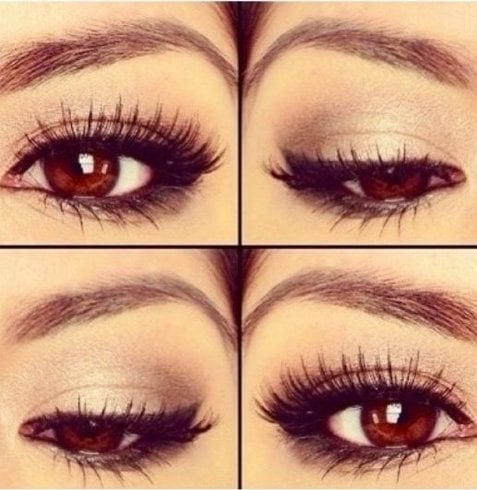 19. Under Eye Focus
Since brown eyes go with every other bright shade, you can play with the copious colors. Be it purple, green, blue or teal, the under-eye focus will elevate the beauty of the brown piercing eyes.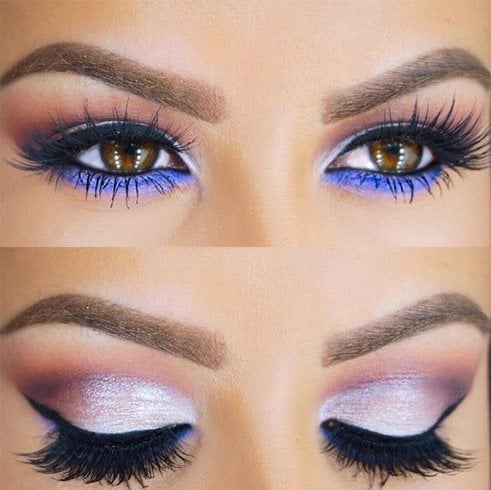 20. Dark Brown Smokey Eye Makeup
Browns are usually discarded since they make the area around eyes dark. But a well applied brown will look totally stunning on medium skin tones. This eyeshadow colors for brown eyes is bound to get you noticed at the parties.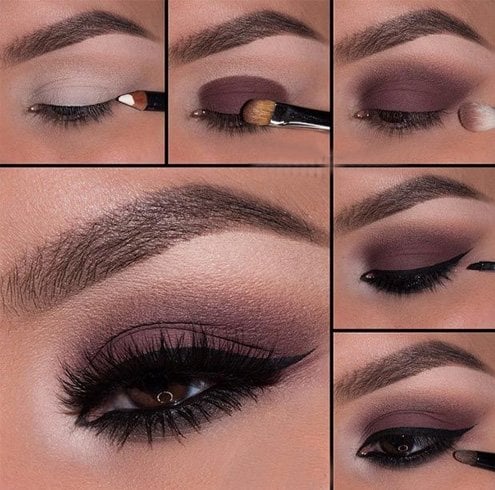 21. Pastel Lavender
Apart from neutral shades, the light pastel colors are the least opted eyeshadow colors. But one glance at this makeup looks for brown eyes will prove our notion wrong. With the lavender eyeshadow, one can render a sweet and girly look.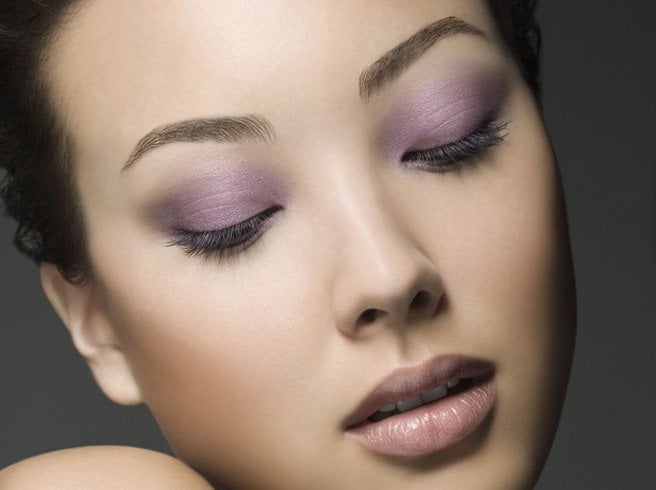 22. Rose Gold Eye Makeup For Brown Eyes
Perfect as a wedding makeup for brown eyes is the rose gold eye shadow. A touch of rose shade, a pinch of gold in a brown base will make the eyes glow and glimmer.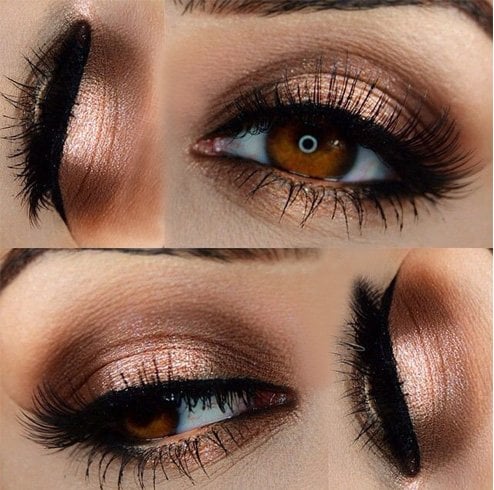 Enjoyed the looks much? You just have to be daring and ready to use your imagination, and the world would go gaga over your beauty! Have fun using our giveaways on Makeup tips for brown eyes, black and coloured eyes too!
Images Source: pinterest.com