Have you put your plans for May 19, 2018, on hold? You had better bookmark this date, silly because Meghan Markle is all set to tie the knot with Prince Harry, the younger son of Prince Charles and Late Princess Diana. So, other than the Royal bride's wedding gown and costume designer, what is going to be a major draw on the internet is Meghan Markle's hair.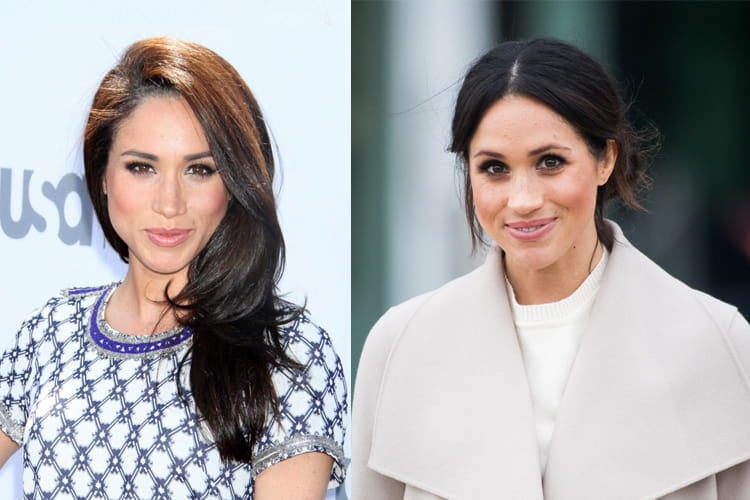 Well, Meghan has had the fortune to attempt many hairdos in her acting days. From beachy waves, messy updos to voluminous curls, everything made Meghan Markle's hairstyles grab the fashion headlines.
[Also Read: Meghan Markle's Wedding Dress]
In short, Meghan nailed all her hairstyles. She hardly had a bad hair day because her hair is so very glossy and thick. That is why her hair is worthy enough to be dressed up with a tiara or a jewel when she officially becomes the better half of Prince Harry.
Ah….am so jealous!
Never mind.
List of Meghan Markle's Iconic Hair Styles:
Let us look back at Meghan Markle's most memorable haircuts and hairdos sported by her over the years – from Hollywood-inspired ringlets to royal chignons to draw inspiration from.
By the way, according to a very recent announcement from Meghan Markle, the hairstylist to Amal Clooney – none other than Miguel Perez will create her bridal hairstyle.
2005:
This is our young Meghan Markle and her cool laid back look is complete wearing a baseball cap and a logo tee with long, straight hair. Pencil thin hairdo? Could be.
2006:
On NBC's game show Deal or No Deal, Markle opened cases. This was before she bagged a role on the hit show Suit. How lovely she looks (and looked) in her bombshell bouncy curls. The Meghan Markle hair extensions, I tell you, are super glam.
2007:
Meghan got soft looks. Soft and smooth were her hair too and lightly curled. This side-swooping hairdo was the ultimate red-carpet hairstyle of hers.
2009:
It was in 2009 that Meghan did some solid experiments with her hair color. And what was that? She added copper and cinnamon highlights to her dark brown hair. In fact, this change highlighted her bronze skin. The risk she took paid off!
2010:
Face-framing layers brought in a refreshing change to Meghan Markle's hairstyle. Her hair looked shorter, lighter, and complimented her face perfectly, thanks to her chestnut-hued hair flat-ironed and center-parted.
2011:
Now this year brought in the "beachy undone" hair look of Meghan. Her face-framing layers and waves made it to Pinterest-dreams.
Markle sparkled in her glossy hair, which she wore to an Anti Defamation League dinner.
2012:
Meghan Markle's hair extensions caught the media attention. This fetched her an ultra-long style with ringlet curls.
Meghan was the ponytail princess in 2012, with her slicked-back hair that looked perfect for a gala event, not the gym.
You could hardly stop Markle from experimenting with her hairdos. One such signature style she adopted was hair tossed over one side.
In the late of 2012, Meghan dyed her hair almost-black. This helped highlight her hazel eyes.
Bohemian waves center-parted were created on Markle's hair using a large barrel curling iron and some hairspray. Then the curls were clipped up to get the perfect waves.
One of those times when Meghan loved her hair transformation – by turning her deep-brown hair to a light auburn.
2013:
Until 2013, Meghan Markle's hairstyles were down and wavy, non-style actually. This year onward, she started opting for major updos. Like for instance, this suave-n-messy twisted bun with flyaways. Maybe this spelled the start of a change in Markle's hairstyles.
A total rage this blowout was for Markle in 2013 – as seen on her at Elle Women in Hollywood event in 2013.
The classic look for Markle cometh – in this retro bouffant, which added plenty of volume to her crowning glory.
Here is a smoother straighter hairstyle straight from the Meghan Markle's hairstyles directory. She sported this at the USA network Upfronts in 2013.
The sleekest hairdo – straight hair with a center-part, this one is something we'd like to see on Meghan Markle more often.
To get Markle's curls, let your hair air-dry, then start twisting the front hair sections around your finger so that loose spirals are formed. Now, you are ready to rock!
God! Totally irresistible are her smoky eyes and natural waves which she wore at a fashion party in 2013.
The 'recall' of old Hollywood waves with parting over one shoulder— doesn't Markle look like a timeless diva here.
Markle told Birchbox "For my flyaways, I spray hairspray on a small boar bristle toothbrush (a regular toothbrush also works great!) to lightly brush them down or smooth the hairline—this is especially good for a sleek bun when I am off-camera".
Meghan opened up to Beautybanter "There are two lines I use religiously: Kerastase (masquintense & the oleo relax line) and Wella, which has a hair oil that I am obsessed with. It smells like vacation and makes your hair slippery and touchable. I love this stuff!…It also doubles as a pretty amazing body oil post bath."
Meghan Markle haircut looks glam most of the time. For this hairdo, a hot roller set was pressed into service followed with a little hairspray. Once the hair cooled off completely, it was brushed thoroughly. For the final look – a parting was done over one shoulder. That's why you could view her statement earrings.
2014:
Meghan attended a fashion week with face-framing layers worn as loose tendrils along with a windswept bun. Casual is such fun!
The only time Markle was spotted in a braid was at a Miu Miu event in 2014.
The raven hair trend was all of Markle – incredibly sleek and glossy.
Irresistible auburn-tinted waves, which were thick and intensely textured. This was a nostalgic glimpse into Markle's curly-haired past.
2015:
Side-parted waves worn in 2015 looked good on Markle.
After many years of sporting long layers, Markle turned to sporting a blunt cut that gave her chest-length waves in 2015.
Meghan Markle's texturized hair at the CFDA awards in 2015 made heads turn.
2016:
Subtle bends like the one sported by Markle can be easily created – all it needs is a flat iron (not a curling iron). Invest in a hair straightener, then twist and rotate it as you move down the hair.
Sleek roots and softly curled ends are perfect for a Hollywood star. Ask Markle.
2017:
This was Markle's first public appearance with Prince Harry. Look how relaxed and laid back she was. As for her hairstyle, her waves, and her button-down shirt reminded one of the impressive ladies that go to the Wimbledon each year (this also includes our Bollywood A-stars).
Sometimes keeping pulled-back hair is also a winner. Markle did the same here, wearing a side chignon with a fuzzy texture and face-framing tendrils.
Here she is flaunting her cheek-hugging waves. This is one of Meghan Markle's most iconic hairstyles. Gotta love this!
What better way to mark the official announcement of her engagement to Prince Harry than have a hairstyle as big and beautiful as the occasion.
Click-click!
When it came to the clicking of the official engagement portrait, Markle wore soft and simple waves – with the parting done over her right shoulder.
The royal dress code meant a royal hat. This attention-seeking hat of Markle got her to wear straight hair with slight movement at the ends.
2018:
This is not just one of Meghan Markle's fav hairstyles – but her signature one too with a hint of the bouncy waves. Her hair is straight with just a slight curl to add the frame to her face.
So how did you find the style file of Meghan Markle's hair? Which of them are you obsessed with? Like, share and comment.