Monsoon Sales  are here!!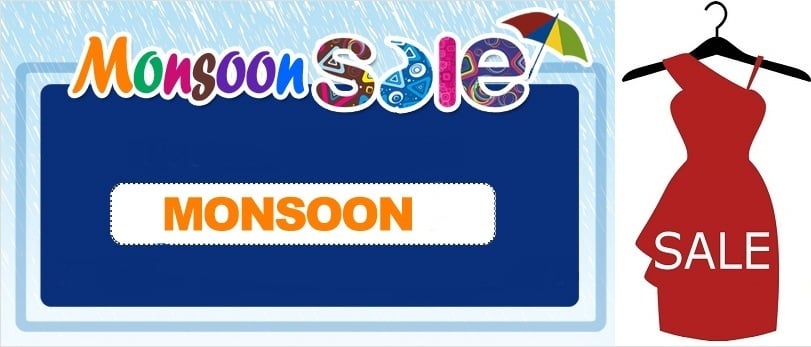 Be it monsoon, winter or summer, sales always come with a bang. Such season enables you to shop like a millionaire while saving considerable money.
If you think you always have to spend more only to keep up with the latest trends then you're wrong. Sale season is back to help you go on a shopping spree grabbing pieces from all of your favorite brands.
For a true bargain hunter, this is the best time to go shopping. You can even save few bucks while still shopping like a shopaholic who doesn't care about expenses.  In this edition, we're going to reveal both sides of the coin i.e. just don't get carried away with the offers.
With great discount offers, comes the confusion of picking a particular store, struggling with the crowds and giving your budget a particular shape.
Fashionlady offers you some hot tips on making the sale season an easy and fun-filled experience for you. Read on!
Get involved with your favorite store
The best way to be in touch with your favorite store and get updated with on-going offers is by availing your membership card today. These days almost all prominent chains like Shopper's Stop, Pantaloons and Lifestyle offer membership cards.
By sharing your e-mail id and contact numbers, you'll always be in touch with them and be aware on offers and sales.
You should always keep checking on newspaper and magazine ads which talk about  'SALE' and 'DISCOUNT' or keep your eyes open to hoarding on your way to office. Just do not miss out a good sale.
Do not forget to read the reviews and ratings to know what you're buying.
Shape your budget for sale season
In order to avoid post-sale guilt this monsoon sale season, it's always better to create a budget beforehand.
Check your wardrobe before leaving for shopping. Make a shopping list, for instance you may be needing a pair of leggings of particular color to match your kurti or a belt for your trouser or even a footwear of particular style. It's better if you carry your kurti to get a matching pair of leggings.
Red sale signs are always provocative and tempting, but you should always spend on your requirements.
Always set a time limit for sales. There's no point in spending endless hours in a mall, when eventually you'll only end-up buying things for the heck of it.
[sc:mediad]
Whenever a SALE is on, try going shopping at the earliest to grab the best pieces mostly when it comes to footwear. Shoes on sales, are always available in selective sizes. You may end-up liking one design but won't them of your size. So, we suggest you to schedule your shopping.
 
"If you want t o optimize during sales, prioritize on your calendar. In the early hours as well as on weekdays, shelves are stocked, collection is well displayed and trial rooms are relatively empty. So attack!"
Let's tell you, traveling to various stores located distant apart to check-for items that seem cheaper, is never a wise decision once you consider traffic and the cost of fuel. So, stick to one destination on a single day.
Quality counts
This tip is for the bargain-hunter fashionista.
You may be aware of some stores who sell stuff at cheap prices which are trendy but you're not sure about quality; as you've never shopped from such stores.
So, don't spend on bulk pieces from such stores only getting carried away by the price.
Best you can do is buy one piece and check on its quality or if you're not sure on that part then better stick to your trustworthy brands you've been relying upon all these years.