Trends will be in and trends will be out. But one universal truth that will again and again defy the legend of change is a woman's love for jewelry. However, the phenomenon that has seen some changes is the evolution of the modern and independent woman. The modern woman has changed her time, she prefers earning and owning her jewelry versus being gifted. And in the wake of this revelation, a piece of accessory she holds very close to heart is her watch that accompanies her 24/7.
The market is full of watches summoning us, appealing to us, and here are seven watches every woman should own.
list of branded watches for ladies
1. Sports Watch
Sports watches have this casual vibe about them that look great when matched with the right clothing and worn to the right place. More than enough women these days nurture a love of sports, and in a world of Saina Nehwal, PV Sindhu and Sania Mirza, it is only a given that women these days know a thing or two about sports. Even if you don't, it doesn't cease your right to sport a sports watch. You may wear it to your gym, if not the net or tracks. The ones with heart rate monitor are a great invention; try picking one. A bright pair of track pants or tights with bright sneakers go perfect with these watches. Also, don't forget the headband.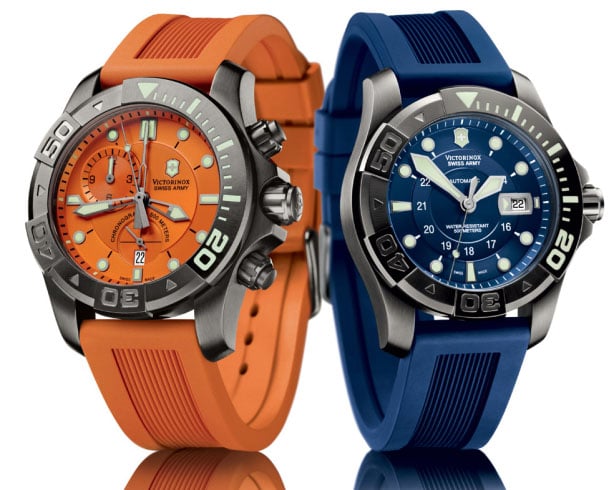 2. Leather Belt Watch
The trend of leather band watches will never fade away. Leather band watches are the ideal ones for regular wear, say an average day at office, or taking a round of the shopping mall, picking up kids from their school or day care or just a lazy day spent reading at the library. The patterns on the leather belt has seen quite an evolution throughout these years and are plain gorgeous.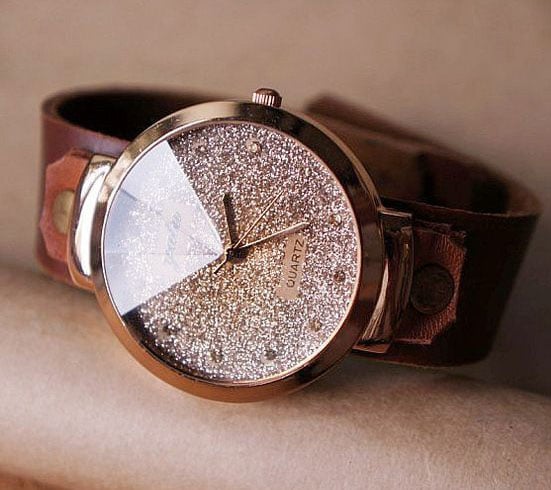 3. Basic Metal Belt Watch
The sturdy watch with a steel belt in the shade of silver, brass, or gold will prove to be a reflection of your sturdy personality. I would wear watch with a broad metal chain to a client meeting of extreme importance. But I would pick the one in rose gold, because rose gold metal chains would showcase the feminine and delicate side of my personality which is well-balanced with my headstrong attitude. For any important meeting where you need to dominate, make a presentation, or need that extra forte added to your image, pick a metal belt watch.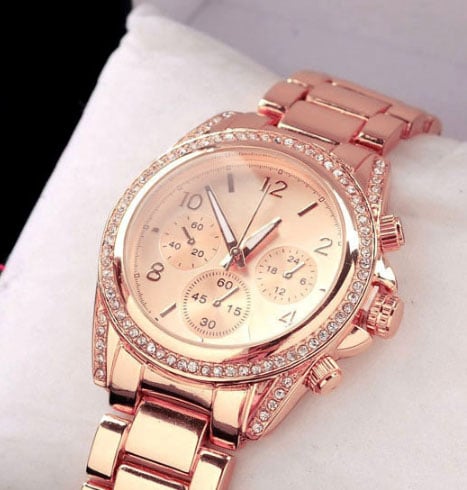 4. Two-toned Watch
The trend has been here for a while and is in no hurry to go back, so why not embrace it as well? Two-toned watches are really great, especially when you are debating between the silver watch and the gold one. The shades of two-toned watches come in a wide range and are not at all limited to the basics of silver, gold or copper. They work perfect with a pair of trousers and a smart button up shirt if you are planning to take these babies to work. Just like the basic metal watch, the two-toned watches have a strong professional appeal.
[sc:mediad]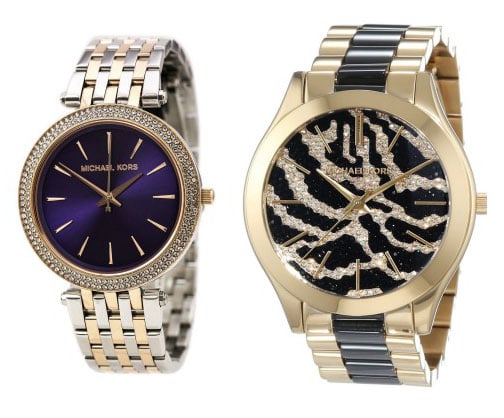 5. Bracelet Watch
These watches are dainty, delicate and bring out the tenderness of your wrist. They are the best choice for an occasion that you would want to dress up for, but not want to overdo it. A date with your favorite person, movies with your best friends, even a brunch for that matter makes for an ideal time to flash the delicate piece in your jewelry collection. An elegant flowy dress or a salwar kameez with heels are perfect outfit choices to wear while flaunting a watch with a classy bracelet.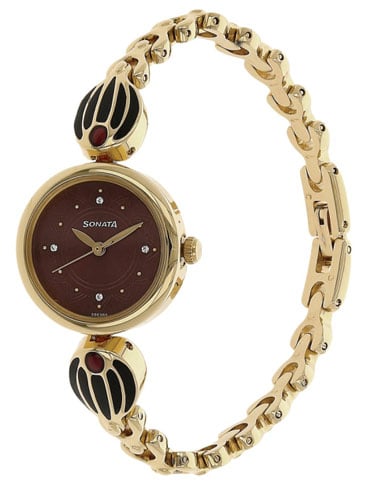 6. Bangle Watch
Now here the affair gets really serious. I would keep these stored at the back of my wardrobe but certainly reach for them during festive and ceremonial occasions. If it's my brother's wedding, or sister's or even my BFFs, I would wear a bunch of bangles in one hand and this heavily embellished watched in the other. Bangle watches serve as the perfect accessories to accompany a heavily embellished sari or lehenga to be worn in such occasions.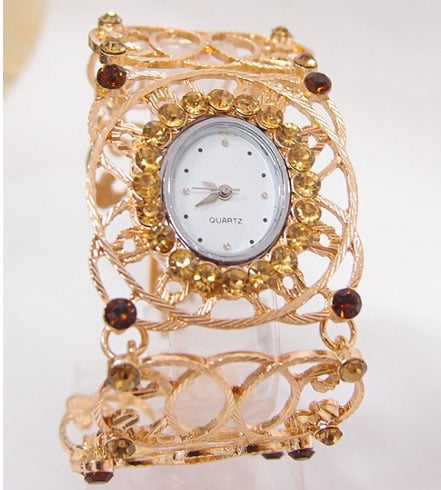 7. Glittery Watch
Another classification of watches that scream out celebration are the glittery or the diamond studded watches. Whether or not they are real, a bejeweled watch is sure to leave the onlookers bedazzled. These would again make for great accessories of festivities and celebrations. You can go really heavy with your wardrobe and makeup while boasting these glittery pieces and steal the show.
Images Source: secretdealstoday.com