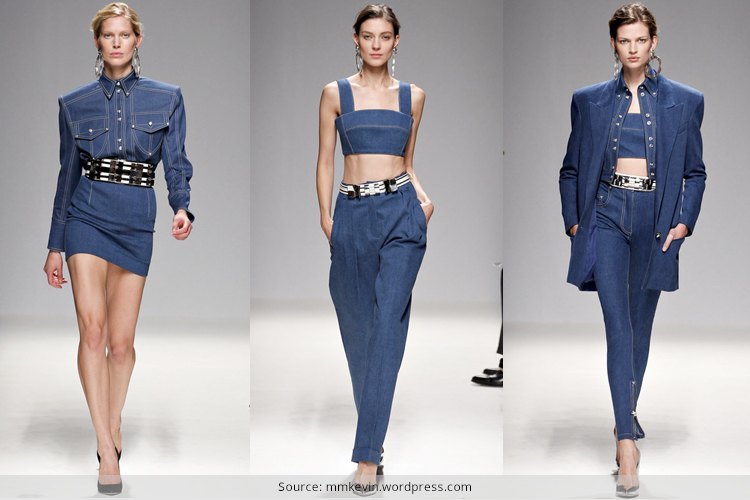 Since the denim was first invented in the early 19th century, it has ever been popular. Denim jeans have become a staple part of our closet for casual wears. We all love to team it up with a tee or a long tunic or with a bomber jacket. The incorporation of denim fabric is done in different silhouettes as well, for it can be stitched into a shirt, skirt or jacket or shoes. Did you know that the raging trend of wearing denim on denim or double denim in 1970's and 1990's is back in 2015? We have spotted a many Hollywood celebrities including a few Bollywood celebs spotting this trend!
According to a report –
At least 225 pair of denim jeans can be made from one bale of cotton. Authentic blue denim takes its characteristic colour from interweaving indigo (blue) and white threads.
Let's have a look at how our favourite celebrities are donning this cool trend on the streets.
1. Spicing Up The Style In Denim Pant /T-Shirt/ Jacket
Wearing denim in a style of pants is the commonest of all ways. From a bell-bottom to skin fitted to straight pants, the blue jeans come in all sizes and shapes. Blue denim is most popularly worn with a white tee or any coloured t-shirts or shirts.
However, our very own celebrities have been seen wearing denim jackets or shirts over denim pants. Hollywood actresses and singer Jenifer Lopez, Rihanna, Kate Hudson, Sarah Jessica Parker, Miranda Kerr, Kendell Jenner and Bollywood actresses Katrina Kaif, Priyanka Chopra, Kareena Kapoor have worn this trend on the streets.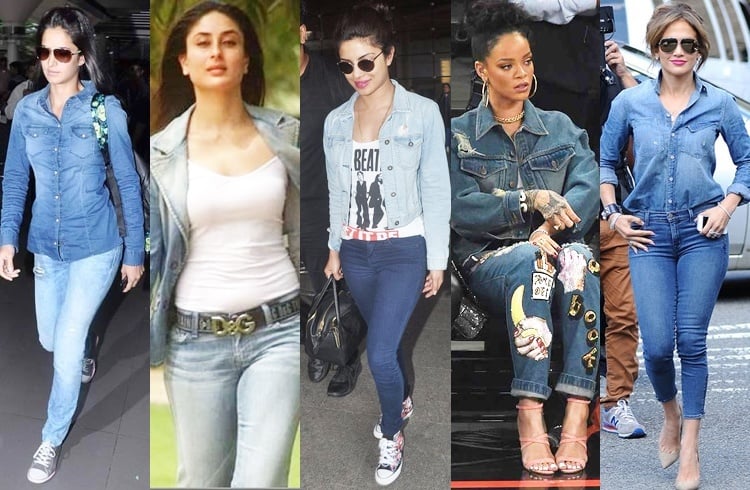 [Also Read: Denim Styling Ideas]
We loved the way Beyonce Knowles styled her denim outfit with black boots and black brimmed hat, Jlo and Jessica Alba paired their stylish denim ensemble with nude and white pumps, and the way Kendall tucked her shirt into jeans.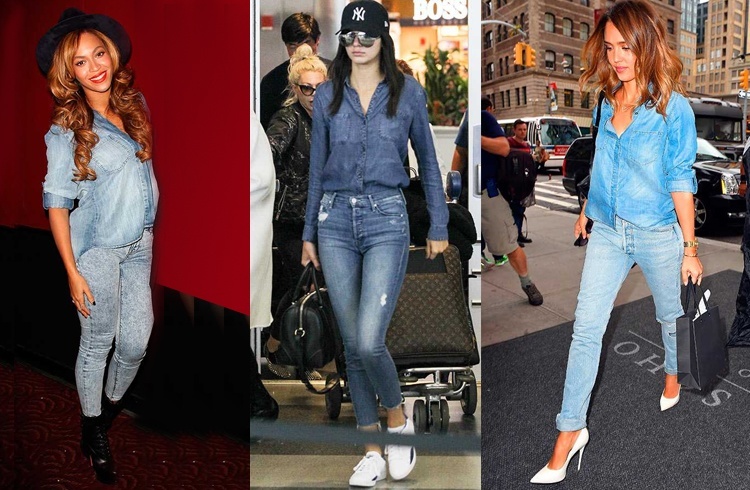 Many actresses prefer to walk on kitten heels when wearing denim like Kate Hudson and Reese Witherspoon did and do not forget to notice Katie Holmes' bell bottom pants! Actress Miranda Kerr proved that animal prints too suit well the denim craze as she was spotted wearing printed loafers. The style diva from Sex and The City series, Sarah Jessica Parker did it uniquely by adorning peplum styled denim jacket with her denim pants.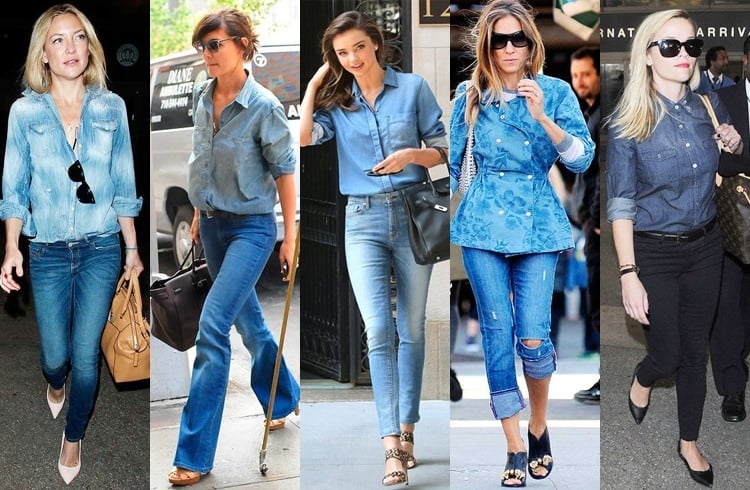 In winters, you can pair your cool denim with suede boots like actress Kate Bosworth did. As you go on wearing denim shirt with denim pants, also be cautious as you may end up donning an androgyny look like Anna Hathaway was appeared in one of the events, unless purposefully achieving this look. You could choose to accessorise your double denim outfit with chunk jewellery, take cues from Kate Bosworth! Or if you are planning to bring a twist to your denim look, try wearing denim waistcoat over white tee with denim pants like Twilight star Kirsten Stewart surprised us with her fresh take over denim on denim!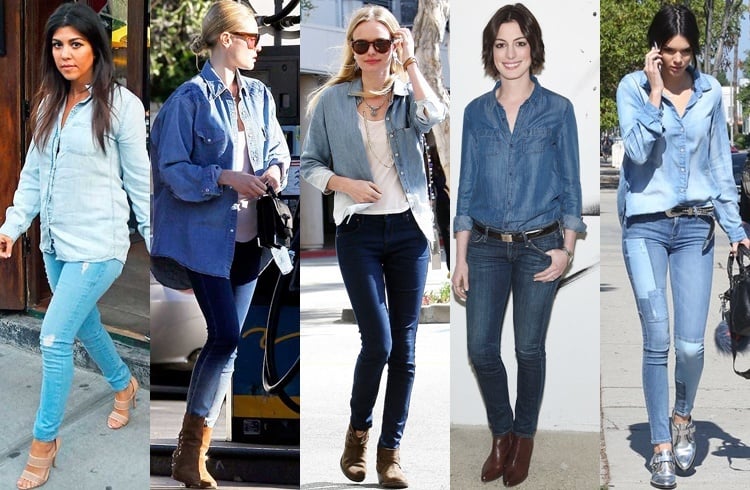 2. Denim Skirts Making Way
Women like to wear denim skirts with denim shirts. It is second most popular style of making denim a part of your closet. Take a cue from the style that Kylie Jenner wore while going for a shopping trip. She wore a fitted denim skirt with a boyfriend denim shirt and paired it with black boots. Sexy, isn't it!
[Also Read: Styling Denim Skirts]
American socialite Olivia Palermo nailed the fashion quotient in a half pencil skirt with a slit and denim shirt. What she wore with the dress? Kitten heels! It seems besides walking on boots, loafers and pumps, kitten heels will too step on the style platform.
Singer and song writer looked extremely cute in her denim double skirt while Rihanna splashed the style like no less than a diva!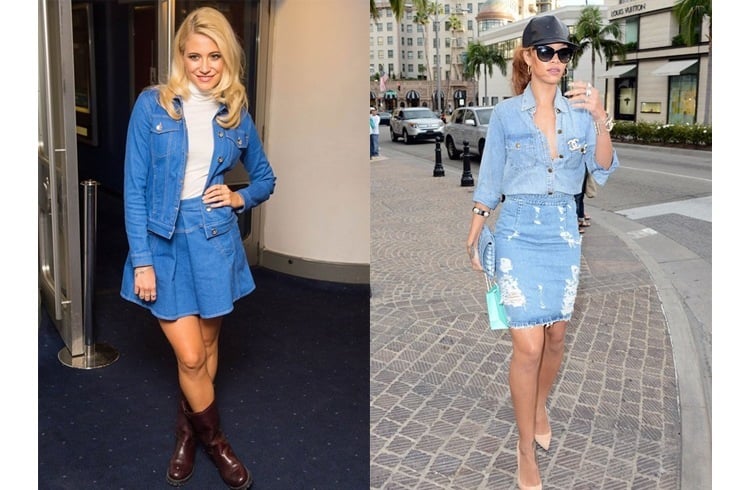 3. Dress Up In Denim w/t Jacket
In MTV Music Awards last year, singer Katy Perry walked in a gown that was made of only denim with zips. It was a Versace denim dress. However, not gown, but denim dresses for casual wears are available in the market. You can wear these dresses and up the style quotient with a jacket.
[sc:mediad]
4. Short Your Way In Denim
Even denim shorts with denim tops and shirt jackets have been doing rounds the fashion circuit. Beyonce wore a rolled-sleeve shirt with a bustier and hot pants! Cool way of donning double denim!
5. Style from 70's era!
When Hollywood actress Drew Barrymore wore the denim in early 90's, she revived the denim trend back from 70's.
Later singer duo Justin Timberlake and Britney Spears were spotted in double denim too.
Many may be reminded of a cowboy image when you see a person wearing denim jacket with a bell-bottom denim pant and a hat! Like Robert Redford wore in his film 'The Electric Horseman'. Popular former singer Elvis Presley too relied on the trend of double denim!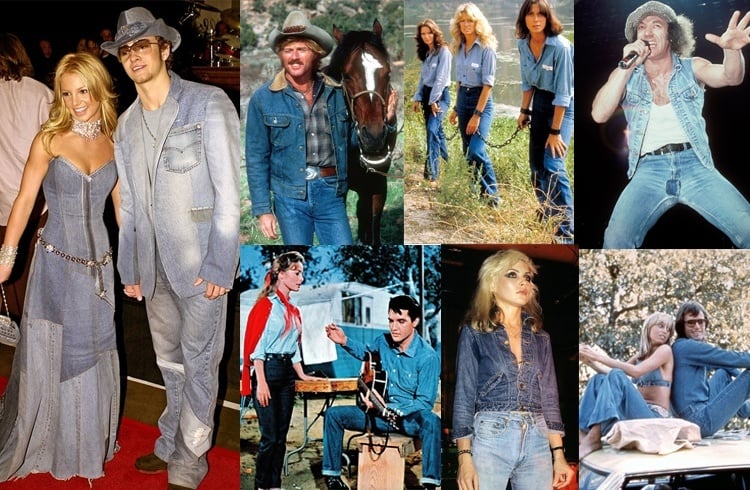 Do you know anything that we have not mentioned? What do you think of this trend? Would you like to adapt it into your style? Do let us know in comments.