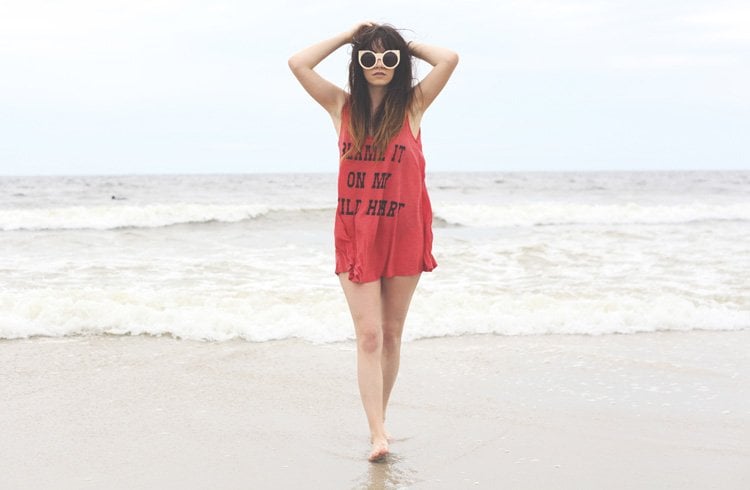 Ready for some beach talk? Some fun in the sun starts with stylish beach outfits.
Are you planning a vacation at the beach? Peace and relaxation are guaranteed but the happiness factor comes in when you nail the fashion game. The satisfaction of looking and feeling like a true diva, AH!
However, choosing a cool swimsuit or beach dress is not the only requisite for your beach outfit, but there is an array of other elements to take care of as well. If you are stumped for what to wear to the beach, here is some fashion inspiration in form of beach dresses and beach accessories.
Do have a read!
[Also Read: What To Wear In Goa]
Beach Dresses For Women that are trending
1. Poly Cotton Beach Dress
Poly cotton blend beach dress with sleeves is an ideal option in the winters. The playful nature of it keeps the beach dress code in mind. This is an ideal fit for every beach season as a thicker material would make you sweat.
2. Keep It Shorts
Beach dresses with shorts are the easiest take on beach outfits. Take this as a thumb rule. Carry a pair of shorts or capri that ends just above or below the knee. You will never be comfortable in full-length outfits, be it jeans, leggings or your traditional salwar at a beach.
[Also Read: Spring Fever 2016]
The win-win combination of a pair of quintessential shorts with a casual top is always the cheesy option to respect the summer beach wear fashion. To give it a modern edge, you can wear a fabulous black monokini inside your denim shorts with a buttoned-down white shirt to keep up the cool factor. This beach outfit idea is sure to be picture perfect.
3. Beach wear Maxi Dress
The maxi fashion is quite a rage these days. It's certainly one of the most fabulous beach dresses for women. Sleeveless summer maxi dresses work better than the beach dresses with sleeves. Whether it's a floral print to bring down the spring feel or the summer bold stripes, you will  rock the look either way when paired it with a huge brim hat.
[sc:mediad]
4. Hats On
Since India has a tropical climate, you should always protect your skin especially when you're at the beach. After spending 3o minutes at the waterfront, you'll know the importance of the most essential beach accessory – A hat.
So, hat is a must-have in your seaboard outfits. Apart from sunblock, hat will save you from the ugly tanning. If you do not have one at your home then no need to splurge on the hat at your home town. Instead, you can easily get them the beaches at reasonable price.
5. Kaftan Magic
If you're determined to go swimming then do carry your kaftan along-with your swimsuit. The kaftan is certainly a stylish way to cover-up your swimsuit and because of its sheer material, it keeps up the mystery as well until you unleash your fabulous body to hit the salt waters. The perfect beach wear outfit for the curvy one.
6. Minimal Accessories
Less is always more when it comes to beach accessories. Apart from your hat and tote bag, the two other things you should care about include your sunglasses and flats. Grecian sandals are never out of style when it comes to beach fashion. Limit your beach wear accessories to these basics and you're good to go.
Avoid wearing any kind of metallic jewelries, as they heat up fast increasing the risk of burning your skin and also can spoil by coming in contact with salt water.
7. Kimono Style
Be a trendsetter among your friends by including a kimono as part of your beach outfits. Wear your bikini with a pair of shorts and just layer it up with an easy breezy printed kimono. You can even opt for solid colored kimonos.
8. Crochet Dresses
Crochet dresses are without a doubt one of the sexiest beach dresses for women and every girl should invest in one crochet dress at least. You can find a number of patterns in different colors. You could match your crochet dress with the color of your bikini.
9. White Beach Dresses
A lot of people are quite apprehensive of wearing white to the beach. However, white is one of the classiest colors to wear to the beach and it will also keep you safe from the harsh sunlight. Summer beach dresses mostly need to be white to keep it breezy. Take a look at this off-shoulder white dress! You can even pick up a long white beach dress if you are not comfortable wearing shorts.
10. Beach Pants
Your collection of beach wear is incomplete without a pair of beach pants. From printed to stripes to solid colors to lace, beach pants are available in each and every style. You can wear your casual t-shirt over it or go for a sexy look by just wearing the top of your bikini.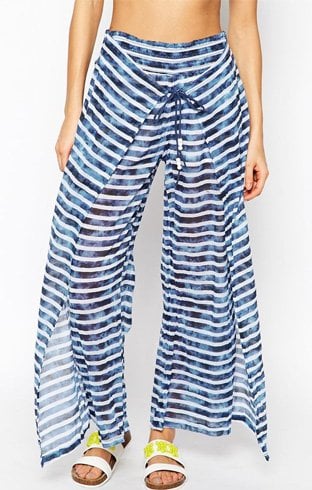 11. Shirt Top With A Swimsuit
If you are looking for some simple beach outfit ideas, then this image will surely inspire you. No one likes to carry a ton of stuff to the beach, right? Just wear your swimsuit, wear a shirt style top, roll up the cuffs of your sleeves, wear a hat and protect your eyes with a pair of shades. You can't get simpler than this!
12. T-Shirt Dresses
Just because you are at the beach, doesn't mean that you leave your fashion senses at home. The beach is like an open ramp to show off your beachwear dresses and you cannot afford to stand in the shadows. Opt for a bright and multi-colored t-shirt dress and simply wear it over your bikini.
13. The Beautiful Sarong
A sarong is your best friend during the summers at the beach. We all know that summers are harsh and though you can wear summer beach dresses, even those can sometimes become a bit too much. That is when you can depend upon a sarong. This is also the most comfortable beach outfit for the plus size and chubby ones.
14. Beach Party Outfits
Wearing just your bikini, monokini or a swimsuit is obviously not the ideal beach party outfits. You need to jazz up your look a little bit. Decide your look whether you want a casual look, a sexy look or something else and then wear your beach party outfit.
15. Plus Size Beach Dresses
Women who are slightly on the heavier side may not be comfortable wearing just a bikini or a swimsuit. If you do have a plus size figure then it's time for you to shed your inhibitions and stock up your beach wear dresses with these amazing designs shown below. There are plenty of summer beach outfits available for plus size, pick the best!
16. Cute Beach Outfits
Here is an amazing outfit for girls who are looking for some cute beach outfits. Wear a crop top – something in lace or crochet and wear it with a pair of high-waist printed shorts. Now that's not only a cute beach outfit but also a sexy one to show off your long toned legs.
17. Beach Dresses For Women
Your options for beach dresses for women are limitless and the only thing you need to keep in mind is that it should be comfortable for you. For instance, this sleeveless slip on dress in powder blue color would look amazing when worn over your swimsuit or bikini.
18. Shirt Dress
Whether you are at the beach, at the office or at a party, wearing a trendy outfit is a given thing. So the next time you hit the beach, set a trend by wearing a shirt dress over your bikini. Also, make sure it is an oversized shirt.
19. Mix And Match
Having a beachwear collection does not mean spending huge bucks and hoarding yourself with new clothes. It's all about being creative and taking the mix and match route. This way you will always have something new to wear without shelling out money.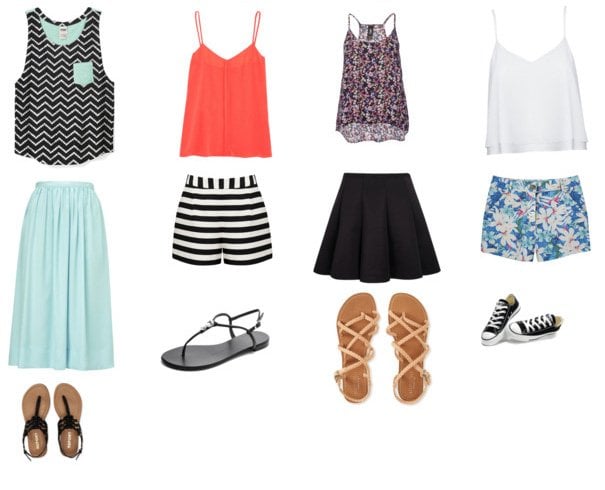 20. The Casual Look
Always remember that your beach outfits should be created with minimum fuss. You don't have to stress out by putting together a perfect outfit. Going to the beach is synonymous with being casual so try to stick to basics. Need inspiration on how to rock the casual beach look? Take a look below.
You do not really have to be a pro to bring out the fashionista in you. At the end of the day all that matters is how comfortably you enjoyed your time at the waterfront. All you need is to keep a few things in mind and protect your skin from the tan. Else, you can get an array of fashion cues at the beach itself.
Have a blast with style!