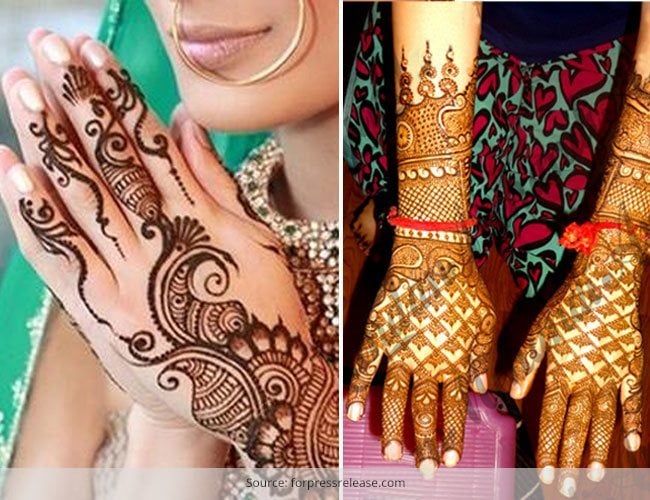 Mehndi, one of the most important adornments on a brides' big day- from the palms to the feet and in various motifs, styles and designs that too, mehndi is a must- have 'fun ritual' for the women folk in the sub-continent. To make this fun-filled ritual a little more classy, mummyjis across the nation search far and wide for the best mehndi artist- after all, it is their daughters' big day tomorrow, and mother wouldn't leave any stone unturned to celebrate the coming of womanhood for her little angel.
To make things easier, here are five best and very opulent mehndi artists from the nations' capital (priced high to low) for your search-sake! Enjoy!
Prakash Mehendi Art
Prakash Mehendi Art is a well-known name with wedding planners and event management companies across the capital city, Delhi. Their specializations include;
Rajasthani Mehndi
Arabian Mehndi
Indo-Arabian Mehndi
Mughal Mehndi
Hyderabadi Mehndi
Zardosi Mehndi to name a few.
From conventional to contemporary chic styles, exotic to lavish clarity wise, traditional weighty styles to rhinestone embedded motifs – get ready to doll up like a diva on your wedding day!
[Also Read: Top 10 Punjabi Mehndi Designs]
Raju Mehndi Artist
Began in the year 1992, Raju Mehndi Artist with plenty of experience and certified mehendi artists under his kitty, the versatile specialist has risen to fame with offerings to brides, such as;
Rajasthani Mehndi
Jaipuri tradition Mehndi
Bombay contemporary style Mehndi
Marwari Mehndi
Shehnai Mehndi
Paisleys and more Mehndi designs
Raju Mehndi Artist believes in the amalgamation of tradition and new-age demands; of adorning brides now with subtle touches of the old-glam world charm, customisations all the way and completely bespoke, making one design unique and interesting from the next.
Kundan Mehandi Art
Wondering if the mehendi in use would be au naturale ingredient wise and safe to apply- worry not when you have Kundan Mehandi Art for company. With more than a decade at adorning cheerful brides across the city, Kundan Mehandi Art is known for the elegant and very unique designs they bring forth to the happy damsel. Intricate and elegant are their designs, with traditional tastes well-blend with modern fanfare, Kundan Mehandi Art is a mix of the fragrant old and the sassy new. Their exclusive designs on offer are;
Rajasthani Mehendi Designs
Arabian Mehendi Designs
Indo-Arabian Mehendi Designs
Mughal Mehendi Designs
Hyderabad Mehendi Designs
Zardosi Mehendi Designs
Magic Mehendi Designs, etc.
Secret of the rich colour as applied by Kundan would be the fact that they use herbal ingredients, fruits and leaves of plants; coffee and tea, lemon and cloves too, with oil and sugar for the strong and long effects. There are plenty ways to darken henna on hands and feet.
Ajay Mehandi Arts
A name synonymous on the lips of the upper middle class to the elite, and across the nation's capital or its suburbs too, Ajay Mehandi Arts is the reason why most brides-to-be enjoy the oncoming of their BIG DAY. A modern touch whilst celebrating traditional rituals in all its glory and forms, Ajay Mehandi Arts offers the following;
Arabian Mehndi Designs
Gujarati Mehndi Designs
Marwari Mehndi Designs
Bombay Mehndi Designs
Sparkle Mehndi Designs
Bridal Mehndi Designs
Silver Mehndi Designs
Golden and more Mehndi Designs
[sc:mediad]
If you also need help choosing accessories to go along with the super-fantastic art and designs adoring your palms, hands and feet, Ajay Mehandi Arts obliges the same.
V K Bombay Mehandi Arts
Ask a true Delhite for the name of a famous and very affordable mehendi artist for your daughter's wedding, and most would chant V K Bombay Mehandi Arts. Immersed deep into the culture, tradition and the roots of India, especially Delhi, V K Bombay Mehandi Arts is an epitome of art meets style with the fashionistas wedding scene around the nation's capital. Their services include;
Traditional Motifs Mehndi Designs
Temporary tattoo imprints and Mehndi Designs
Rich hues and chunky embellishments too, our modern day bride-to-be couldn't have asked for more.
From pretty young girls to the chachis, buas and mummyjis along with the bride-to-be, don't miss out on the 'all-girls' fanfare while dolling up with chic and trendy designs. The best part is when the would-be-husband's name is embellished somewhere mysteriously deep within the art- the groom as the ritual says, has to find his names' initials on his wife's palms.
Hope this article on Mehendi artists in Delhi helps you find a best mehnedi artist for your big day.