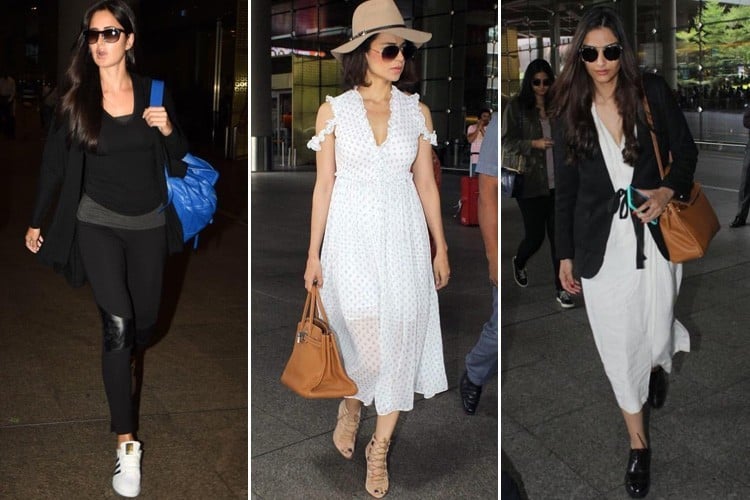 We are back with the airport styles and we know you have been waiting eagerly to pick the trends. Feel comfortable and stylish, aping these chic styles while traveling.
[Also Read: Celebrity Style Check At The Airports]
Malaika Arora
She was spotted looking ultra-cool in a black spaghetti top, over distressed jogger pants. Pinning her hair up and tight, adding cool shades and sneakers to outfit, she pulled off a comfortable style at the airport.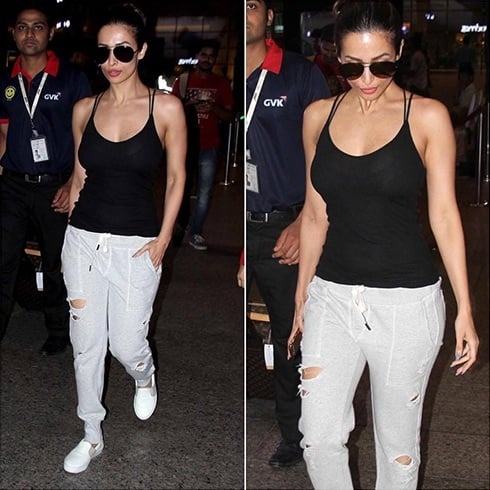 Priyanka Chopra
The lady who spends most of her time abroad, working on her larger than life projects, was spotted a couple of times at the airport, and her styles didn't go amiss.
1. She looked cool just like a school girl, in a black top over a pair of skinny jeans. With a uniform style jacket and military design backpack, she looked casual and adoring. Having her hair pinned up, shades pinned to her shirt and in ankle length boots, she made her way out of the airport.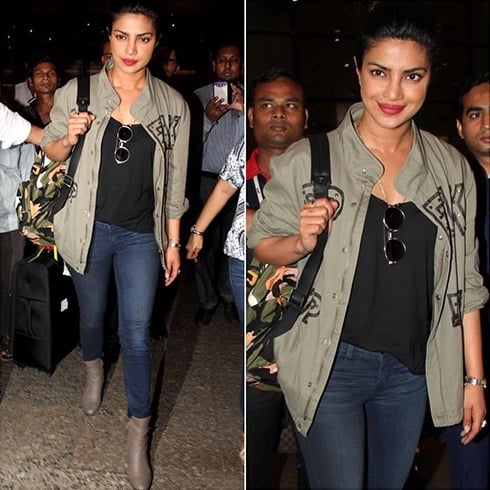 2. At another occasion, she picked a Theory dull pink jacket over white top and distressed jeans. Taking delight in Adidas shoes, she looked happy and sweet with striking pink lips. She brushed her hair to one side and rocked uber chic goggles in style.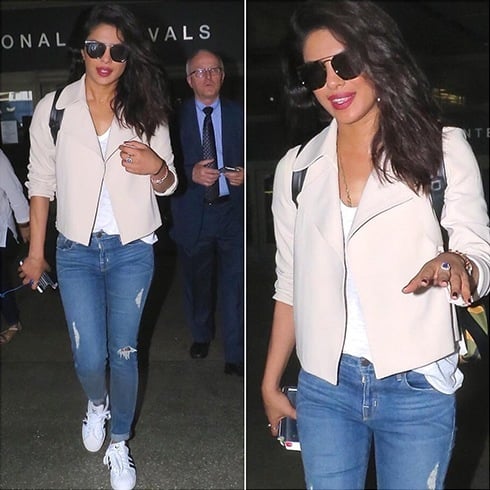 Deepika Padukone
Deepika, though contributes most of her time working on her Hollywood film, made her appearances noticeable by landing in style. We found her airport looks quite interesting.
1. She sashayed in an all-white outfit looking angelic. In an extremely simple tee over distressed jeans and sneakers, she looked lovely as always. She added life to the outfit with a brown cape jacket, a dirty pink bag and transparent shades.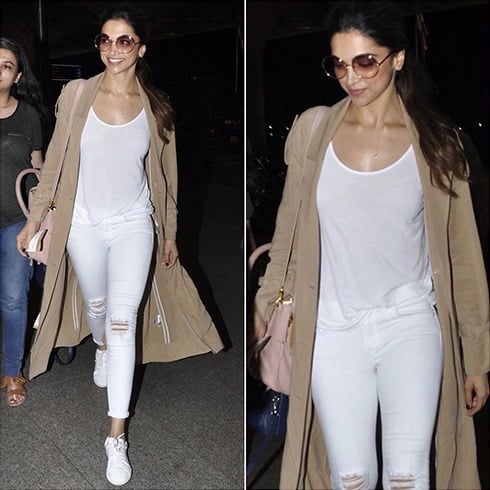 2. From an all-white style, she flipped to an all-black airport look. With a black tee over leather pants and thigh high boots, she worked similar fashion fabulously. A navy blue cape jacket, cat eye shades with a Chanel handbag, she rounded off her style in ease.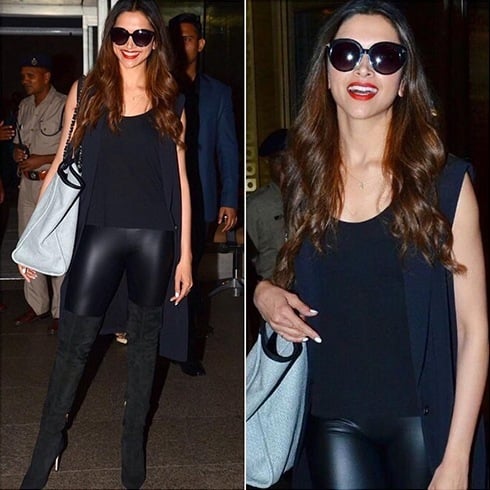 Parineeti Chopra
Looks like traveling is like partying for our favorite, Parineeti. We wonder why in summer, our divas have opted for leather pants and boots but it still looks amazing. Printed top, leather boots and pants was her choice for the day. She added a cool hat as her prop instead of shades.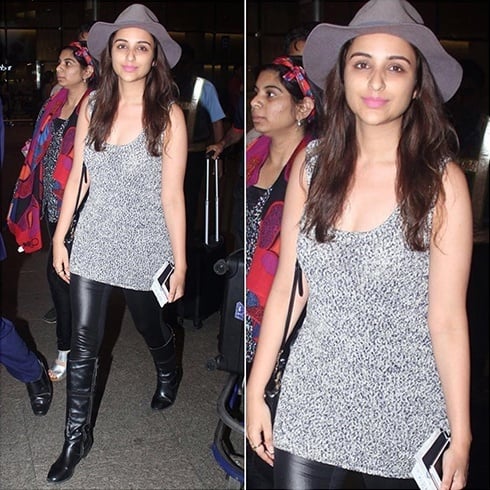 Kangana Ranaut
The travel queen, Kangana, like always, is the most stylish actress spotted at the airports. This collection of her styles shows that the actress maintains her persona even during her travel.
1. She was spotted in a white and blue salwar suit. We simply loved the spectacles that she wore. Her stylist played an extra card by pinning a bindi above the frame tying her ethnic wear perfectly.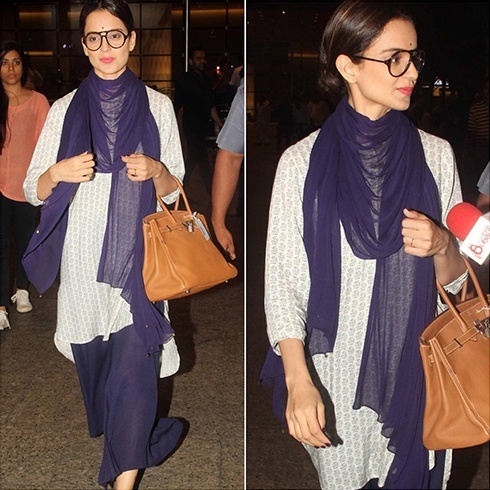 2. A checkered dress from Liva fashion was one of her pick for the travel purpose. Softening her curls, adding hat and square frames, she walked in trendy shoes.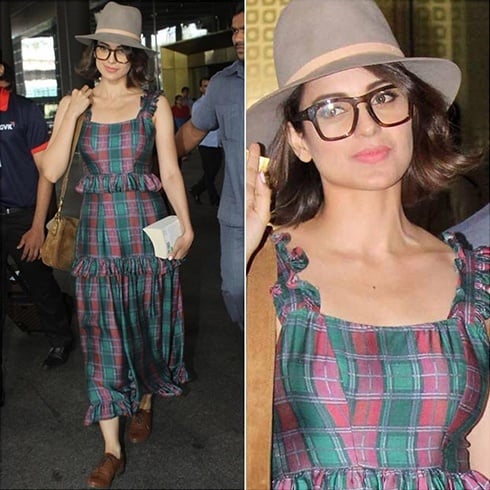 3. Kangana Ranaut's travel vogue is always crisp and elegant, suggesting that the diva doesn't halt for a touch-up before the big take. She looked like a perfect entrepreneur in a Gucci pant suit, cool shades and carried a Bvlgari handbag along.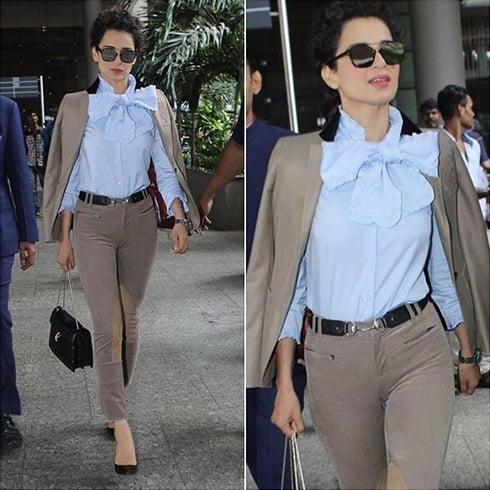 4. She gave a retro vibe in a beige hat and white printed summer dress. To this she added uber-chic sunglasses and laced beige flats.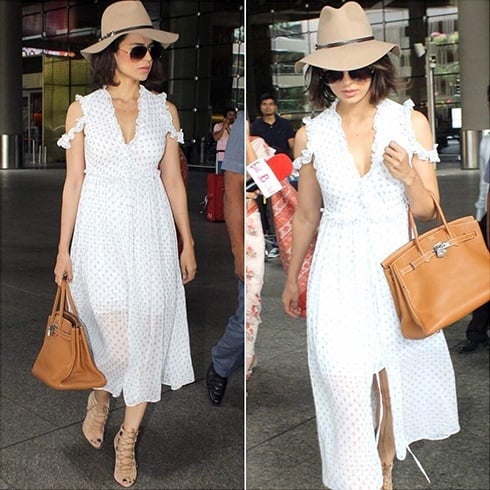 Kareena Kapoor
Bebo was spotted at the airport in a pair of black jeans, a loose shirt and sunglasses. She is one who can carry any casual attire in an attitude that will blow us off. Looks like Kareena also opted for boots during her travel.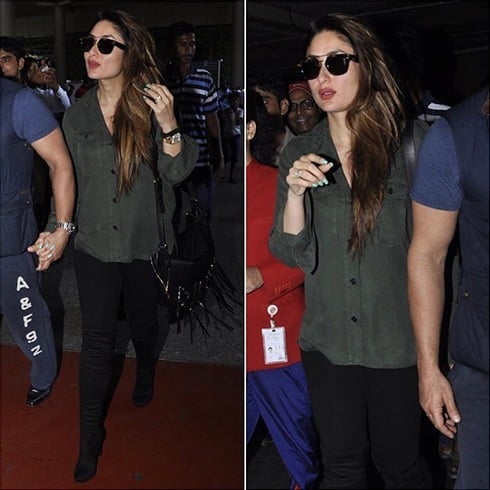 [sc:mediad]
Shraddha Kapoor
1. In brown pants and Global Desi top, she looked very adorable and appealing. It seems like the spectacles are a new trend now.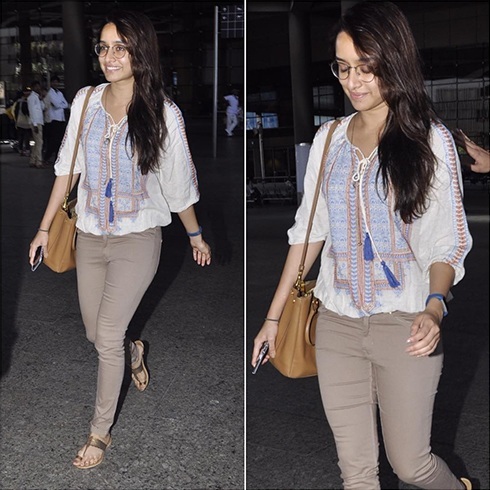 2. She was also spotted happy and excited at the airport in a pair of jeans, black tee and black cape. With a backpack, rocking shades and contrast sneakers, she rounded off her high school look.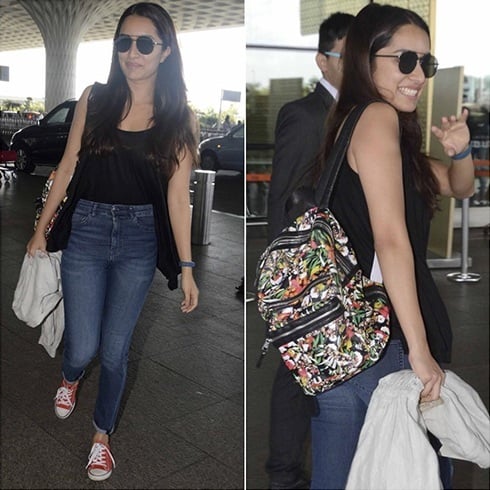 Tamannaah Bhatia
The beautiful, charming actress made a sizzling appearance at the airport in a pastel shade one-piece. With nude pumps, bag and cat eye shades, she looked lively.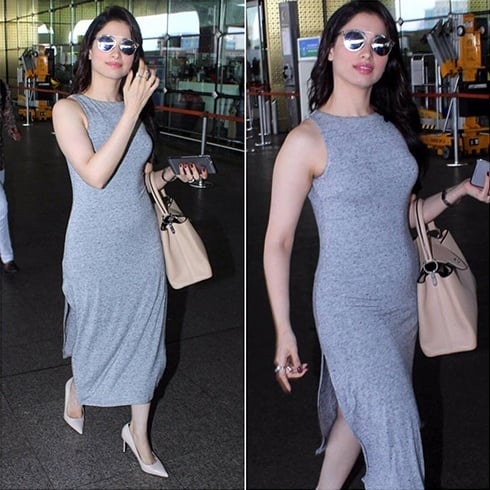 Aishwarya Rai
White high collared shirt, black pants and oversize glasses suited the Aishwarya Rai very well for the travel. An actress of her stature is bound to make a fashion statement and this time it was her Dior handbag.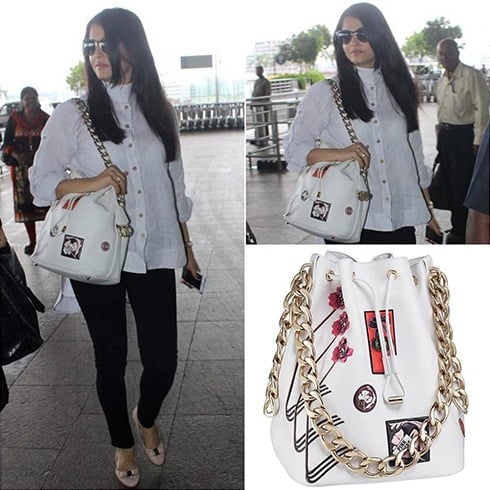 Alia Bhatt
With a childlike face and excitement, Alia was spotted in denim capri, black graphic tee and a long cape. She was seen holding a custom made backpack from The Rad Project.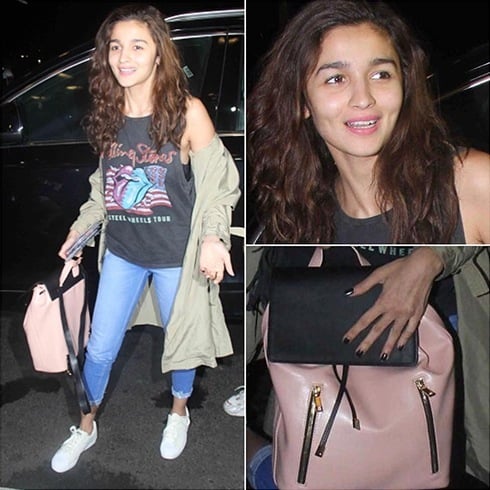 Katrina Kaif
Our Jagga Jasoos leading lady was spotted sporting an athlete style at the airport. She went all black with her garb. The only pieces that added color were her white sneakers and a striking blue bag.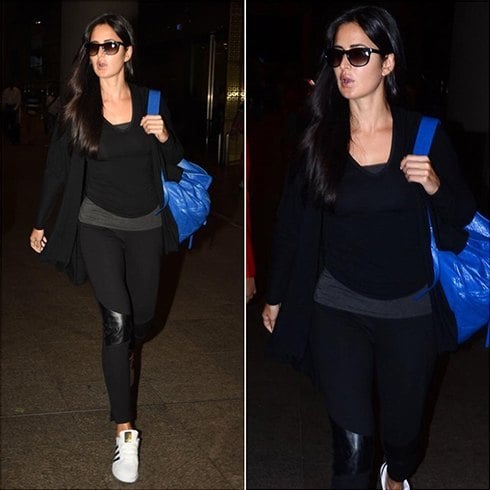 Sonam Kapoor
With the Cannes and many other grand events, Sonam seemed very busy making appearances. But no matter how busy she was, she didn't disappoint us with her airport styles.
1. She was spotted in a grayish-blue sober outfit over which she matched a printed jacket. In brown comfy shoes, cat eye shades, she looked amazing.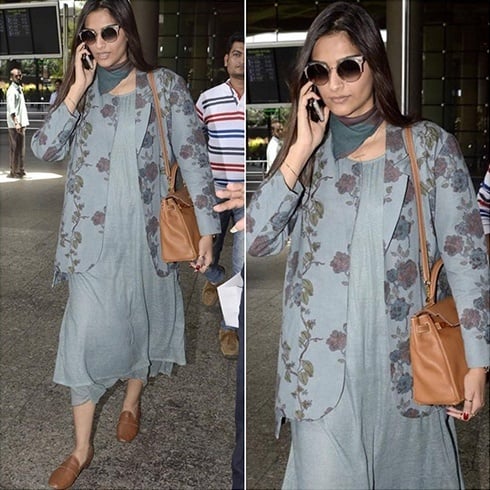 2. Sonam carried an Anamika Khanna outfit very easily with grace at the airport. She clasped tight her Hermes bag that looked pretty spacious.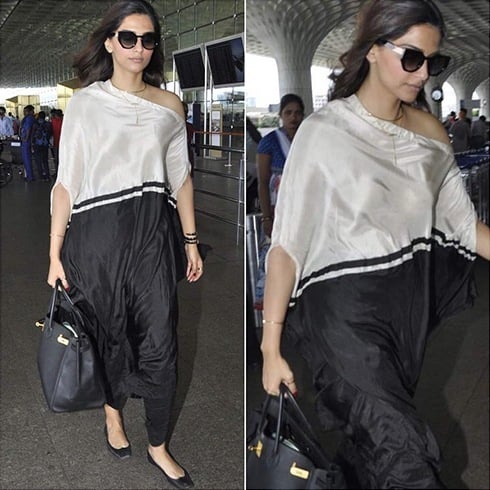 3. The fashionista of B-world stunned the crowd in a black blazer over a white dress from Bodice. Adding round shades and shiny black shoes, she looked lovely.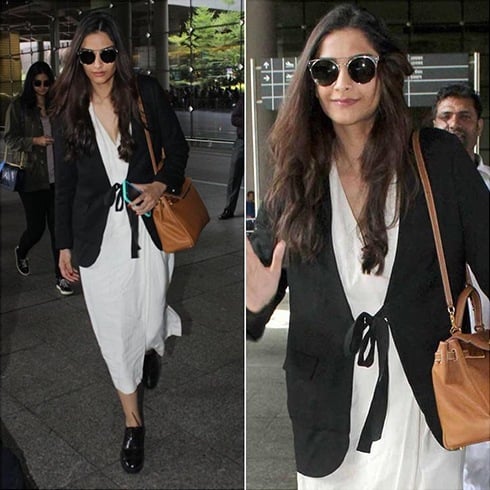 We know which celebrity travel vogue we would like to ape. What about you?
Images Source: instagram.com