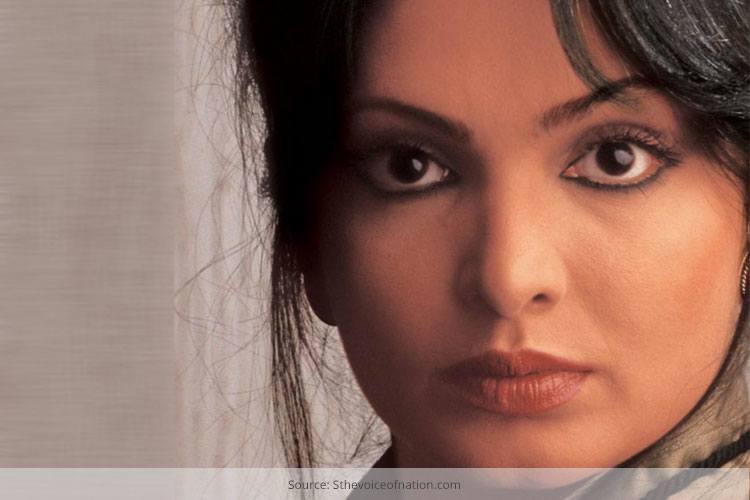 She was the reigning queen of Bollywood at one point of time. But she was battling loneliness. Her career brought her runaway success. But her personal life was in shambles. She played pivotal roles as Anita in Deewaar, Sunita in Shaan, Jenny in Amar Akbar Anthony, Mrs. Sheetal Vinod Verma in The Burning Train. She featured on the cover of TIME magazine in 1976. She is the late Parveen Babi we are talking of – the iconic Indian actress with unconventional western looks and Bohemian spirit.
[Also Read: Celebrity Beauty Habits We Would Never Want to Try]
With well-sculpted body and chiselled appearance, she wasn't the archetypal Indian sob-sob heroine but a glam doll who danced, wooed, acted and won awards. Her modelling assignments made the common man drool over her looks.
A Few Facts About Her:
She was the first Bollywood actress to appear on the cover of TIME magazine.
Parveen was the first female superstar of Bollywood
At the peak of her career, she worked in 8 films with Amitabh.
She converted to Christianity in her last few days.
She had a long time affair with Mahesh Bhatt.
The movies 'Woh Lamhe' and 'Arth' are based on the love affair between Mahesh Bhatt and Parveen Babi.
Protima Bedi has written a book on Parveen.
What happened to her mid-way? Did she start to get less movie offers or the producers found a new face? Why was she handcuffed by policemen at the JFK airport in New York, America, and taken to a mental hospital on having refused to go through the customary checks? We will uncover the secrets behind the enigmatic Parveen Babi.
[sc:mediad]
Reasons behind her illness
Parveen Babi suffered from paranoid schizophrenia. It's a disease that slowly and gradually disintegrated her personality and life.
Rumour mills claim that Parveen's mental disorder was due to her alcoholism which resulted out of her failed relationships with dashing actors-cum-villains Danny Denzongpa, Kabir Bedi and commercially acclaimed director Mahesh Bhatt. She is also rumoured to have had an affair with Amitabh Bachchan, her co-star of many films. Driven by her irrational thinking, she later on accused senior Bachchan of trying to kill her.
While some link her state of mind to a genetic disorder, some attribute it to a traumatic incident that she went through in adolescent age where she was kept hidden under heaps of mattresses in a truck by her school nuns during the Ahmedabad riots that took place in the '60s. The fear that hit Parveen's mind that she was killed continued to haunt her throughout her life, which could have contributed to her doom.
[Also Read: Female Fashion Icons of 80's & 90's !]
Reflections of her disturbed state
The beautiful cine star that she was, Parveen over the years became mentally fragile. Some people called her 'paagal' and some addressed her as 'gone case'. Her schizophrenic acts slowly and slowly made headlines in the Bollywood industry. Such was her state of madness that she walked down the tarmac of Mumbai airport in November 1989 holding a placard in her hand which said 'Parveen Babi', fearing that her long time secretary Ved Sharma who had come to receive her wouldn't be able to identify Parveen.
Ved Sharma's son Lalit recalled memories of his father's client Parveen Babi saying "Papa saw a fat lady with soda bottle and thick glasses at the airport, her hair all messed up, holding a board with her name! Parveen Aunty had put on a lot of weight and had changed beyond recognition."
They say a sad soul turns to people for help, who understand them most. Parveen Babi left her home, friends, country and fled to the USA on July 30, 1983 to seek refuge in her philosopher-cum-guru U.G. Krishnamurti who came to be Parveen's friend, confidant, mentor as well as travelling companion.
One can safely come to the conclusion that in spite of having money and fame, Parveen Babi started to suffer from a feeling of dissatisfaction and disillusionment that started to eat her.
Destiny can be very harsh at times. Parveen Babi, the glamour doll of Hindi cinema died tragically young and lonely on 23 January 2005. At the age of 56, it was a premature death for her, a big loss for the industry where she carved her niche and a big disappointment to millions of fans who watched her in utmost awe.
Parveen Wali Mohammed Khan Babi was buried next to her mother's grave at Santa Cruz, Mumbai. If one were to analyse things closely, she had died long ago.