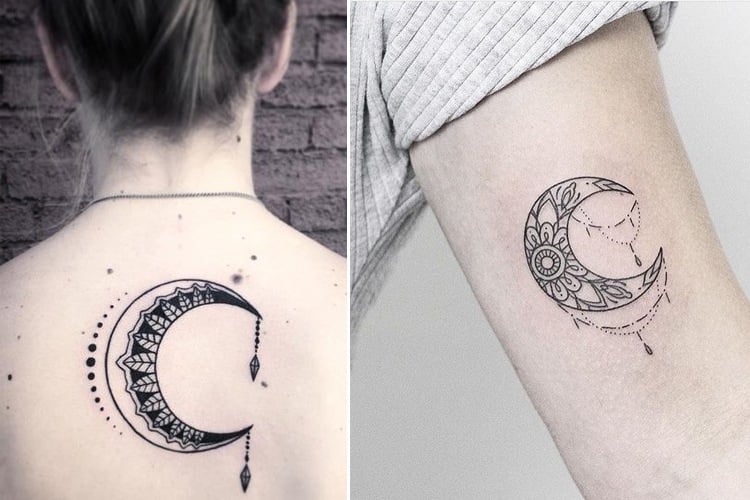 The moon is a beautiful piece of art and for millions of years human beings have tried to depict its beauty in various forms. And getting a tattoo is one of them too. A moon tattoo is one of the most feminine tattoos that you can get. You can have it in various intricate forms and get a different look with it.
You can get a moon tattoo for various reasons – a symbol of feminine power, Queen of Heaven or the dark side of nature. It is also a representation of the spiritual power and the various phases of moon may represent the various phases in your life. In this article we will give you ideas for moon tattoo designs and which one would be perfect for you.
Crescent Moon Tattoo Meaning:
Crescent moon tattoos are one of the most popular tattoos among moon tattoos. These have different meanings for different people. One common meaning is the expulsion of negative energy from your body and also growth of creativity and spirituality. Here are some ideas.
Fairies and moons go hand in hand:
A simple and shaded crescent moon tattoo looks great if you believe in simplicity:
Big fan of small tattoos – This simple tattoo with intricate lines is perfect for you:
If you want to add some more feminine qualities to your tattoo, this crescent moon tattoo with creepers will look gorgeous:
Half Moon Tattoo:
Most of the tattoos you will see are half-moon tattoos; nobody likes getting full moons tattoo not only because they look weird, but also because the beauty of the moon lies in the crescent shape only. Here are some unique half-moon tattoo designs.
A delicate half-moon tattoo with all the trimmings:
For those of you who love tattoos on the back, this one that shows the various phases of the moon will be perfect. Also, this tattoo is unique because unlike regular tattoos, this one is made with the help of dots. Remember, if you choose to get this tattoo, you will have to come for minimum 4-5 sittings. It's etched on the back using only dots:
A big fan of poetic lines – This tattoo can be your inspiration, and after all, who doesn't love the silvery moonlight:
If you love myths and want to depict some kind of mythical story, this pagan god inspired half-moon and full moon tattoo can give you ideas:
[sc:mediad]
Blue Moon Tattoos:
Blue moon tattoos are inspired by the saying 'Once in a blue moon', which means you want to represent something that will occur very rarely. So to depict something special, you can get a blue moon tattoo like these:
A blue moon tattoo inspired by Dali's artwork:
[Also Read: Watercolor Tattoo]
A beautiful combination of the sun and the moon over a rural landscape; something for the scenery lover in you:
Love your pets, especially your cat? You can get a tattoo like this that is a tribute to the furry cat in your life as well as the exquisite moon:
Another one for your pet:
Illuminate your life as well as your moon tattoo:
If you love mandala art, this moon tattoo that shows the phases of the moon and is intertwined with the mandala art looks insanely gorgeous:
So here are our favourite moon tattoo designs. Inspirations are many, especially on the internet, but you have to choose which tattoo to get and what would look nice on you.