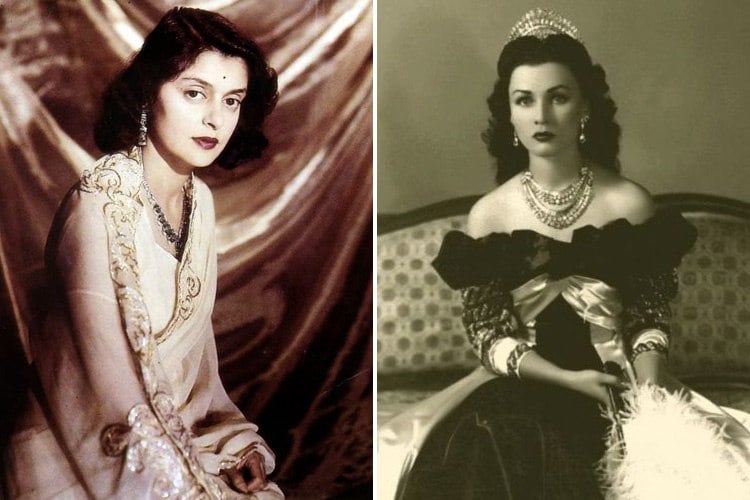 If you think fashion icons are only born today, then you need to gulp some fresh air. Think hard and you will find it is the pre-Independence era that has left an indelible mark not only in the history of India, but has also introduced style icons who inspired us. The line maybe quite thin between female icons and fashion icons, but in both cases, it has given us a rich heritage of iconic apparel and iconic jewelry.
[Also Read: Indian Wear Fashion for Independence Day]
Indian attire and clothing trends might have been influenced by European fashion, but there are a couple of fashion icons seen in the pre-independence times who left the world awestruck, at that time. Such was the impact of their fashion and dress sense.
Female Fashion Icons Who Inspired Us
On this interesting note, I introduce you to fashion icons who will remain so, for eternity. By the time you read the last line of this blog, you would have realised the unending mystery of female icons of that time. Happy reading!
Maharani Gayatri Devi
I got the privilege to meet her in person at the launch of a social-funded project in a 5-star luxurious Jaipur hotel few years back when MGD was alive. Her pastel chiffon white saree with floral prints and pure diamonds in ears still remain ever-fresh in my memory.
Gayatri Devi of Cooch Behar was fondly and respectfully called 'Maharani Gayatri Devi' to 'Rajmata of Jaipur'. She was not only an epitome of classical Indian beauty and grace, she can be considered fashion Icons in those times. In fact, Vogue described her as "a dream in a sari and jewels" and she was listed as one of the most beautiful women in the world.
Such was her charisma that she was not compared to like-minded Indian fashion icons but to the former US First Lady who was a style icon in herself Jacqueline Kennedy. Rajmata of Jaipur was usually spotted in iconic apparel comprising of pastel French chiffon saris and dark glasses. She was quoted saying "Graceful and sophisticated, I am a Queen all the way."
Her preferred colour palette was regal in itself – from Ecru and Ivory to Old Rose Pink and Dutch Blue, it spoke out her royal blood in words more than you could imagine. Indian embellishments such as zardozi, gota-patti and pearl embroidery with French needlepoint and Russian bullion depicted her elegant and feminine code. In fact, satin blouses that the Maharani wore had 10-inch sleeves with handmade buttons. This went onto be a popular style at that time.
All in all, Gayatri Devi was one queen who carved a niche for herself with her absolute charm. That is why, she was not just one of the style icons who inspired us, but looked elegance personified.
Maharani Sita Devi Of Baroda
True lover of jewels and gems, Maharani Sita Devi of Baroda was extravagant in her tastes and magnificent in her glory.
Seen in this image below is a three-tiered diamond necklace which Sita Devi of Baroda wore in 1948, a true hallmark from The Treasury of Baroda.
When it came to her love of fashion, The Maharani of Baroda was one of the fashion icons who roamed around the world, with not just two saris or two jewellery items, but a huge wardrobe of almost thousand saris, hundreds of pairs of shoes, and jewelry. It means her iconic apparel and iconic jewelry were her best travel companions.
[Also Read: A Western Style Check This Independence Day]
But it was in 1974 that Maharani Sita Devi of Baroda had to auction some of her beloved jewels secretly since her finances had gone dry over time.
At a time when most Indian maharanis were clicked with their heads covered, Maharani Sita Devi of Baroda was often seen with her hair thrown back, earrings and necklaces showing up, and hands posed in such as way so as to show off her bracelets and rings.
Maharani Sita Devi Sahib Of Kapurthala
Also known as Princess Karam, Maharani Sita Devi of Kapurthala, was proclaimed a diva and a 'Secular Goddess' (quoting Vogue magazine) at just 19 years of age. The glam royal that she was, MSD of Kapurthala was listed amongst the five best-dressed women on earth. Phew! What recognition, this is.
As for her wardrobe and jewelry pick, her dearest husband treated her with jewels crafted by none other than Cartier and Van Cleef & Arpels, which she complemented with fur coats and chiffon saris.
Ah yes…the saris of Maharani Sita Devi of Kapurthala were such a sensation in the fashion capital of Paris that designer Elsa Schiaparelli launched a gown collection based on the saris she wore in the year 1935. That is why, she was not just a Maharani, but a spell-binding figure in every sense of the word.
[sc:mediad]
Princess Niloufer Of Hyderabad
Niloufer Farhat Begum Sahiba's beauty is already in the annals of history. She was a priceless jewel in the crown of the Nizams of Hyderabad.
She had attended many fashion shows in Paris and London. As for the iconic apparel, her saris were crafted by Madhavdas, a Mumbai-based designer. In the later years, she started wearing European-style clothes on her foreign trips. Back home, her saris were inspired by leading Bollywood celebrities of those time such as Waheeda Rehman.
Such is Niloufer's beauty quotient that she had appeared on numerous magazine covers, including Vogue.
How did you find the Fashion Icons shown above? Give us your candid views in the comments section below.