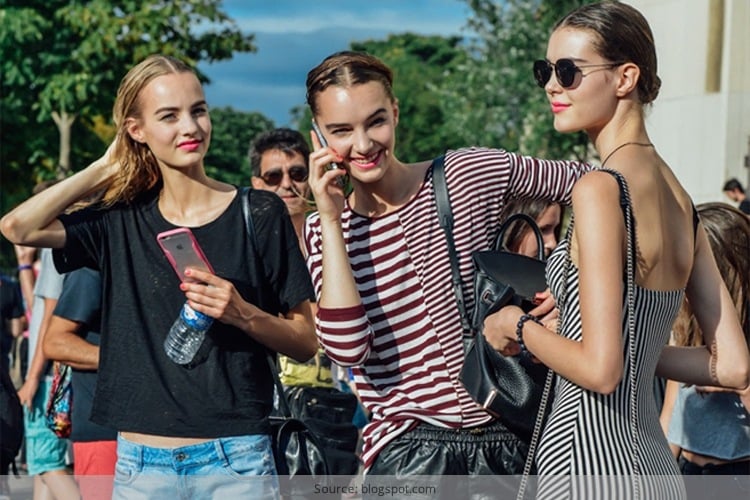 In a world of springs and summers, monsoons and winters, we just cannot ignore the importance of FALL. This is why we shall speak of the latest fall fashion seen in 2015, which we shall make state of the art in more ways than one in 2016.
10 Recycled Fashion Statements From Fall 2015 You Must Re-Wear In 2016
Take a look at the latest fall fashion of 2015, and if you haven't given them a place in your wardrobe, this year is the chance for you to do so. Chalk out what looks are best suited for you, because it is not only these ten but many more in store with the Latest Fall Fashion of last year for you to re-wear!
1. Opened Ponchos + White Tops + Leggings
Okay, so here's something that you can yourself emulate from last year and make waves as fall outfits 2016 wherever you go. Grab a neutral toned or dark olive green poncho with an open front, and pair it with a white top inside. For the bottoms, stick to leather pants or faux leather skinnies. And if you don't get those, you could opt for dark black opaque leggings. Complete the look with heels or pumps for the feet.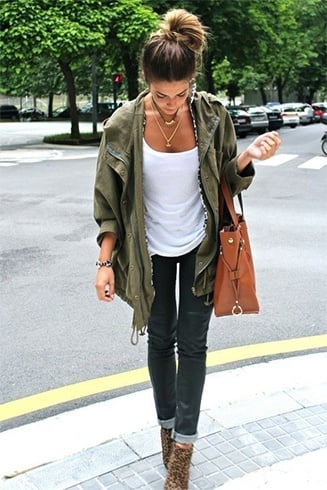 2. Printed Coats + Sheer Midi Skirts
For Friday dressing to be powerful, you have got to throw in a splash of colors. Make it large and bold they said, and so shall it be for their eyes' pleasure only. A large printed coat with a crisp top inside, worn with a sheer midi skirt makes an amazing comeback of the fall trends 2015 showed us! Go get them girl!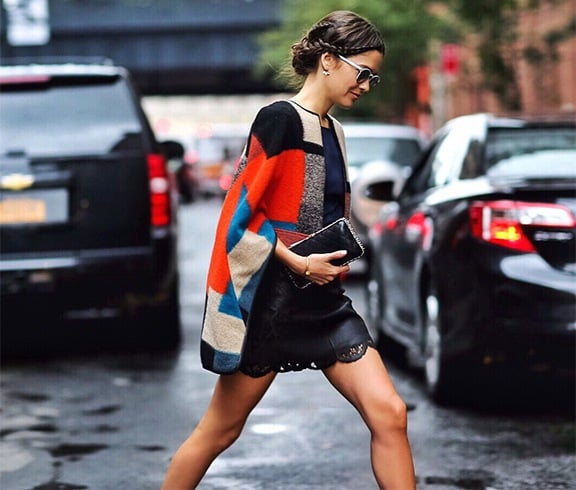 3. Graphic Tees + Striped Pants
For the evening out with friends, and if you want to be the street chick with an attitude, think about flaunting the seventies look for fall this year. With many other ways to dress up in the latest fall fashion, beating away from the herd of fashionistas in printed tees and striped pants makes sense. Complete the look with boots for the feet!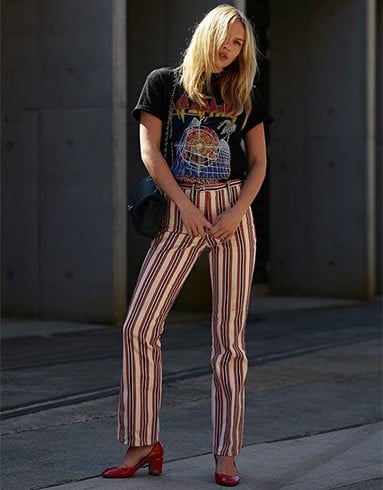 4. Solid Colors + Statement Bags
Yes, we want to see more of solid colors in gloss and matte tones doing the rounds. Going by the latest fall 2016 trends, solid hues have made a comeback so wearing an off shouldered chunky top with a pair of dark vibrant solid harem pants and boots for the feet makes good fashionable sense. Complete the look with a statement handbag!
[sc:mediad]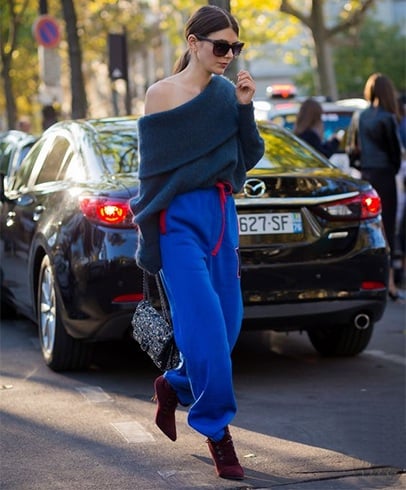 5. Military Accessories + Neutral Clothing
Emulating the rough and tough ways of the season, entering into a frozen terrain later on into the year, fall 2015 showed us how military accessories such as a cross body sling bag can be worn with a cropped neutral toned jacket and a pair of dark skinnies! Complete the look with pumps, heels or open-toed footwear.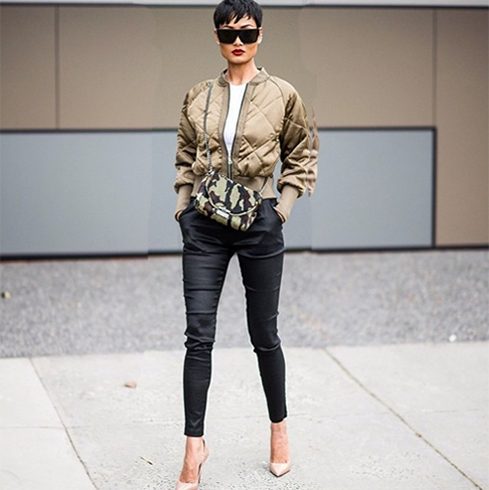 6. Rusted Clothing + Sunshades
Free spirited are your ways, which is why nothing too hugging to the body or tight to the contours can be your style. Look for kaftans or free flowing maxis in burnt orange, such as the one shown, and complete the look with flats for the feet and dark sunshades for the eyes.
[Also Read: Here's How To Recycle Old Jeans Into Haute Fashion Wear!]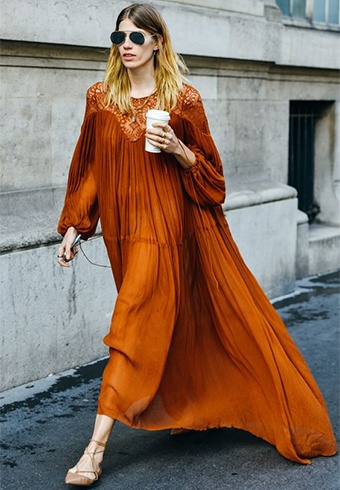 7. Flared Pants + Printed Jackets
Completely a hit last year in Paris and most euro fashion weeks, we've noticed celeb fashion editors wearing the same. Flared pants should be part of the fall collection in your wardrobe and paired with printed jackets in the same color tone as well.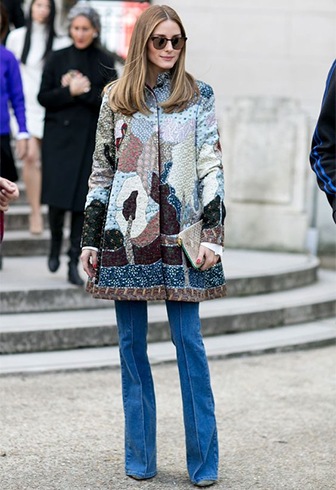 8. Suede Skirts + Halter Tops
Off to work and want to look haute? Here's a tip. Go suede. Suede skirts or midi skirts can be paired with white halter tops and not an eyebrow would be raised at work. You can also make statements with a chunky neckpiece on the look, for an evening party to attend. Complete the look with earth toned wedge shoes!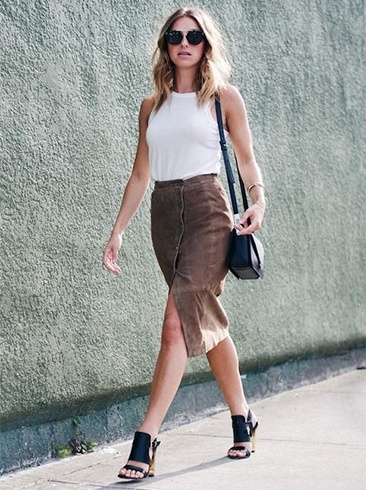 9. Floral Printed Maxis + Floral Tops
You have got to have floral touches in your wardrobe, but in monochrome shades this time. From maxi skirts to floral tops and more, you can pair florals with achomratic toned clothing, leather and neutral toned footwear, suede and even with sheer, net and lace this fall!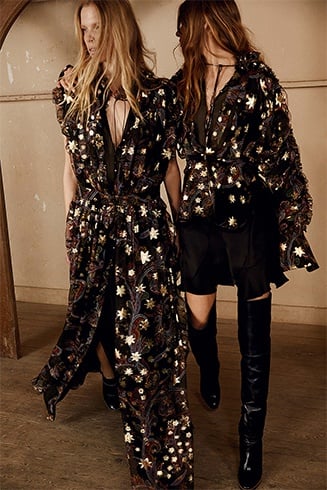 10. Hot Red Coats + Denims
Denim shorts, denim pants or denim skirts, we leave that choice to you. However, with fall fashion trends last year and the way red played an important role in fall fashion trends for street and casual style, we shall want the same best fall fashion trends for 2016 too!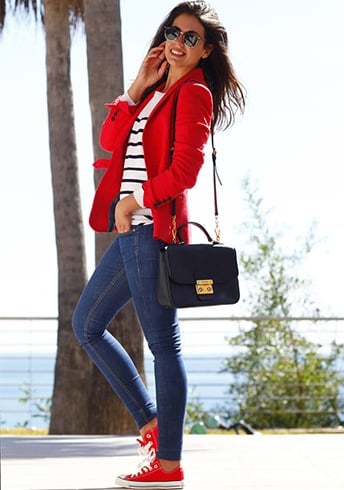 Have fun with the chicest of fall fashion 2015 to re-wear in 2016!
Images Source: pinterest.com