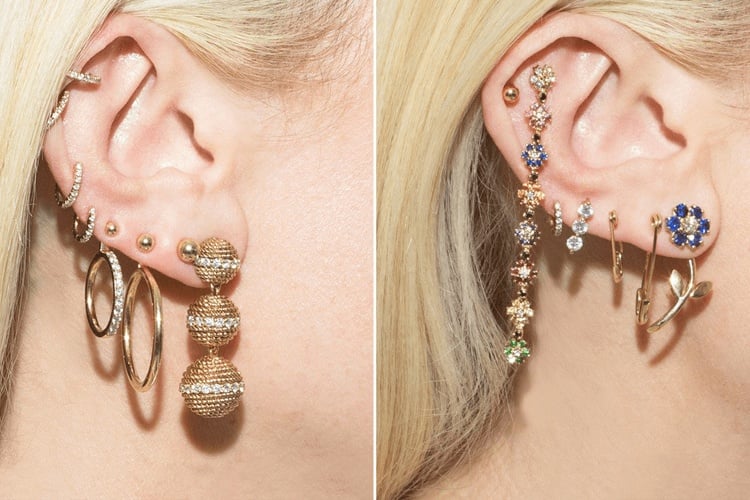 Most girls play it safe with a single piece of earring studs in each ear lobe. But how about upping your style game a little? If you scroll down, then you may know that wearing multiple earrings are a thing. Everyone from fashion insiders, celebrities, and bloggers are devoted to this trend of late, and instagram is witness. And it's simple to see why.
Stacked earrings simply look beautiful! The little studs on your ears are not to be left out, but to be paired with bold earrings. This equation thrown along a few studs can complement each other. On hindsight, if you have only one piercing in each, then you don't need to give up on this trend. Try wearing mismatched earrings to give you that edge. Or, try stick-on earring studs to achieve the look. This style can be understated or as eye-catching as you'd prefer.
You can stay inspired of dressing your ear lobes by scrolling down to check out the trend of wearing multi-earrings. These are a few of our favorite takes on how to wear multiple earrings! Take a look.
Get creative with the earring placement because there isn't only one way of adorning your ears. So have as much fun with your placement.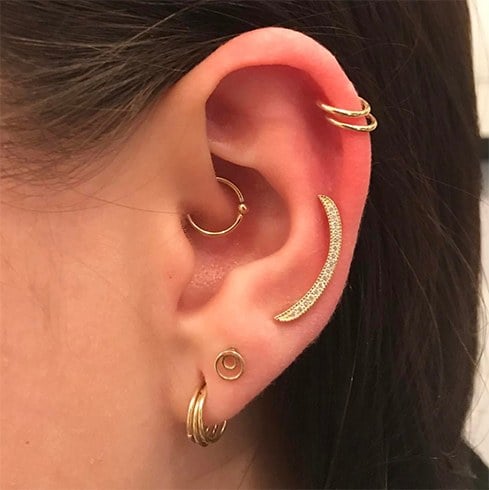 You need not stack your earrings in order all the time. Rather, try asymmetrical number of earrings for a natural finish and edginess.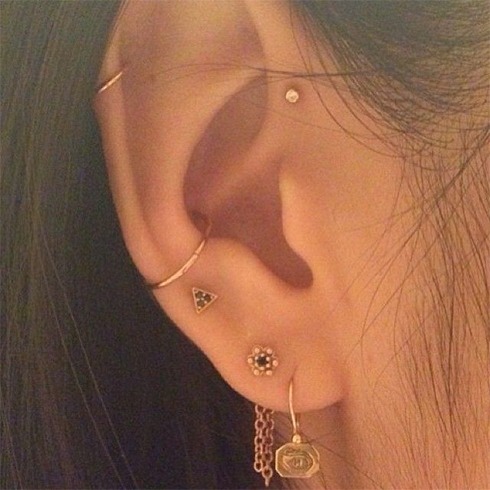 For an understated and subtle look, opt for a simple helix and lobe pairing.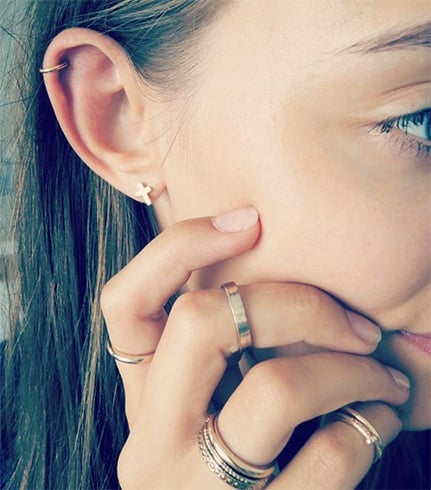 How about mixing a feather stud to bring out your bohemian side?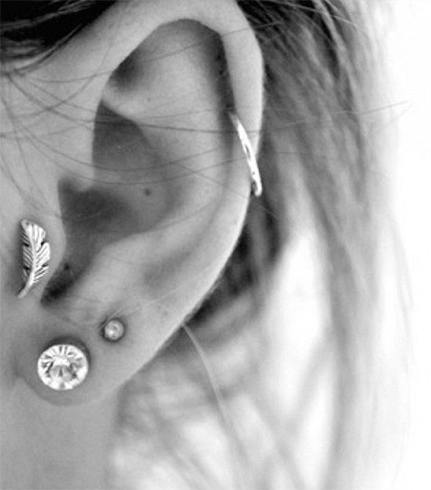 You need not limit yourself to hoops and studs alone. Mix these with bold dangling designs for a refreshing look.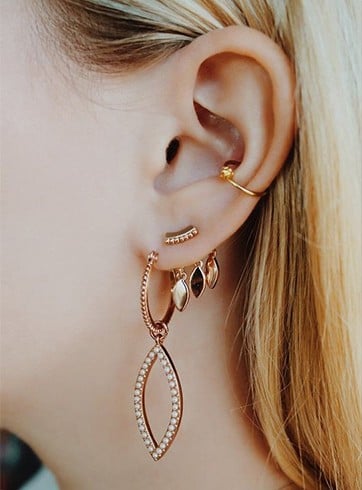 For major eye-catching impact, go for ear studs all the way up. This is a great idea on how to wear pearl earrings and diamond pairings.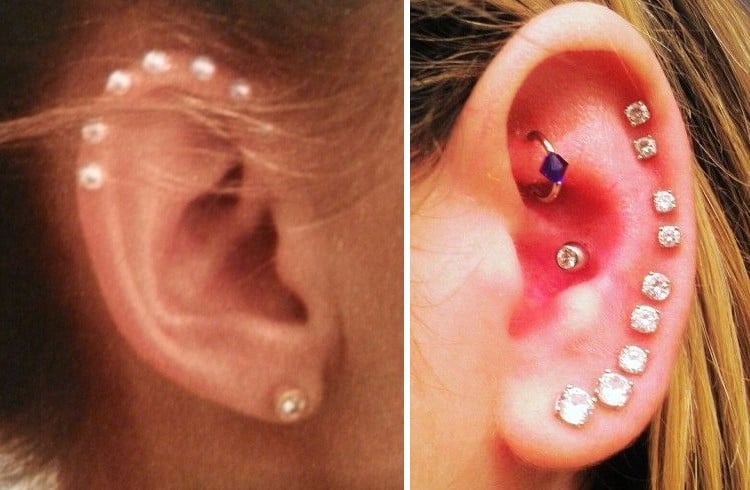 Another trendy affair is flowery designed studs.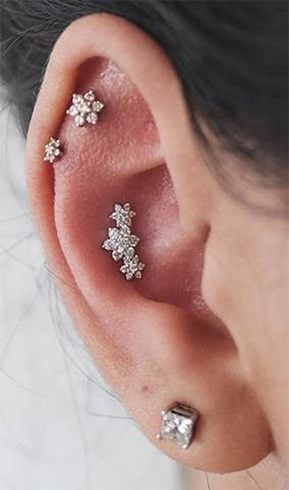 Matching one piece of similar metal gives out a symmetrical look. But you can add unexpected pairings like gold and silver for a surprise appeal.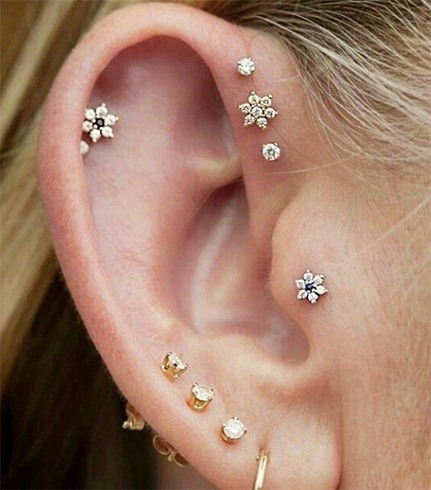 Mixing and matching delicate pieces never go out of style.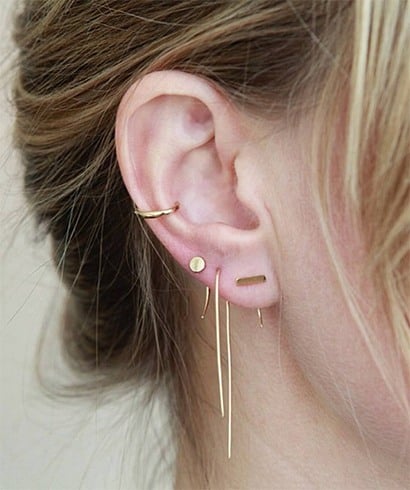 Diamonds on diamonds are a classic.
Try cuffs at the top of the ears instead of bottom where they are traditionally replaced.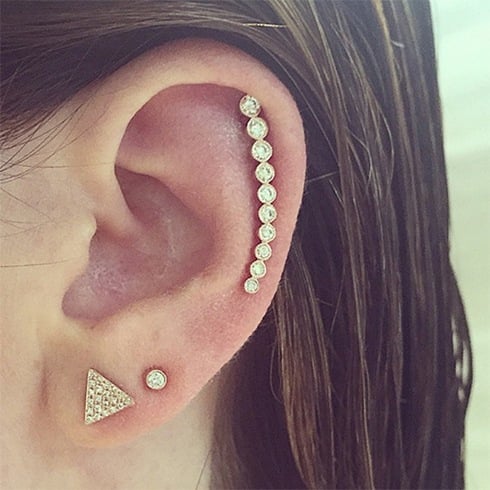 Look out for ear jackets as it is a trend not to be missed on. This style can be attached to the back of an earring post.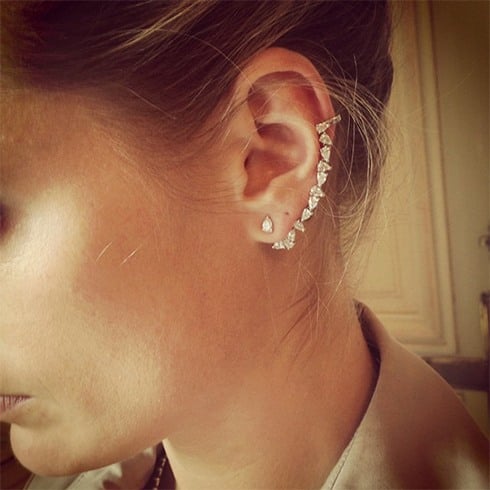 For multiple piercings, go for delicate chains, bars, and hoops.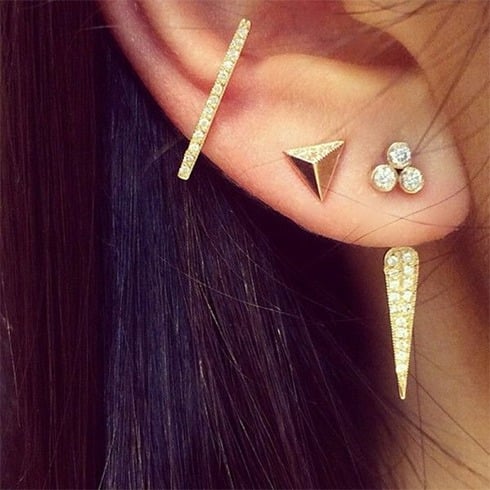 Dangling earrings do not compete with each other and rather work well. For that, you need to choose the right styles.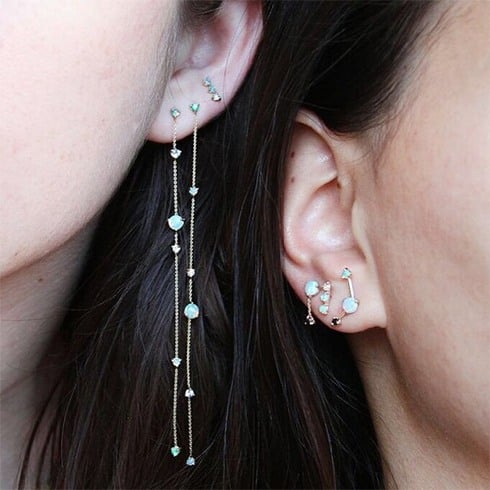 These spiky studs are totally cool and worth it.
Rules of dressing your Ear Lobes:
Here are six rules of assembling your stylish mix of multi-earrings:
1. Pick Earrings Suitable to Skin Tone
There is an underlying connection about selecting multiple earrings according to skin tone and metal choices. For example, if you have an olive skin tone, then go for yellow colored earrings and stay away from rose gold jewellery.
Those allergic to certain metal choices should not limit themselves to gold or silver, alone. They can make use of a gold post for securing the cuff and avoid any form of allergic reaction.
2. Draw away Attention from Flaws
Multi-ear piercings are trendy but do you know they can draw attention away from certain flaws. They can bring out the best features.
For example, if you have folded ears, then select stunning hoop or stud earrings. While, those with big ear lobes can experiment with several stacked jewellery.
Trying these steps on how to wear multiple earrings can allow you to mask any scars, moles, marks, or blemishes in an instant.
[sc:mediad]
3. Creating your Style
Multiple ear piercings should match with your personal style, depending on whether you are a minimalist or maximalist.
In this way, you can select your double earrings thrown into the mix to complement your style. You can also try putting on a different earring set in each ear. These earrings can be eye-catching or understated, as you'd like.
You can sweep your hair back behind one ear for an effortless finish.
4. Mix and Match
While this might sound complicated, the secret of mixing and matching earrings is rather simple. And basically anything goes as long as the end result is not cluttered.
Mix metals and stones in varying shapes and sizes, but match them within similar styles. For example, match one contemporary statement earring with a dash of minimalistic studs, or an ear filled with delicate diamond studs.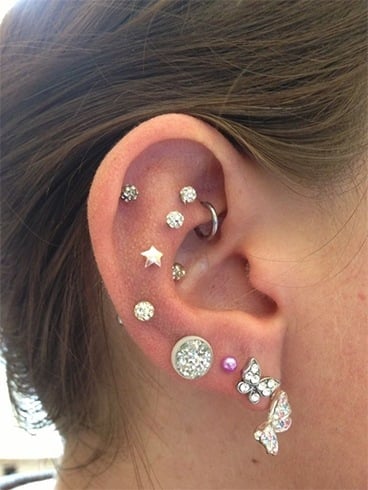 5. Play with Options
Lay out all the earring choices and play out with the options. Before deciding on final designs, make use of faux ear cuffs and stick-on gems.
This can allow you to select between the perfect pair of piercings, dainty studs, and statement earrings.
6. Stack 'Em up
Multi-earring trend is supposed to be fun, and not constricted. You can push boundaries by adopting few of these tips no matter what your personal style is.
If you want to get the multiple earrings style right, then look out for decorated jacket designs. In addition, go for ear cuff and single arrow earrings to achieve the look.
If you want to give it a dressy look, then opt for asymmetrical matching designs. A matching stud and ear cuff can make a great pairing.
For faking a multi-pierced look, look for designs that give the look of stacked earrings and pair it with ear cuffs for added edge.
For an office-appropriate look, go for baby studs and stack them up. This is a perfect way for wearing these styles.
If you want an edgy look, try a pair of studs on both ears.
Tips for trying out Multi-earring trend:
If you recently got a piercing, then you should wait for it to heal completely before trying out earrings.
Do not touch your fresh piercing with soiled hands.
Be careful while rubbing towel over the ears area.
Get your piercing done from a well-experienced aesthetician.
Now that we have covered on how to wear multiple earrings, you can flaunt them in style. Your thoughts? Pass on your queries in the comment box below. We would love to get back to you.
Images Source: pinterest.com