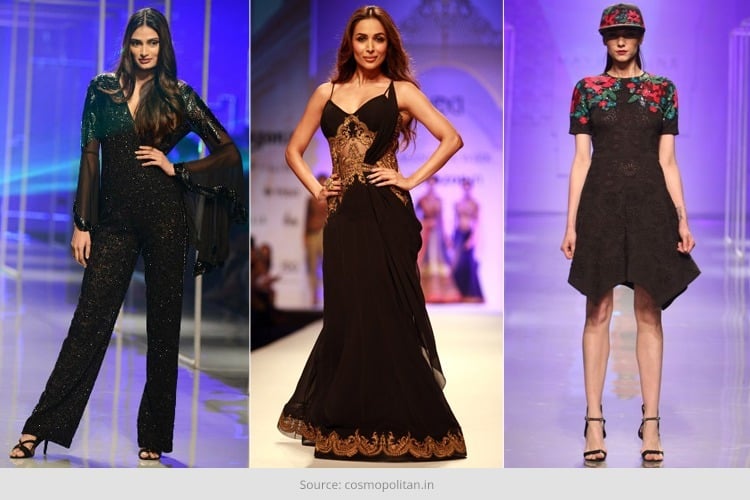 Amazon Fashion Week 2016, Autumn – Winter Collection by now has the snow ball rolling in great speed with emerging new trends and thoughts shared by the designers.
Let's see how rocking the event was on the 4th day of the AIFW'16.
[Also Read: AIFW'16 Launches Day 3 Collections]
Ikai By Ragini Ahuja
Inspired from the pages of a Notebook, playing with contemporary design patterns, the designer brought to the glamour world a collection with sassy prints, beanie hats, crop tops in different fabrics. The collection had a tinge of autumn leaves and animals in boxy dresses, bomber jackets with open leather belts. Straight cut pants, deep neckline crop tops, knee length skirts, trousers, shirts are some styles in display with grids and stripes in colors of charcoal, black and paper brown mirroring the details of a book.
ILK By Shikha And Vinita
Basing the designs on Pointillism, which is an art of painting an image making patterns with small dots, the designers created an utterly explicit collection titled 'Dot on a walk'. In colors of tomato red to dark blues, the compilation had translucent printed or embroidered gear and apron style silhouettes. They had a tinge of bead work embedded into their style creating an illusion of the world map print. Worth applauding were the innovative and creative collections of ILK.
Lovebirds
Color blocking was exhibited at its best by the designers Amrita Khanna and Gursi at the AIFW in their collection titled 'Snuggle Time'. On day 4, with these designers we see the true meaning of winter collection with proper woollen layering in combination with robe coats, midi dresses, etc.
BODICE By Ruchika Sachdev
Indian textiles with modern tailoring were the idea of the designer for the evening in question. Focusing on a mature woman work wear and outer wear, she made a standout display with pleated skirts on the frontline. Using strips of seam finishing materials on the insides, she gave the outfits a breezy, cool look. Casual, easy tops, midi dresses, woollen scarves, breezy trousers, shirts and jackets are few styles seen that evening.
EKA
Naming the collection, 'Full Circle. Full Stop', Rina Singh focused on polka dots and sharp stripes. Draped in silk-linen combo, cottons, wool textured fabric in stripes, circles and polka dots, the gear caught attention. The work also had zari details, twill patterns and metallic interwoven in the right way. Jumbo tunics and shirts were seen paired with lean and easy trousers, pleated dresses etc.
Anavila
The designer was successful in achieving a free spirited idea of a woman with her saris draped over cardigans and pleated skirts. Keeping the tone vintage, she played with pleats to bring a chic and modern feel to the traditional outfit. On hand-woven linen, use of khatwa and sujni work from bihar is the highlight. The collection 'Folk-Once upon a time' justified the traditional Indian wear with the perfect layering, enveloping and overlaying.
Ashima Leena
The duo was strongly inclined in bringing forth the Persian style into an Indian framework. Glorifying the Persian beauty with the elements and motifs from their carpets, the collection titled 'Fragrance of Persia' had silhouettes well layered with unique prints and embellishments. In fabrics like twill silk, organza, flat chiffon, crepe and felt, the ensemble comprised of asymmetrical hemlines, opaque square tops, skirts, kaftans and cowl pants that received good appreciation.
[sc:mediad]
Mandira Wirk
'Romancing Rococo', a collection inspired by Rococo art had contemporary designs with ethnic feel. Varying from anarkalis, palazzos, floor length gowns and jackets with light weight embroidery, the designer set fire to the event. The intricate designs with appropriate curves and well suited grid work were on the frontline of the collection. The fashionista, Maliaka Arora Khan walked the ramp as a showstopper in a black and gold floor length gown looking ravishing.
Niki Mahajan
The designer who won Yuva Ratana Award for her contribution to reforming Indian textiles and craftsmanship presented 'Noor' a collection of a simple girl with beautiful soul. Lucknow embroidery with cotton threads on sheer fabrics, luxurious textiles were a part of the compilation. Laces, mokaish work, geometric patterns along with pearls and ornaments can be seen on the layered apparel. His collection ranged from caped overlays, tunics, saris, palazzos, and lehengas.
Aneeth Arora
The exhibit of the designer would very closely create an image of Pippi Longstocking making her way to school. Swaying towards a quirky and fun appeal, the designer used her signature checks and lines. Monochrome dresses, jackets, jumpsuits with a tinge of red, in woollen fabrics like angora, pashmina, merino and gingham with appropriate embroidery would complete the compilation. The braids and freckles were eye catchy and amused the audience thoroughly.
Namrata Joshipura
Inspired the glam sham of New York City, the designer created a high fashion style with sheer panels, bodysuits, glamorous dresses, jumpsuits and tops. Keeping the look all about a city girl from New York who knows what she wants and how to get it, she used hues of Color Sensational Lip Gradation by Maybelline, New York.
Bollywood's latest fashion icon, Athiya Shetty walked the ramp as a showstopper wearing a shimmering black jumpsuit with bell sleeves. She also wore a Color Sensational Lip Gradation in Red 2 mixed with Super Black Kajal on her lips. Using a Colossal Liner and Super Black Kajal on her eyes, she struck like thundering light bolt.
Hope you liked the post!!!!