Yes, it's easy to wear a sequined gown whilst attending a fancy gala or dinner party. But wearing a sequined saree is a different story and also a bit trickier. If you're attempting to give your outfit a sophisticated, sexy spin, then you need to make the right selection. For this reason, we've rounded up 14 sequin saree designs below that will get you inspired.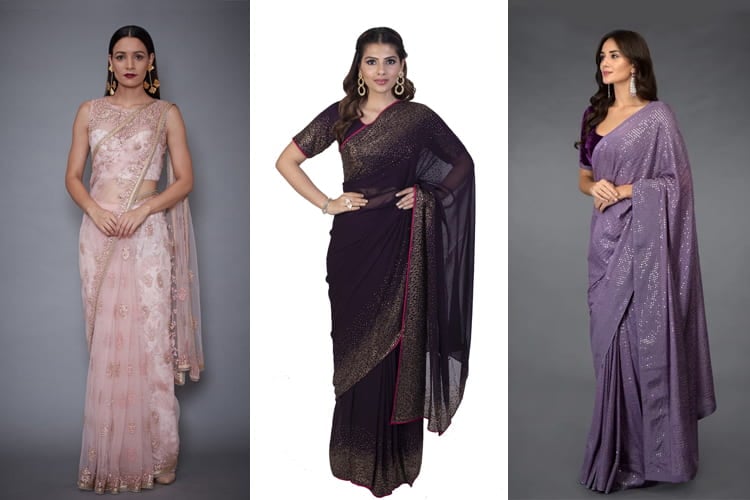 List of Sequin Saree Designs that Are Pretty Plus Wearable:
See all the best looks below:
1. Peach and Blush Embroidered Saree:
Soft hues and simple design- an embroidered saree mixed with the right accessories is polished. Balance out the charm-factor of full-on embroidery saree with a matching blouse and heels. And if you're all about the sparkle then add extra bling to your accessories like a sequined bag or rhinestone earrings.
2. Midnight Blue Embellished Saree:
The one shade on the saree makes it a little less dramatic, meaning you can add other pop-out options with the rest of your look. This means adding in embellished blouse, dangling earrings, and bright shoes.
3. Light Pink Sequin Saree:
Another occasion, another sequined saree rendered in light pink. Style it with a statement blouse and jewelry for a seasonally approved appeal.
4. Embroidered Dhoti Saree Set:
An embroidered dhoti saree set might feel quite 'day out' but a pair like this featuring glittering sequins and crystal embroidery makes it night time ready. Throw on a pair of heels et voilà: It's party approved.
5. Sequin Embroidered Stitched Saree with Blouse:
Take your cocktail look to the next level with this georgette saree. Featuring antique gold sequined embroidery and threadwork, it makes the mulled grape saree a standout.
6. Floral Embroidered Saree with Stitched Blouse:
If you are dying to wear a sequined saree with less sparkly details, then a floral embroidered set like this one is fancy enough to wear. A piece like this with minimal sequin is more apt for early evening or daytime.
7. Purple Sequin Saree:
When it's finally time to head to an exciting occasion, you can go a bit more-with your sequin desire. Try picking up a purple number that has more than glittery details going on, like this one. Instead of going easy on your accessories, opt for a dangling set. It'll make your look incredibly interesting and festive.
8. Beige Sequin Saree with Stitched Blouse:
For a somber sequin work, look no further than this beige number with stitched blouse combination. The minimal color scheme is a sure fire to make sure you're not leaning towards the tacky side. If you ask us for styling suggestion, we'd ask you to pair this sequined piece with little or no accessories, so that the outfit doesn't end up looking confused.
9. Chiffon Saree with Gold Sequins and Kundan Work:
With the evident work of gold sequins in the chiffon saree, this look would be ideal for a daytime get-together. Whether its meet-up with your girls on a festive occasion or attending a traditional affair, when you want to look the part, this should be your go-to look. The touch of kundan work helps this look stray away from looking too embellished.
10. Hand-Dyed and Hand-Cut Sequined Saree:
Clearly, this saree is special for its giving away party feels. Whether it's your private party or a big celebratory occasion of YOU, it can easily make you the center of attention. So reserve this one for a day that matches up. Clearly, with a saree this eye-catching, keep the makeup and jewellery minimal to avoid giving all-out there vibes.
11. Hand Sequined Saree with Spring Work Border:
A sequined saree with a delicate embellished border will keep your ensemble on the classy side of sexy. Avoid going overboard by finishing your look with minimal accessories.
12. Sequined Saree:
The sequined saree by Manish Malhotra is chic and modern. It is an ideal option for those looking to add sparkle to their ensemble while preventing the tacky-esque finish.
13. Mustard Net Saree:
A net saree with hints of sparkly accents like the set below can direct the attention in the right place. Delicate beaded jewellery can be great for adding attention to your curves and boost right amount of attitude.
14. Ivory Sequin Embellished Saree:
This embellished saree with ivory sequin details can make a great nighttime look. The look can be amped up with mirrored clutch bag and metallic shoes. A set like is just too great not to be winner of your ensemble (next to you, evidently).
These are the 14 pretty sequin saree designs that can allow you to add some diva-level spark in your next big get-together.