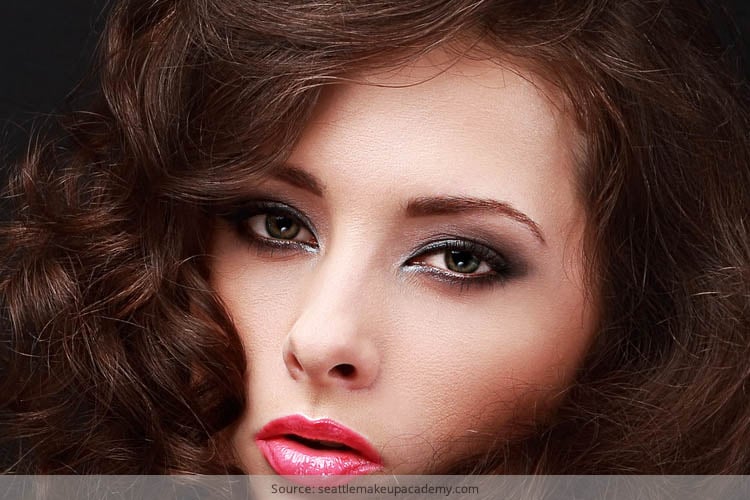 The sexiest look you can give for your eyes is the smokey eye makeup. Most people with black eyes think that this may not be the perfect look for them, especially because their eyes are black! But believe us; a black smoky eye can literally transform your glam quotient. It looks amazing and you can use it as a party look for yourself.
Here Are Some Tips For Getting Smokey Eyes For Black Eyes:
In this article, we will talk about the perfect smokey eyes and how to get them in a jiffy. This is a nine-step tutorial for black smokey eyes and you will not need anything out of the ordinary!
Step 1: Use a white base on your eyelids and cover them completely with the white colour.
Step 2: If you are using a stick for your eyelids then properly smudge the white colour and blend it well onto your eyelids
Step 3: Now use a black liner and cover your eyelid with it. Make sure you cover all the white eye shadow properly.
Step 4: Grab a fluffy brush and blend the black liner all over the eye lid. The key is to blend the eyes liner well so that you don't look like you have got a black eye!
Step 5: If you have a highlighter, use it to highlight your brow bone or you can also use a shimmery light eye shadow.
Step 6: Now take black eye shadow onto the outer lid and blend that well with the white eye shadow
Step 7: Take the same eye shadow that you used for the outer lid and smudge your lower lash line
Step 8: Take a fluffy brush and blend everything in.
Step 9: Finish off your look with mascara on both your lower and upper lash line
What's great about dark eyes is that you have tons of options to enhance the look of your eyes. You can play with tons of makeup and also use different eyeliners and eye shadows to sync it with the look of the day. You are free to play along with colours!
Here Are Some More Makeup For Black Eyes Tips:
Mascara is your best friend and you can use lengthening mascara to play with your lashes and give it a nice look. Take a black lash-defining mascara to accent your eyes. This also does not make your makeup OTT!
If you have dark skin, you can use black eye shadow to your advantage and line your eyes from the lash line to almost all the way up to the crease. Now from the inner corner to outer use a brown eye shadow and then fade it out with an even a lighter brown color or you can also use, pink or even lighter colours.
If you are fair with black or dark eyes then instead of using black eye shadow, you should instead use gray or taupe. Shade your lash line and the outer corner of your eyes with black eye shadow if you want to go for an extra glam look. You should be creative with your colours and you can use these different colours and line your lid with brown, navy blue, plum, or hunter green
Purple Eye shadow FTW!
How royal does purple look for dark eyes? You can really bring out the colour in your eyes with purple eye shadow and you can pick out different shade intensities and play with the colour.
[Also Read: Reverse Smokey Eye]
Here are some wonderful purple eye shadows and makeup designs that you can replicate when you have dark eyes.
Keep experimenting with eye makeup for black eyes because there are not too many eye makeup ideas that a girl can have right? And let us know in the comments, which eye makeup ideas you experimented with!